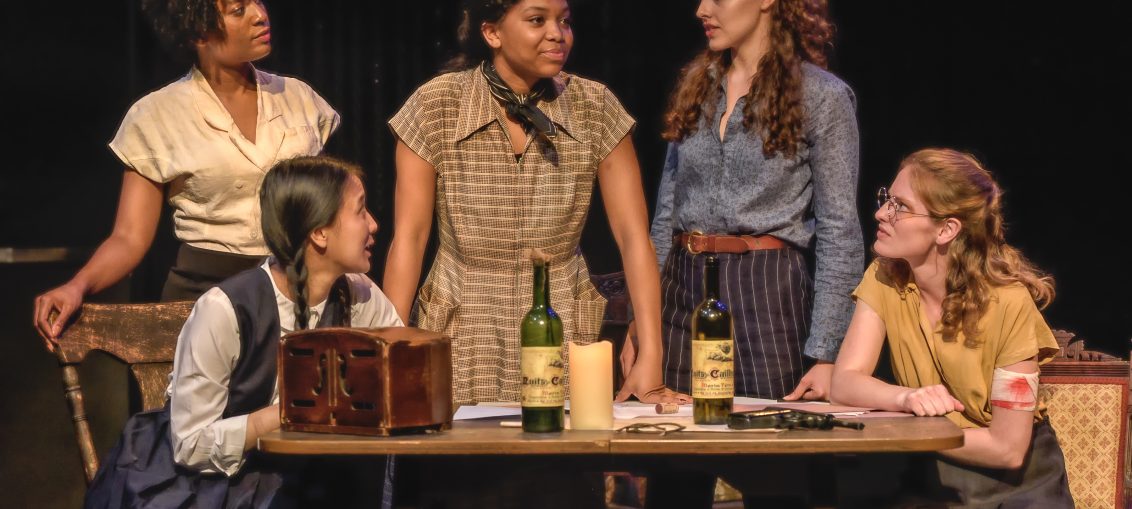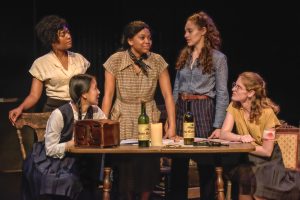 Even if King Arthur didn't return to the aid of Great Britain during World War II, other heroes like Wonder Woman, Captain America, Sherlock Holmes and The Scarlet Pimpernel aided the Allies.  Now they are joined by Megan Monaghan Rivas's Three Musketeers: 1941 at the Jeffrey and Paula Gural Theatre at A.R.T./New York Theatres.  June  27-30 are Rivas's likable re-imagination's final performances.  Hopefully her smart update will find audiences beyond NYC.
Commissioned for the Women in Theatre (WIT) Festival, the four loyal guards are now dedicated female Resistance fighters.  The time transition is so smooth that there's no need to be familiar with the 1844 novel or Richard Lester's definitive 1973-1974 films (made together but released separately).  In Nazi-occupied Paris, D'Artagnan (Essence Stiggers), an unsophisticated but quick study, is recruited by Madam Treville (Joleen Wilkinson) to join her group, or cell, housed in the girls' school where she teaches Latin…the classics teacher in a classic.  Among Madam's bravest freedom fighters are alums Athos (Ella Dershowitz), expelled from law school for being Jewish, Porthos (Kate Margalite), a techie with a photogenic memory, and Aramis (Ashley Bufkin), a Communist medic who personifies The Greater Good.  Current student Planchet (Christina Liang) is their messenger and clever decoy.
They're effective, but the immoral Nazi-controlled Vichy government's eyes and ears are everywhere.  Police Inspector Richelieu (Zack Calhoon) and Lieutenant Rochefort (Javan Nelson)'s suspicions about the school's extracurricular activities are confirmed by British Double Agent Milady (Helen Farmer), who gains the young women's trust.  Tragedy leads to renewed dedication to Liberté, égalité, fraternité, an unsentimental choice.
Co-Directors Michole Biancosino and Andrew W. Smith maintain a suspenseful atmosphere with well-placed sound effects (a wireless is never silent) and single set that makes both a convincing classroom and jail.  Still, such close quarters cannot close out the world of 1941.
They and Rivas are also fortunate with a cast who conveys that their loyalties, or lack thereof for the two law officers, existed before curtain.  In a little over 90 minutes, the audience learns of their hopes and fears – and to care about them.
"All for one"  for real.