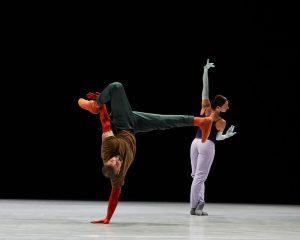 Walking to The Shed, NYC's newest cultural center on West 30th Street and 11th Avenue, is a visual lesson in urban planning.  After exiting the A train on 34th Street at the eyesore that is Penn Station and crossing Eighth Avenue, signage indicates that there will be the new Moynihan Station.  (Among the many reasons to see Ed Norton's Motherless Brooklyn when it opens next month is the recreation of the original Penn Station.)   Heading towards 11th Ave. and the Hudson River are more glassy complexes way closer to completion than the long-delayed station.  There's also Neiman Marcus.  The Shed's physical address, 545 30th Street, is directly above The High Line.  Whether Hudson Yards remains "hip," "urban," or "exclusive," one thing is certain – the Shed is a really nice venue.  Along with an exhibition space and bar, their lobby concession is McNally Jackson Books.
The Shed is committed to programming and commissioning new works, evident with William Forsythe: A Quiet Evening of Dance.  The title perfectly describes the 90-minute program, but is also snarky.  The New York native first gained attention in 1983 with Love Songs, a night of clubbing and bad sex danced to Aretha Franklin and Dionne Warwick, for The Joffrey Ballet.  Not exactly a Mommy-and-Me matinee number.  A few years later when the Paris Opera Ballet gave the local premiere of In the Middle, Somewhat Elevated at the Met, the audience was loudly divided over its athleticism and Thom Willems's electronic score.  I remember Mayor Koch's curtain speech trying to appease the gala crowd (there really was a thing as affordable gala tickets in the Family Circle) by saying he liked it, making things worse.  It didn't matter; the ballet achieved masterwork status that night and continues being performed all over the world.  Forsythe enjoyed a 20-year tenure as Founding Director of Ballet Frankfurt (1984-2004), followed by the Forsythe Company until 2015.  Today, he's based state-side as the Mann Professor of Practice in Dance and Artistic Adviser to the USC Choreographic Institute.
The first part of the program  Prologue, Catalogue, Epilogue and Dialogue, are performed in silence with a slight tease of Morton Feldman.  It was a primer on how Forsythe makes dance.  Structure is more important than feeling:   nothing wrong with that.  Opposition is breached by momentary connection (hands touching, heads facing each other).  The 500-seat Griffin Theater is a basic black box auditorium where every sound carries, especially dancers breathing.  The performers, comprised of former dancers with the Forsythe Company/Ballet Frankfurt or guest performers (Roderick George, Brigel Gjoka, Jill Johnson, Ayman Harper, Brit Rodemund, Christopher Roman, Parvaneh Scharafali, Jale Trobis. Riley Watts, Ander Zabala and Rauf "Rubberlegz" Yasit), wore sock-covered footwear eliminating squeaks and loose rehearsal clothes avoiding distraction.
Along with his signature edginess and structure, Forsythe has added wonder.  His dancers enjoyed exploring space and being together.  The second half's Seventeen/Twenty One was a series of encounters embracing Jean-Phillippe Rameau's delicate Baroque music, which is as intricate as Forsythe's choreography.  Opposites attract and ultimately come together.
William Forsythe: A Quiet Evening of Dance is at the The Shed through 25, 2019, through Friday, October 25.  Please visit The Shed's website for tickets and further information on the rest of the venue's first full season.