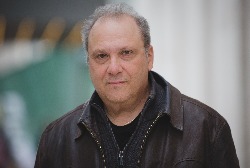 Richard Vetere is that very rare bird, a writer who actually can live on the proceeds of his work. His career spans several years. and he has written successfully for the stage, film and TV as well as publishing novels and poetry. If that weren't enough, he acts and directs. I interviewed him about a year and a half ago, and with the launch of StageBiz.com, I thought it would be good idea to see what he has been up to since then. Richard, being the kind of fellow he is, agreed to help out by answering my questions.
StageBiz: The last time we talked was about a month before Champagne and Cocaine came out. How is the book doing, and is there a movie or play to follow?
Vetere: Champagne and Cocaine, published by Three Rooms Press, is doing fine. We are living in a time where over a hundred thousand books are published each year many self published and by small presses so it is difficult to get any attention unless you have a lot of money for PR. We are also living in a time where the studios and just about everyone else in the film industry are not making the so called personal movie. They want huge budget block busters and not much else. The studios call them dramas and they are making less and less of them that don't fall into the comic book or genres like horror or action. Champagne and Cocaine, set in NYC 1980, is based on my own personal observations and some of my experiences of the cocaine driven club scene where gangsters, call girls and drugs ran the city in many ways. It is thriller about a former high school teacher who gets addicted to coke and poker playing and finds himself in the middle of a murder. I gave it to some very high profile film directors I know who said it was would be tough to get made even with a big name actor. I am not giving up on doing it as a TV series hopefully someday.
StageBiz: Your play, Lady MacBeth and Her Lover, has just finished a brief run in New York, what have you discovered about the play and the characters in this production compared to the previous run?
Vetere: This intense and exciting production of my play Lady Macbeth and Her Lover gave me insight into the play as productions give most playwrights. It was given a reading at the Cherry Lane Theater last Spring and some people at that reading came to this production at the Directors Company and could not believe it was the same play. Others who saw it in the Fringe in NYC in the summer of 2015 also asked how much I had changed. In fact, I had changed very little in the text. The plot and the structure were exactly the same. However I did some work within the text and did develop some more character elements in both Corinne and Emily. Luckily, Maja Wampuszyc who played Corinne at the Fringe also did it at The Directors Company and Christy Escobar was a wonderful Hope/Emily. Michelle Bossy did a really find job directing the show and having a woman director was helpful as well. However, the play really didn't change and what I learned was that the impact was even more potent on the audience. I developed Lady Macbeth and Her Lover in the NY Playwrights Lab run by Israel Horovitz.
StageBiz: So what are you working on now?
Vetere: I have a play that was in workshop titled The Girl in the Wall. Brit director/producer Tony Kaye loved it. I wrote a screenplay adaptation and Tony is set to direct. He are just waiting on all the pieces coming together and we are getting close. Also I have written a screenplay adaptation of my stage play Caravaggio and my novel Baroque and now Mark Pillington wants to direct it. I am waiting on his notes. I hope to be shooting that as well in Europe sometime next year. I was also commissioned to write a play about Clytemnestra for a wonderful theater company in Cyrus and it opens in a couple of weeks in Greek! The play is title Clytemnestra in Hades. I came up with the idea of having her in Hades reading names of the dead and the play beings on 9/11. It was impossible not to enjoy writing a play with Electra and Cassandra and Helen of Troy in the play and Clytemnestra has to be the most sinned against woman in the entire universe of Greek mythology. I hope to get the play done here in NYC.
I am also directing a web series The Hipster Zombie Apocalypse based on a screenplay I wrote. I also wrote and performed in my ten minute play The Trump and the Seven Deadly Sins where I play Saint Peter who interviews Donald Trump after he dies and wants to get into heaven and over the wall. I have been approached to make it into a short film. I also developed a play last year at the Actors Studio PD workshop unit titled Square One about an African American family in Queens. JoAnna Rhinehart directed it and acted in it. We are looking to get it up and running soon.
I have a new play I am developing titled Zaglada, which in Polish means genocide. I just did a reading of it with Matt Penn directing and I am developing it in the Actors Studio playwright/directors unit with Maja Wampuszyc directing. I have been thinking about the play for twenty years. It is based on several true stories of men and women who were concentration camp guards who lied on their passports when they came here and decades later are discovered. Knowing Maja and how her father family members were killed in camps and how her father survived both Nazis and Russians during and after the war helped in my research. Also, oddly enough some of these camp guards lived in the Polish neighborhood next to where I grew up in Queens. I hope to get the play up and running after I do some rewriting.
StageBiz: Does that leave any time for acting?
Vetere: I have an acting manger. I have an actor's reel and I have been cast in several short films and features in the last two years and now those films are in festivals. I love it. Mostly for film though. Mainly because stage demands so much more work including memorization that is a bit overwhelming and is demanding. I have a play of mine I would love to do where I can play one of the leads and that is Johnny on the Pony. A dream of mine. I had the first workshop of the play back in 1981 at the Actors Studio for the NY Playwrights Lab run by Israel Horovitz. I want to play the patriarch Sando. I also wrote a screenplay, The Actors, for me and Tony Kaye to play ourselves. Two older and mature guys who want to become movie stars. It is just crazy silly and pushes the whole idea of how fragile and ineffectual the entire film industry has become.
StageBiz: You are one of the very few people I know who is actually making a living as an artist. What advice would you give to budding playwrights on the business side of the profession? Any major pitfalls? Any smart ways to do things?
Vetere: Young playwrights need to know their creative rights. Their legal rights. They are way too lazy about this. They don't know their rights when it comes to directors, actors and producers. They know so little about the contracts they sign. They know so little about their movie rights. I have made more from play novels and plays when selling the movie rights and being hired to write the screenplay adaptations. I have been made a Lifetime and Current Member of the Writers Guild of America East and I was elected to Council for a two-year term in 2012. It is a great union for TV and film writers. I can't say enough about it. I am able to get a pension as a writer thanks to all the work I did for studios and networks over the years. Playwrights need to learn how to find money and other life from their plays. Movies, TV and also web series. Ignorance and passivity to their own future and income is something they need to confront. I get so many questions from young writers and even more mature ones about their rights. None of this is taught in universities.
StageBiz: What has changed about the business since you started?
Vetere: The business has changed drastically because of technology. I truly believe that the only thing that keeps theater alive is actors needing to act. Playwrights owe so much to them for keeping this art form viable. Because of technology meaning streaming and digital ways of watching film and YouTube and the web it is nothing like when I started and will never go back. We dealt with this in our last union negotiations with Studios. Networks make more money streaming than ever before but artists do not participate in this. Residuals are no longer what they used to be because people steal movies on line. I am working to direct and producer the web series I mentioned The Hipster Zombie Apocalypse and it is a foreign land to me, the web. But writers do not earn as much and that is the problem. The budget to do it as a movie was over 3 million and less than a 100 thousand as a web series. Think about that.
StageBiz: Any productions or films about to open anywhere?
Vetere: Clytemnestra in Hades opens in Cyrus in two weeks if you are there and speak Greek. And for the readers, my novels The Writers Afterlife, Champagne and Cocaine, Baroque and The Third Miracle are all on Amazon.
StageBiz.com is grateful for Vetere's time and interest in our work here, and we encourage you to look into his plays – he has a dozen of them published by Dramatic Publishing and Smith and Kraus
© Copyright 2017 by Jeff Myhre, PhD, Editor. No part of this publication may be reproduced without written consent. Produced using Ubuntu Linux.