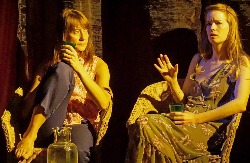 Lady MacBeth and Her Lover
The Directors' Studio
Snapshot Review: Excellent Performances
Jacquelyn Claire, Reviewer
The Directors Studio presents Richard Vetere's "Lady Macbeth and Her Lover" –an intense oedipal complex fuelled psychological conversation. It's an exploration of a myriad of female archetypes drawn from a male perspective against the backdrop of a poet's creative process. The mentor, muse and manipulator roles fight for dominance in this intellectual discourse passionately performed by Maja Wampuszyc and Christy Escobar.
The story involves the lives of a mother (Hope) and daughter (Emily) and their complicated relationship with the shadow filled Corinne. The pursuit of a higher art –poetry, locks them together in a dance to the death. Hope and Corinne are lovers, soul mates and poets who make a suicide pact, but one of them chickens out at the last moment. In death, one woman receives a posthumous Pulitzer Prize and the survivor will have to face the demands of the daughter left behind who is overflowing with questions about her mother. Emily is also an aspiring poet who is seeking a mentor in her late mother's muse.
Maja Wampuszyc as Corinne is captivating in her portrayal of the obsessive manipulator who is both parasite and inspiration to the women. She is able to expertly embody torment, love, lust and longing. Wampuszyc crafts fine moments of dark melancholia, brutal honesty and fragile brokenness. Christy Escobar as both Emily and Hope manages to beautifully create two totally different three dimensional characters in the mother and daughter roles. She is brilliant at playing self indulgence, whimsy and volatility. I particularly enjoyed her character development in the character of Emily from insecure academic to demanding diva.
Director Michelle Bossy keeps the tension high between the two women which is necessary to maintain the suspense in this psychological thriller. She has drawn out excellent performances from the two actresses. However, I feel that some of the dressing onstage, time passing moments were extraneous. I also felt that at times we stayed too long in sentiment which made the dialogue between the women go into a flat line of one tone.
Richard Vetere has written a lengthy text with some excellent plot twists and psychological hurdles. But I often found the dialogue sitting unnaturally in the female character's mouths. It was clearly a male perspective coming through and I found it jarring at times as it didn't resonate with how women speak to each other in intimate settings. I felt a strong unpacking of the male focused oedipal complex in all of its machinations being worked out through the relationships between the women. So there were quite a few conversations that didn't ring true for me. There was also a huge focus on the process of creating poetry and the character of a 'real' poet which did not need quite so much stage time. The seductress/mentor suddenly becomes the brutal academic teacher and we lost some of the momentum of the story in favor of 'show and tell' scenes of working with your supervisor in a one on one session.
Scenic designer, Brittany Vasta, creates a perfect backdrop for the death laced dialogue and manages to use the small space inventively to denote different locations. Cheyenne Skyes lighting design kept us in the 'womb' with a deliciously dark lighting design full of shadows and suspense underscored and enhanced by Mathew Sullivan's superb sound design.
I think it could be edited to a tight hour and 15 minutes, with no interval to keep the pace galloping and the suspense high.
Running time: 1 hour 45 minutes with one intermission
Lady Macbeth and Her Lover plays through November 19, 2017 at The Directors Studio
For more information, click HERE
© Copyright 2017 by Jeff Myhre, PhD, Editor. No part of this publication may be reproduced without written consent. Produced using Ubuntu Linux.