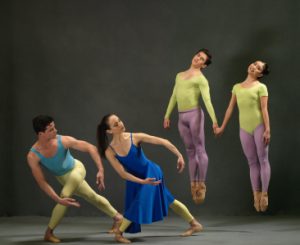 Merce Cunningham (1919-2009)
April 16 marked the centennial of choreographer Merce Cunningham's birth.  His artistic legacy is that his modern dances, many set to music by his creative and life partner John Cage, will forever be modern. Following Cunningham's directive, his company disbanded after his death at 90 – but not the teaching, training, archiving and performing spanning 70+ years.  The Merce Cunningham Trust's world-wide celebration included a definitive program April 17-21 at the Joyce of three classics performed by three companies.
The Merce Cunningham Trust defines the Cunningham Technique as "a rigorous form of training designed to create strength and flexibility of both the body and the mind."
Whether modern, ballet, ethnic, ballroom, or cheerleading, all dance styles have their own guidelines.  These boundaries not only include steps, but footwear (or lack thereof), costumes, performing environs, and music.  Cunningham eliminated what he learned in his early training and as a leading member Martha Graham Dance Company member.  (Appalachian Spring's Preacher was set on him.)  Gone was the exoticism of early modern dance and Graham's potent eroticism.  From the later 1940s onward, he never stopped experimenting with how exquisitely powerful bodies relate to each other, the spaces they inhabit and music not the easiest to count but rewarding in other ways.
While his own rules might seem rigid – dance wear Lululemon types would consider old-school, set designs by twentieth century abstractionists, Cage's "prepared" piano pieces requiring the pianist to pluck the instrument's radically altered interior – that's also why his choreography retains its newness and dancers with solid training in modern, ballet, or both can excel performing it.
The piece illustrating this best at the Joyce was Suite for Five (1956, Reconstructed 2002) performed by  Compagnie CNDC-Angers/Robert Swinston.   Swinston is a former Cunningham dancer, company assistant and répétiteur.  Therefore it's no surprise his French company are renowned interpreters of his mentor's work.  "Five" equals two solos, one trio, one duet and one quintet.  Cunningham and Cage added more in between, including silence.  That silence allows for extended balances and footwork.  All is revealed and pieced back together slowly and hypnotically.
Ballet West last appeared at the Joyce in 2017, and the Utah-based troupe continued to impress with Summerspace (1958). Cunningham's best-known work features Robert Rauschenberg's sets and costumes and Morton Feldman's score.  The stage picture is a swirl of bright dots on a white background…an exploding Seurat canvas spreading to the dancers' unitards.  Feldman's music are electronic blips that Cunningham accents with big leaps (he was a prodigious jumper).  Summerspace is indeed a perfect summer day that never ends even when the curtain falls.
An essential performer in both Suite for Five and Summerspace was pianist Adam Tendler.  His manipulation of the piano's interior was its own choreography.  He didn't perform live for Duets, but instead manipulated the recording of Cage's Improvisation III .
The Washington Ballet's Artistic Director Julie Kent danced Duets (1980) during her career with American Ballet Theatre.  ABT last performed it in 2011, which is too bad.  Six couples introduce themselves to each other and the audience in…duets.  Perhaps because it's later Cunningham or dancers were becoming more interdisciplinary at that time, there is more ballet (performed in bare feet, as Summerspace was).  However unlike ballet, male and female are equal partners.  Even though each paring differs in mood and pace, they all fit together perfectly in the finale.
Other Ways of Seeing Cunningham
Centennial events are posted on The Trust's website.  Glimpses of filmmaker/video artist Charles Atlas's longtime collaboration with Cunningham are on YouTube.  Other video featuring Cunningham and his company are available on the Trust's website and Jacob's Pillow festival.  Former Cunningham dancer Lisa Friedman's documentary If the Dancer Dances about the reconstruction of RainForest (1968) is at the Quad Cinema (34 West 13th Street, NYC) through May 2 with the expectation of going into wider release.