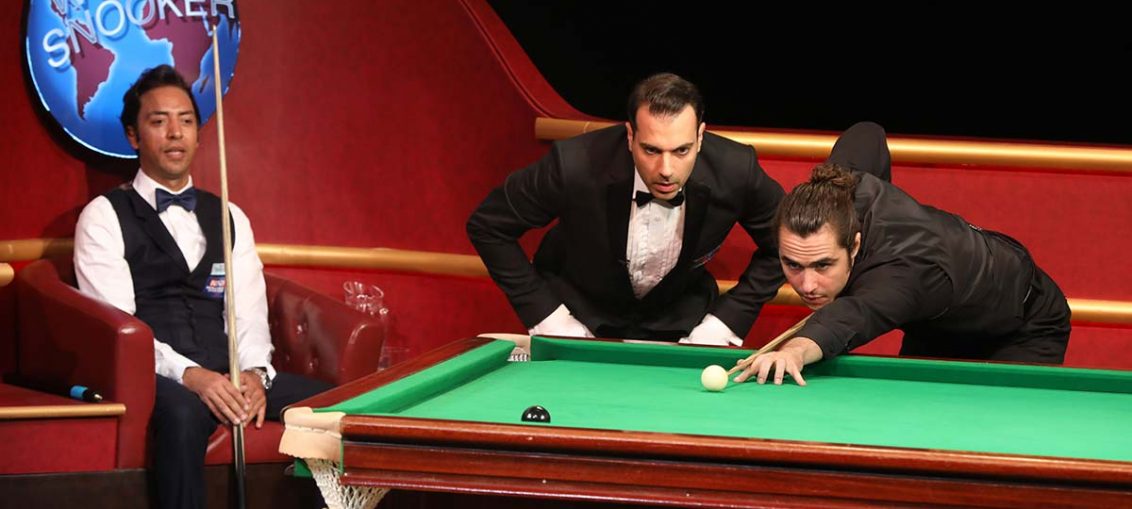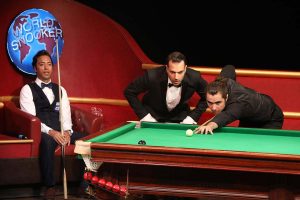 Manhattan Theatre Club's production of "The Nap" is the American debut of Richard Bean's new comedy about snooker, a British version of billiards that is to 8-ball what chess is to tic-tac-toe. Why would anyone who wasn't a snooker fan (and there can't be that many in the US) go see a play about it? Well, Bean has made it about gambling, cheating and quirky characters. To be fair, the play could be tweaked a bit to be about darts, golf or video games. It's the people we meet that makes the show work.
In brief, Dylan Spokes (Ben Schnetzer) is a rising star in the game. His dad Bobby (John Ellison Conlee) was a good amateur and marginally adept drug dealer who is hanging out watching his son practice for the World Championship. They talk, Bobby cracks a few jokes, and then, the sports authorities arrive. Mohammed Butt (Bhavesh Patel) gets a urine sample and policewoman Eleanor Lavery (Heather Lind) talks to Dylan about suspicious gambling activity around his most recent win.
When local transgender gangster Waxy Bush (Alexandra Billings) tells Dylan to deliberately lose the fourth frame of his next match (think losing the fourth game in a set of tennis) so she can clean up with the bookies, he is faced with a serious moral issue – and moral issues are extremely important to Dylan (after all, he's a vegetarian). Dylan's Mum, Stella (Johanna Day), and her Irish boyfriend Danny Killeen (Thomas Jay Ryan) show up to complicate matters, as they have their own plans for making a few easy pounds. The plot line turns delightfully silly but is played with perfect seriousness. The referee (Ethan Hova) in his tux and white gloves epitomizes the approach – stone-faced and dressed like a gentleman's gentleman, adjudicating a game played in union halls all over Britain by men who might own a single suit.
The exception to that is Dylan's manager Tony DanLino (Max Gordon Moore) who can't keep a straight face whenever Waxy gets a word wrong – and her malaprops are legion. Watching him laugh while trying not to may be the best part of the entire production.
During the tournament, however, the BBC announcers are almost as hilarious in their "oh crickey but this is serious" tone when things are quite the opposite.
One of the more courageous moves is having an actual snooker pro play Dylan's competitors Abdul Fattah and Baghawi Quereshi (Ahmed Aly Elsayed). The shots are made live on stage with an overhead projection for the audience to view it – just like the crowd at the Crucible in Sheffield see the matches. I am told there is an alternative script should the shots go awry, but Elsayed never missed.
So, is the show simply too British to work here? After all, snooker isn't on TV here. Over there, it's on prime time. And these accents are not Received Pronunciation, either. They are "ee-bah-gum" Yorkshire working-class. Well, it's not "Look Back in Anger" to be sure. It's a comedy that has enough laughs to entertain people who have never held a pool cue and is delivered as written. If that isn't your cup of tea, well, quit bein' such a mardy bum and frame yourself (moody person and try harder.).
Running Time: 2 hours 15 minutes including a 15-minute intermission.
"The Nap" is playing at the Samuel J. Friedman Theatre, 261 West 47th Street, New York City. For more information and tickets, visit the Manhattan Theatre Club's website.