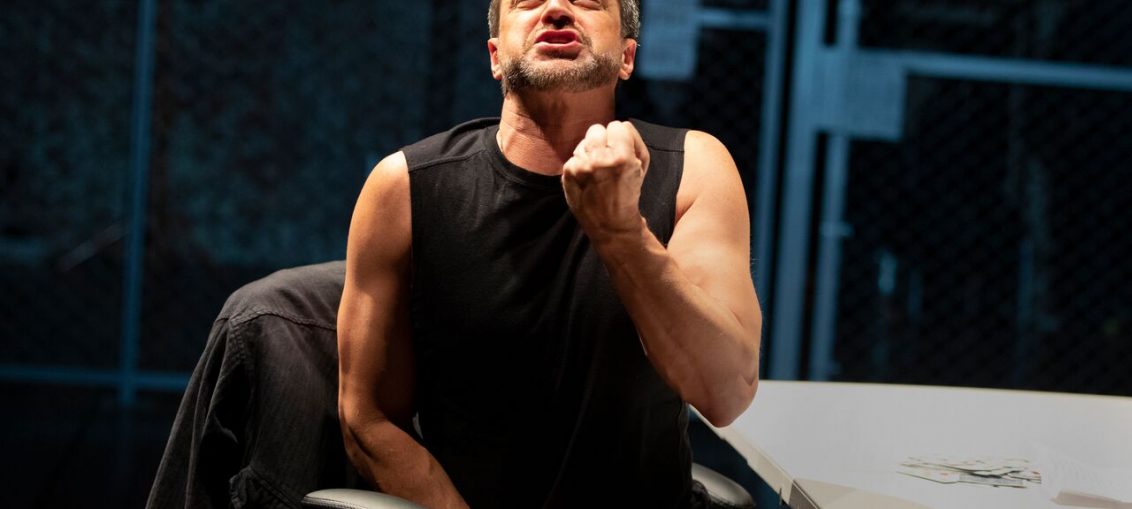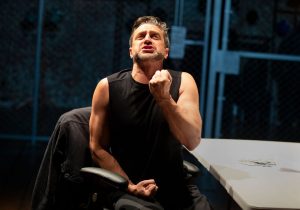 What does cauliflower resemble?  Fossilized flowers?  Dead algae?  Brain tissue?  Perhaps Bertolt Brecht had these and others in mind creating a "Cauliflower War" as the cataclysmic event of The Resistible Rise of Arturo Ui, his deliberately unfunny lampooning of Adolph Hitler.  Brecht's protest play is now at the Classic Stage Company with a mesmerizing Raúl Esparza in the title role in John Doyle's uneven production.
Brecht's inspiration for his 1941 play was Charlie Chaplin's The Great Dictator.  Released one year before Arturo UI's premiere, Chaplin's intentionally funny film sends-up both Hitler and Mussolini.  (Chaplin not only resembled Hitler, they were born days apart.)  Unlike The Little Tramp's Barber impersonating a despot, Arturo is a gangster modeled on those who terrorized Chicago during Prohibition and The Great Depression who in turn inspired the stylized Hollywood mob films (primarily from Warner Brothers) of that era.  Brecht's mobsters and the SS both shared the same goal: capturing the vegetative mindset of the masses.  Hence, the Cauliflower War.  As waterfront boss Dogsborough (Christopher Gurr) says, "Need always causes greed."  Along with desperation and supposedly easy fixes.
Other than committing 20 murders, little else is known about Arturo.  "The simple son of Brooklyn" acquires power by observation, circumstance, persuasion and self improvement.  It's no surprise that The Resistible Rise of Arturo Ui is being revived during this contentious time – but unlike the president, Arturo is willing to learn.
One way he does is taking acting lessons, stammering through Mark Anthony's funeral oration from Julius Caesar.  But when Anthony's words and lies grow bolder, so does Arturo's, ending with threats against the local government he will eventually control.  Raúl Esparza accomplishes this transformation and sustains it.  Even the silly walk he assumes out out of a Chaplin film or really campy production of Richard III  to "not to look natural" becomes so.  Director John Doyle and Esparza's cold, calculating portrayal solidifies the successful collaboration he and John Doyle began a decade ago with Company.
But overthrowing Chicago and Ciecro means having the mobsters to assist doing it.  Brecht's "epic theatre" repeatedly asks unanswerable rhetorical questions, uses sound effects or loud noises and has actors roaming around the audience to create sensory bombardment as an elaborate but successful method to reveal the truth.  A way of doing this In Arturo Ui, is having characters providing continuous updates on Hitler's rise to power.  Perhaps because the parallels are unfortunately easy to make with current events, these announcements are delivered like rote replies to an oral history exam.  Brecht's political theory molded into dialogue can be poetic, but in this production comes across as preachy.  The brilliant, sarcastic juxtaposition of pseudo-Shakespearean blank verse, dialogue inspired by mobster movies and resulting Jacobean revenge play update was lost.
The Resistible Rise of Arturo Ui is relevant theatre, but this production muzzles the impact, keeping it as safe as those rooms on certain campuses where some hide from historical and artistic upset.  They learn nothing about themselves – let alone about preventing it from happening again.
Running Time: Two hours with one 10-minute intermission.
The Resistible Rise of Arturo Ui opened on Wednesday, November 14, 2018 and runs through Saturday, December 22, 2018 at Classic Stage Company's Lynn F. Angelson Theater (136 East 13TH Street, NYC).  Further information and tickets are available on their website.
Charlie Chaplin's Final Speech from the Great Dictator is here.
Despite its unappetizing appearance, Cauliflower is a Superfood.