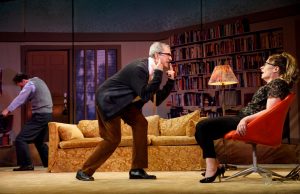 Playwright Kate Scelsa and her Elevator Repair Service colleagues are completely at ease with Everyone's Fine with Virginia Woolf, a raucous re-imagining of Edward Albee's Who's Afraid of Virginia Woolf?  George and Martha, perennial frontrunners for the unhappiest theatrical couple of all time, keep the gin, insults and laughs coming at Abrons Art Center.
One is hard-pressed to find humor in Albee's peak into a marriage whose only common ground is destruction.  The 1962 Tony winner is also something of a sacred cow because with the right actors (Liz and Dick in Mike Nichols' 1966 film, the 2005 Broadway revival starring Kathleen Turner and Bill Irwin, Amy Morton and Tracy Letts in the 50th anniversary production or the original cast audio recording with Uta Hagen and Arthur Hill), Who's Afraid of Virginia Woolf? is mesmerizing.
Scelsa maintains the after party premise with middle-aged George (Vin Knight) and Martha (Annie McNamara) entertaining young marrieds Honey (April Matthis) and Nick (Mike Iveson).  To the howling delight of the sold-out audience, their personalities are broadened.  Martha remains a bored stay-at-home holding #MeToo grudges against the men in her life and Albee's contemporary Woody Allen.  Her life is a dead end, but she is smarter than she lets on.  Like Martha, Honey is obsessed with babies, replacing Albee's cryptic metaphors with whining entitlement.  She also makes the obligatory Virginia Woof reference, dismissing Mrs. Dalloway because it wasn't an "ideal" beach read.  Nick, whose CV consists of Internet slash fiction, is a cipher seeking George's assistance and Martha's influence with her college presiden father to attain tenure.
It is George who gets special treatment.  The pussy-whipped husband/son-in-law is also a lousy teacher, which he proves in over-the-top deliveries of Blanche and Maggie the Cat's monologues that only inspire laughter.  So much so that the high energy generated by the strong ensemble slightly ebbs when Knight isn't onstage.
Director John Collins easily balances the Sixties sexual revolution Albee honed in on and the raw recent revelations of predatory behavior in the workplace, academia included.  He clearly encouraged the cast to explore every comedic possibility, which works because the source material is all about mayhem.
Everyone's Fine with Virginia Woolf provides an Epilogue to the morning after.  It's entirely probable and appropriately messy, just like George and Martha.
Running time: 70 minutes without intermission
Kate Scelsa's Everyone's Fine with Virginia Woolf opened June 12, 2018 and runs through June 30, 2018 at Abrons Arts Center (466 Grand Street, NYC).  For further information about the production, please visit Elevator Repair Service's website.