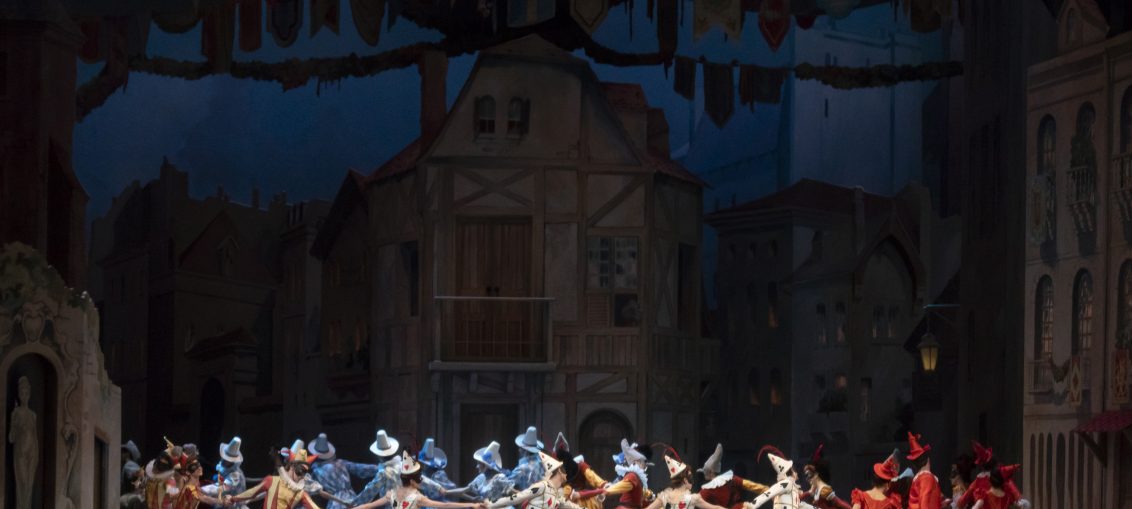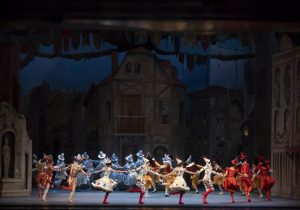 As the Romanovs's bewilderingly indifference to the political and socioeconomic upheavals leading to the Russian Revolution worsened, ballet at home and abroad flourished.  French-born Marius Petipa (1818–1910) was Chief Choreographer of Saint Petersburg's Mariinsky Theater where he set the premieres of Sleeping Beauty, The Nutcracker among others.  Artists dissatisfied with his autocratic yet groundbreaking vision joined impresario Serge Diaghilev in his Paris-based Ballets Russes.  The two aesthetics share a legacy of brilliant choreographers (Ballets Russes had Michael Fokine, Nijinsky, his sister Bronislava,  Leonid Massine and George Balanchine) and enduring influence.  New York had pleasing reminders of this lofty dance heritage when American Ballet Theatre opened their 2019 season at the Metropolitan Opera House with Alexei Ratmansky's  re-staging of of Petipa's Harlequinade and the Institute for the Study of the Ancient World at New York University's exhibit Hymn to Apollo: The Ancient World and the Ballets Russes  that closed June 2.
Freddie Mercury dressed like him.  James Corden won a Tony Award playing a Swinging Sixties Cockney reincarnation of him.  In Richard Strauss's commedia dell arte/grand opera mash-up, he hilariously and unsuccessfully serenaded Ariadne on Naxos.  Balanchine made one ballet about him and the headliner at a disastrous dinner party (so not his fault) in another.  Marius Petipa made him the protagonist of Harlequinade (1900).  ABT's 2018 production is of the is part of ABT's Ratmansky Project, a $15 million, five-year (an ironic number considering Stalin's fondness of them) commitment to new and/or reconstructed ballets thru 2020.  Ratmansky and his wife Tatiana decoded the choreographer's notes archived in Harvard Theatre Collection. Robert Persziola, responsible for the visually gorgeous recreation of the ABT/Ratmansky/Petipa Sleeping Beauty, again outdid himself adapting Imperial Theatre Director Ivan Alexandrovich Vsevolozhsky's original sets and costumes.  Riccardo Drigo's score doesn't have the gravitas of Tchaikovsky or Stravinsky, but doesn't have to: For He's a Jolly Good Fellow is played during Harlequin (James Whiteside) and Columbine's (Isabella Boylston) wedding.
The sweet, short two-act ballet follows Harlequin and Columbine's established relationship and subsequent marriage.  Of course it's not easy; it seldom is in ballet.  Her Father (Alexei Agoudine) wants his clever daughter to marry the ridiculously pompous rich ass Léandre (Duncan Lyle).  The married domestics Pierrot (Thomas Forster) and Pierrette (Stella Abrera) take opposite sides in the family dispute, with Pierrette always outmaneuvering her husband's attempts at stopping Harlequin.  Thanks to The Good Fairy (Tatiana Ratmansky) who appreciates the fun Harlequin brings, the two prevail.
Mime is a prime component of Harlequinade.   The ballet opens with Dad telling the lazy Pierrot how much he hates his daughter's boyfriend.  Thanks to Ratmansky and strong coaching, ABT's expertise in this often under-emphasized element continues getting better and better.
Another is choreographing for townspeople, a dimwitted militia, friends and children (young talent from ABT's Jacqueline Kennedy Onassis School) Petipa excelled at mathematically precise step patterns creating stage pictures right out of a fairy tale illustration – or in this case, silent film pioneer Georges Méliès. Fantasy is timeless.
Finally, there are several pas de duex for the happy couple.  Many full-length ballets are serious rights-of-passage.  Not this one.  Petipa used and expanded the ballet lexicon, but contemporary training and talent take his vision further.  Whiteside and Boylston never stopped smiling during the many lifts, jumps, and pirouettes.
It's a good night when Isabella Boylston and Stella Abrera share the stage.  They are proven comedians and weren't pushovers for the knockabout antics of this particular ballet that will never age well.  James Whiteside was a charming Harlequin.  He had a good time and made certain everyone else did.  Since playing Harlequin, Whiteside released the song/music video WTF under his pop star persona JbDubs.  The song relects on unacceptable behavior in and around the ballet world.   Among the named names are ex-Royal Ballet principal Sergei Polunin, whose pro-Putin/anti-LGBTQ rants continue despite cancelled guest appearances, former ABT colleague Marcelo Gomes fired for sexual harassment, retired New York Times dance critic/blowhard Alastair Macaulay who played public favorites and got away with it and the anonymous, bewildering influential blogger Haugland's Heel. Whiteside's performs his own choreography with a corps of male dancers who dance easily and naturally on pointe.
The Ballets Russes not only influenced dance and symphony concert programming, but fashion.  The Institute for the Study of the Ancient World's Hymn to Apollo illustrated that their sense of style had historic roots as well, placing art objects from their collection alongside those of the company's lauded theatrical designs.  Their fantasy world remained intact, but fresh perspective on their primary designer Leon Bakst was beneficial in understanding what he and they accomplished.
Sadly despite Ratmansky's efforts and others, most of the Ballets Russes repertory is lost.  Stunning (but not always dancer-friendly) costumes, set designs and photographs are all that remain of Fokine's Cléopâtre and Daphnis et Chloé.  Another is Balanchine's Le Bal; his collaborator was Surrealist Giorgio de Chirico.  The two galleries in the converted East 84th Street townhouse contained others, offering balletomanes with breathless, and thoughtful, closer looks.