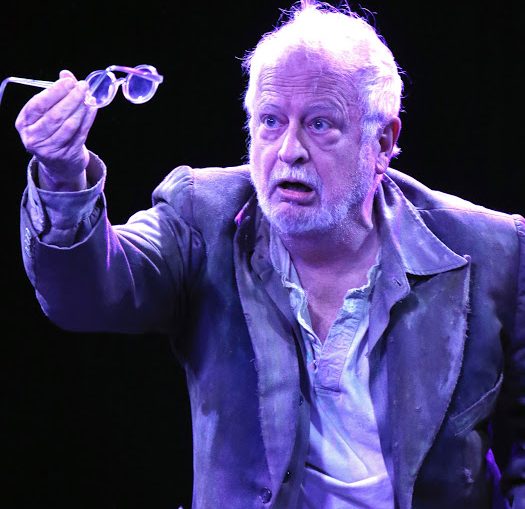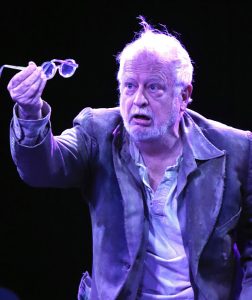 Ivan Ilyich Golovin died a hard death.  Judgement of the Imperial Court official's soul is left to his creator – Leo Tolstoy – whose edicts are more dogmatic than any Supreme Being.  One of the finest examples of short fiction, The Death of Ivan Ilyich, has been adapted by Stephen Sharkey and stars Craig Smith in Phoenix Theatre Ensemble's production at The Paradise Theater.
The only departure from the 1886 novella is that the dead man speaks for himself.  Tolstoy's third-person narrative is both emotionally and physically clinical, which is why it's so hard to shake.  Director Leo Lion introduces audience members to Ivan when they file in.  He's disheveled and sitting amidst his now-trashed possessions (medicine + liquor bottles, the watch his father gave him upon receiving his law degree, porn).  His dirtiness represents both the graphic physical effects of his final illness (curiously unspecified) and consuming ambition.  The culmination of his greatest wish is a mixed blessing.
Once everyone is seated in a circle of high-backed chairs representing those in the drawing room where he fell into decline, Ivan begins his monologue.  Three small computers displaying only static trigger fragmented, fading memories.  Smith's Ivan is aware of the audience but never gets close.  The pamphlet "Make Peace With Mortality" left on those all-important chairs is more for his benefit than anyone else's.  Unlike War and Peace's Pierre and Prince Andrei, Ivan's not introspective.  That doesn't make him "bad" but atypical of the ruling class Tolstoy despised.  Of course, everything changes when his sudden fatal illness isolates, angers and terrifies him with only his loyal servant Gerasim to care for him and his teenage son Vasia to grieve for him.
Craig Smith's Ivan is a powerful, terrifying presence.  There's nothing literary about his suffering.  The scarce laughs are at the expense of his nagging wife Praskovya.  Her ability to annoy is based on Tolstoy's wife Sophia; smarter and more accomplished than her fictional counterpart but incompatible.  Like Ivan, he too died a hard death in a train station after running away from her.
Running Time:  55 minutes without intermission.
The Death of Ivan Ilyich runs through Saturday, March 14, 2020 at The Paradise Theater  (64 East 4th Street, NYC),  Please check the Phoenix Theatre Ensemble's website for further information and tickets.
Larissa Volokhonsky and Richard Pevear's English  translation of The Death of Ivan Ilyich is published by Vintage Classics.