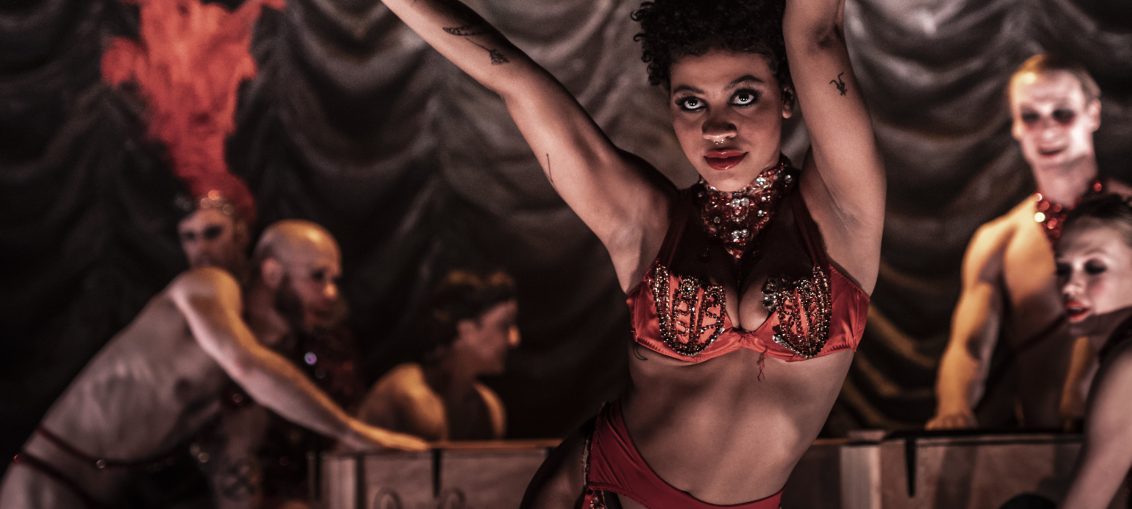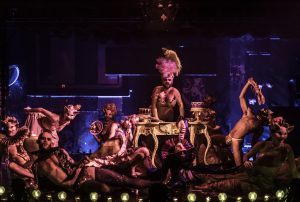 SEVEN SINS is a delightful descent into our shadow selves and the mischievous curiosity that erupts from self exploration. This bawdy Baroque Burlesque entices us to contemplate our "fall from grace" at the hands of the sneaky serpent hellbent on making us eat the ruby rose red apple. It's another scandalous treat from Company XIV director/choreographer Austin McCormick who truly understands the art of the tease. Not only does he boldly re-imagine the biblical Adam and Eve soap opera but he also gives us permission to soak ourselves in the vibrancy of hedonism in a space created to enervate our senses.
Back in the 4th Century, Evagrius Ponticus identified the seven deadly sins. They were to be avoided at all costs or else they would lead to other immoralities. These behaviors or habits or irrepressible passions are supposed to be an excessive version of our natural state. For the purposes of this production the chosen seven sins include Avarice, Lust, Greed, Jealousy, Gluttony, Sloth and Vanity. Pope Gregory I expanded on the list in the 6th century, St. Thomas Aquinas in the 13th and Austin McCormick in the 21st century. The latter's SEVEN SINS explores our sense of boundaries, interstitial and liminal spaces and our flirtation with decadence. It's divine!
SEVEN SINS serves up a smorgasbord of delicious new experiences. Along with the petite seats at the footlights and the champagne couches there are also large, ornate tables offering 12 guests the opportunity to indulge in a lavish feast. I don't want to give anything away, but those twelve get a rare, exclusive, VIP gift of an evening. They get to be immersed in the action, pampered and adored – which is heavenly to witness from afar and is clearly exciting to receive.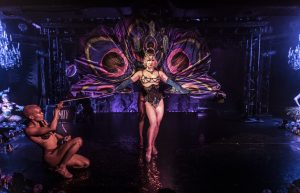 These are my top 20 reasons why should see this show:
Zane Pihlstrom's visionary couture. Every costume a perfect creation, a kaleidoscopic plumage of color, inventiveness, style and wit.
Pretty Lamé's fluidity. A booming, bearded coloratura soprano that twists you into spasms of glee.
The original, sinful music birthed by LEXXE
The exquisite final pas de deux by Cemiyon Barber (Adam) and Emily Stockwell (Eve) as they find each other, find connection, hold pain, release pressure. Incredible dancers holding the whole story together with finesse, muscularity and soul. (Scott Schneider and Danielle Gordon also rotate as Adam & Eve).
The Absinthe shots at interval administered by the cast.
The sensual contortion of Lilin, Stripteuse extraordinaire, Burlesque crown princess.
Amy Jo Jackson's devilishly powerful voice.
The aerial artistry of Troy Lingelbach and Nolan McKew as they gracefully move through each other, balancing on high heels and high spirits. It's so unbelievably beautiful and skillful. This was definitely my favorite moment of the show along with Troy's swing act over the bath of sloth.
The secret compartments in tables only opened by special keys to reveal…
The stamping sensation that is Demi Remick's wrathful tapping.
Jeanette Yew's lighting that seems to transport you to your idea of the Moulin Rouge in Paris 1889 – evocative, atmospheric, tantalizing.
The extraordinary talent that is opera singer/aerial artist/pole dancer Marcy Richardson. Her ability to fly, twirl and sing opera all at the same time is literally breathtaking.
Sam Urdang irrepressible urge to juggle everything.
The make-up mastery of Sarah Cimino transforming the cast into sultry sinners
Hannah Straney's steamy singing and vibrant presence.
The potent ensemble of Nicholas Katen, Scott Schneider, Danielle Gordon, Chanel Stone, and Marcos Antonio Vasquez who bring the magic, the surprise, the joy and their supreme talent to every scene.
Kristina Vnook keeping a tight rein on the pace and execution of the technicalities of this intricate show.
The open minded, jovial, inclusive audience members
The decor festooning the old warehouse, making it a palace of wonder.
Austin McCormick, Austin McCormick, Austin McCormick
A night out at Théâtre XIV is simply unforgettable. You slip into a cheeky universe that titivates any lackluster or dormant parts of yourself. This was my second foray into the ballsy world glittering behind the doors at 383 Troutman St and I thrilled at getting reacquainted with this homage to la belle époque, Folies Bergère – a nod to the "leg shows" of old and general slide down the life of plenty.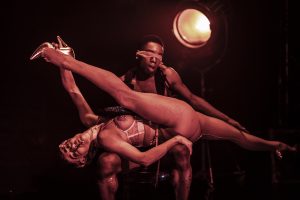 In my review of Théâtre XIV's last production –  "Nutcracker Rouge" I extolled the brilliance of the individual company members and the way the show starts from the moment your foot steps into this magical world of high fashion, elegance and infectious exuberance and all of my first impressions hold true the second time around. It's that great, unique New York experience that you're always yearning for, the special night out you organize for friends, a new lover, an old romance – a girls night out, a boys night out, a bride-to-be party or a solitary, voyeuristic pleasure – hidden in the heart of Bushwick, waiting for your imminent arrival.
The running time is approximately 2 hours with two intermissions.
PREVIEWS BEGIN FEBRUARY 14, OPENS MARCH 5, RUNS THROUGH OCTOBER 31
Partial nudity. Only 21 years and over admitted.
Performances are Thursdays – Sundays and select Wednesdays. For exact show times visit http://CompanyXIV.com. Tickets start at $85, with VIP seats at $245-$295 (includes curated pairing of delectable nibbles and bespoke cocktails served tableside), and champagne couches for two people at $495 – $595. Purchase at http://CompanyXIV.com or by calling 1-866-811-4111.
Like Company XIV on Facebook at https://www.facebook.com/Companyxiv, and follow on Instagram at @CompanyXIV (https://www.instagram.com/companyxiv)
For more info visit http://CompanyXIV.com
Théâtre XIV is a boutique, 175-seat cabaret venue located at 383 Troutman Street in the heart of graffiti alley in Bushwick, Brooklyn. This converted warehouse invokes Versailles decadence spliced with Prohibition dance halls and features scantily clad performer-bartenders who pop champagne, pour Brooklyn-crafted absinthe, mix speakeasy cocktails and serve VIP patrons.