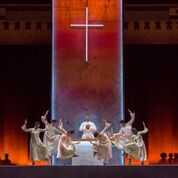 Saturday, August 25 is the 100th anniversary of Leonard Bernstein's birth.  During the upcoming weekend, Tanglewood, the Boston Symphony's Berkshires summer home where "Lenny's" conducting career began as a student in 1940 and ended with his last concert months before his death in 1990, and London's BBC Proms offer non-stop Bernstein.  The classical music streaming service Medici.tv is offering a week of Bernstein archival footage and documentaries.  For those who want to keep the music going there is Sir Antonio Pappano and the The Santa Cecilia Orchestra's new release of Lenny's three symphonies.  Additionally, since musical milestones are aimed at collectors and classical music types with trust funds, winning lottery tickets, or both, there is the 121-CD, $500-plus Leonard Bernstein: The Complete Recordings.
For West Side Story alone, Bernstein's life is worth celebrating.  There other big reasons to do so, starting with his public persona as a passionate music educator who neither apologized for nor dumbed-down classical music.  That's why he's Lenny – not Maestro.  Then along with collaborating on one of the most influential musicals in American theatre and conducting across available twentieth century media platform, Bernstein composed a lot of music.  Centenary programming has included his two self-styled liturgical pieces – Chichester Psalms and MASS.  Chances are if someone heard either for the first time without knowing who wrote them, they might correctly guess it's the composer of West Side Story.
In fact, The Reverend Walter Hussey, Dean of the Cathedral of Chichester's commission request specifically mentioned it sound like West Side Story.  Lenny didn't disappoint: it does.  The 1965 choral work is harmonious in sound and spirit.  Chichester Psalms not only contains Bernstein's signature atmospheric longings, it also has the sharp musical accents on Hebrew he used in his First (Jeremiah) and Third Symphony (Kaddish).  The psalms fit together like stained-glass windows decorating either a synagogue or church.  The result is a harmonic fusion of Judaeo-Christian beliefs, calling for a joyful noise (Psalm 100), peace (Psalms 2 and 131) and unity (Psalm 133).
Like Beethoven's Ninth Symphony – a Lenny specialty – the rousing Chichester Psalms is best experienced with others.  Those who remember him or glad knowing about him are equally appreciative concertgoers.  That same appreciation extends to conductors like Yannick Nézet-Séguin, Music Director of the Philadelphia and Metropolitan Opera Orchestras.  Unlike the New York Philharmonic (Bernstein was its first American Music Director from 1958-1968), who limited their Bernstein centenary programming to three weeks with limited press coverage, Yannick (he too likes going by his first name) and the Philadelphians always program Lenny's music.  On April 10, 2018, they performed Chichester Psalms at Carnegie Hall, and it was truly a joyful noise.  The conductor, orchestra and Westminster Symphonic Choir were as happy performing it as the sold-out audience was hearing it.
Its composer called MASS, "A Theatre Pieces for Singers, Players and Dancers."  As in all musical matters, Leonard Bernstein was right.   Written for the 1971 opening of the Kennedy Center at the request of Jacqueline Kennedy Onassis, MASS was performed at David Geffen Hall on July 18, 2018 as part of the Mostly Mozart Festival.  It's inclusion may seem strange but the festival is exactly what it says it is.  Besides, there is no longer a Lincoln Center Festival where a Bernstein celebration would have lasted part of the summer.  Still, Mostly Mozart Music Director Louis Langrée, the Festival Orchestra and large cast brought beauty to the eclectic work.
Along with text from Sunday service, Bernstein and Stephen Schwartz added their own in English, Hebrew and, ignoring Vatican II's ruling eliminating it, Latin.  Joining the composer of Godspell and Wicked as co-orchestrators were longtime Sondheim collaborator Jonathan Tunick and musical arranger for several George Balanchine ballets (Western Symphony and Starts and Stripes among them) Hershy Kay.
Like two other high-profile commissions, Aaron Copland's Connotations (for then Philharmonic, once Avery Fisher and now Geffen Hall in 1962) and Samuel Barber's Anthony and Cleopatra (for the Metropolitan Opera's inaugural 1966 season at Lincoln Center), MASS has been misunderstood from the start.  That Lenny's MASS combines sacred music opera, gospel, Broadway and rock shouldn't have surprised anyone in 1971 or now.  After all, this is the same guy who sang The Kinks' You Really Got Me at a Young People's Concert.  MASS is half-hour longer than than a regular Catholic Mass and includes a back story about its Celebrant (baritone Nmon Ford), questioning his vocation in several solos, including the haunting Simple Song and a cappella Lord's Prayer.  Perhaps only a non-Catholic, acquaintance and admirer of President Kennedy (Kaddish is also dedicated to his memory) would write genuinely touching music for the presentation of the Eucharist and the work's redemptive finale.
Throughout the Bernstein centennial year and especially when MASS played it's two (Turner Classic Movies' salute to Bernstein filled three nights of programming) Mostly Mozart performances, classical music types who write for large news outlets posted MASS reviews not only reiterating initial negative reactions but crafted for journalism awards and potential adjunct professorships.  The overarching message was that it's wrong liking MASS because it's not…West Side Story or Chichester Psalms.  Not only did it collectively read like classical music mommy blogging, it's snobbery promoting the perception that classical music is elitist.  It's okay not liking MASS, or other music, but belittling those who do is taking advantage of having a good writing gig.  It also goes against everything Lenny believed in about music – and people.
Whatever the posturing, the problem with this MASS was the production, originally presented by the Los Angeles Philharmonic and their Music Director/Bernstein admirer, Gustavo, "The Dude", Dudamel.  Director Elkhanah Pulitzer turned the Street Chorus of believers into clubbers wandering into early Mass after an all-nighter.  Their crawling around the stage suggested Doré's illustrations for Dante's Inferno but was just plain embarrassing.  Laurel Jenkins' multicultural choreography turned the liturgical dancers into samurais.  Seth Reiser's circa 1960s suburbia alter design fit right in with Geffen Hall's ugly interior.
Ultimately, none of thata mattered because the music was played and sung so tenderly.  Most especially by Nmon Ford.  MASS got the fair, loving hearing it deserves.
Leonard Bernstein introduced several generations of musicians (like his proteges Michael Tilson Thomas and Marin Alsop) and listeners to the possibilities in the music.  Maestro Langrée acknowledged that debt during curtain calls when he kissed and held the score in the air.  Those who love Lenny loved it.
To learn more about Leonard Bernstein visit his official website.
BBC Radio 3 streams Proms concerts live and archives them for 30 days.  A schedule of Bernstein concerts is posted on the Proms website
Medici TV  offers several streaming options.
The 2018-2019 season schedules for The Boston Symphony and Philadelphia Orchestra are posted.