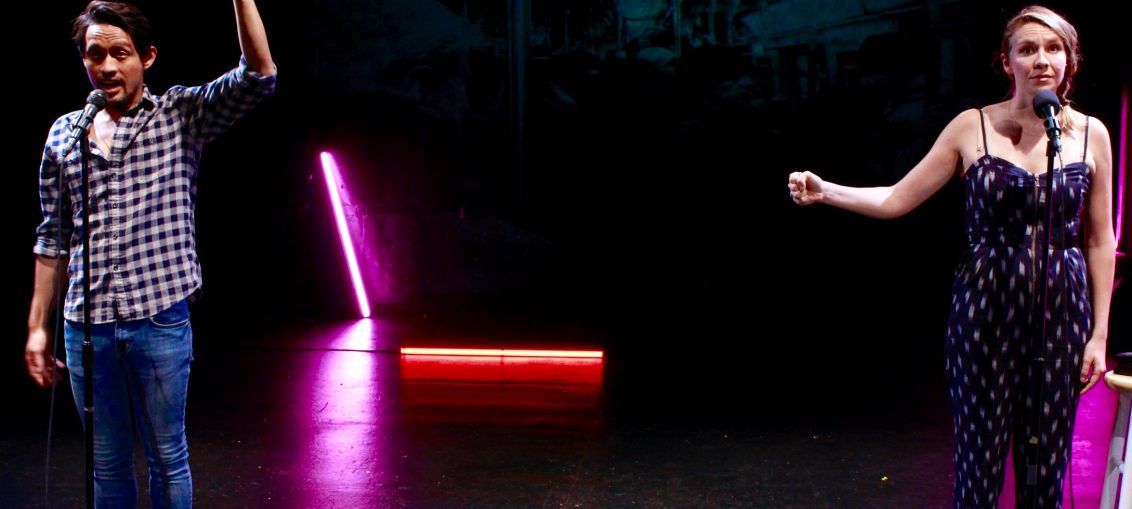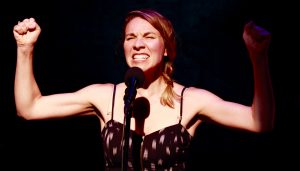 You'll LOVE it! It's Meredith Monk meets Laurie Anderson meets Urban Word meets Meryn Cadell meets Spalding Gray to create a spoken word duet that riffs on where we seek, find and lose love. It is a wellspring of tender and feisty fragments of Love stories in all of its guises.
Vichet Chum and Laura Gragtmans' work epitomizes good old fashioned great storytelling with an atmospheric, original underscore that transforms the heartbeat of inner anxiety and desire into sound waves, rhythms and repetitions. It's a happy marriage of "wordsmithing" and technology, visual dazzle and aural titillation, skilled performers and onstage chemistry. The two artists are both the performers and writers of Love.
We follow the two protagonists as they tackle an average day in NYC. They make walking the dog, posting a care package, riding the subway or standing in a queue, moments of poignant self revelation and a fecund source for lush narrative. We are introduced to a plethora of characters that whizz past them and others that overstay their welcome. With each interaction we learn a little more about our two individuals and how they are treading water in the deep end of their choices. The writing is sharp and stimulating. Two mature voices cascade over one another with sincerity and sageness.
Chum and Gragtmans occupy the space like two lifelong friends so totally at ease in each others company that they allow the most beautiful moments to grow out of their obvious shared respect and trust in each other. He's the Mulder to her Scully, the Clark to her Lois, the Calvin to her Hobbes, Jack to her Jill. They are a performance duo, who on an energetic level, finish each others sentences. They warm up the spaces between them with a palpable frisson and infuse optimism and hope into the open-hearted.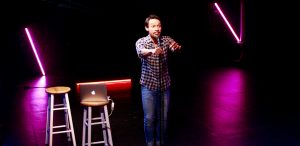 Laura Gragtmans has the most stirring vocal quality. Her haunting singing seems to be nightingale high and then swoops down into another register full of warmth and resonant tones. It opened up all kinds of apertures in my gooseflesh receptors. She is also a remarkable storyteller that evokes empathy and compassion in the listener. Vichet Chum is a strong performer that makes his text snake like an Olympic ribbon dancer. His characters are quicksilver in the audience's eye. He is a captivating performer that imbues his characters with a lot of heart.
Director Emily Kitchens has done an outstanding job in creating simplicity in the staging so that our focus stays on the actor's vocal and physical characterization prowess. She has shaped beautiful moments of subtlety and truth, magnetically drawing the audience into the action with the sensitivity of a hypnotist's fob watch.
Designer Aaron Richards housed these two stunning artists in a storybook of sorts. Emotionally triggering scene setting images slowly materialized on the back wall and each "page turn" took us into the next experience almost imperceptibly. I liked the use of the LED lighting that added bright accents to the 21st century Love tale. His design melded perfectly with the vibrancy of the spoken word and soundscape.
It's a happy maker play. Gragtmans And Chum are true performance alchemists able to transform any stubborn grey day into a Catherine wheel of joyful inner fireworks.
Love was produced in part, and guest curated for the 25th Anniversary of the Ice Factory festival, by Second Generation Productions
Running time: 75 minutes with no intermission.
Love runs August  15 – 18, at The New Ohio Theatre (154 Christopher Street between Washington and Greenwich Street) For more information and tickets visit  http://www.NewOhioTheatre.org