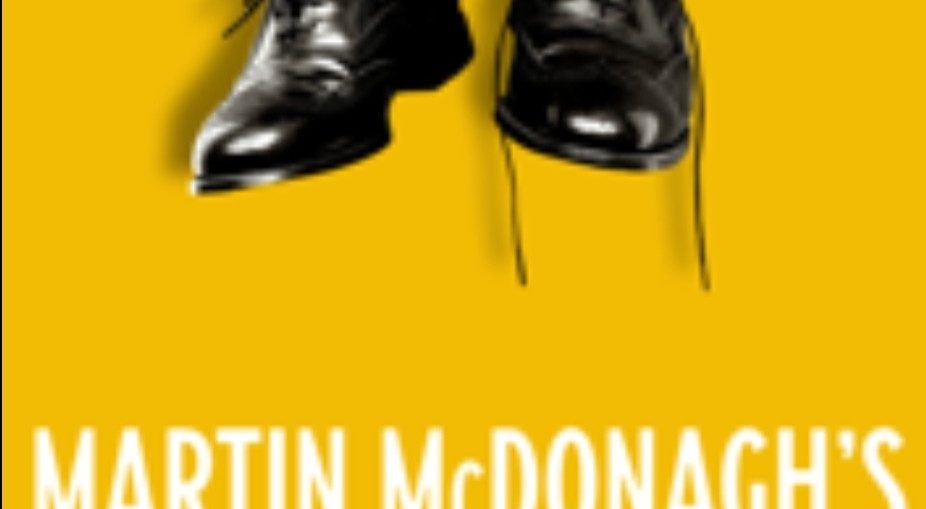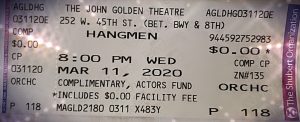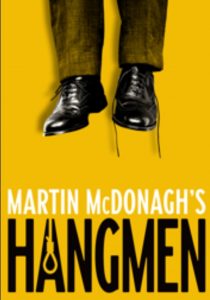 While the world falls apart I sip my highly caffeinated coffee and write that piece about Hangmen the new Broadway play. Cavorting at The John Golden theatre on 47th St. and 8th Avenue Hangmen is Martin McDonagh's latest Broadway effort since his Oscar Nominated film "Three Billboards Outside Ebbing, Missouri". "Maybe it'll be my last opportunity to write about a Broadway production?!!" I yelled to myself in my brain (what's left of it). Though it's very unlikely that the apocolypse is coming and will ensnare Broadway, being the last to write about any one thing seems to hold some gravity with me. Though I guess if I were the last to write about it there wouldn't be many people around to read it. I guess I just like to be around when things end. It's the cynic in me. A main theme of Hangmen is cynicism and endings. If I was going to see a last play Hangmen would be the perfect piece. A piece where pain and a laugh about said pain always seems to be right around the corner. This past Wednesday I found myself right around the corner in midtown Manhattan and the recipient of three tickets to Martin McDonagh's latest dramedy Hangmen. I called two friends, CG and JD, both fans of theatre. Little did I know this would be Broadways last evening open for a few weeks amid lockdowns as Ragnarok impends.
Hangmen was first published in 2015. I had seen ads recently that McDonaghs new play was going into previews. I admit I was very excited. When I was working on my Masters in English at The University of North London in 1999 I was drawn to partake of a Modern English and Irish Playwrights class. Samuel Beckett and Martin McDonagh figured prominently. We read several of Martins works. My second experience with McDonough was reading "The Beauty Queen on Leenane" while an Intern/Reader at SONY Pictures in 2000 after my Masters. I'd take manuscripts and plays and write coverage on them. This coverage would show producers if the manuscript or play was worthy of a film production. I was hooked on McDonagh and never looked back. I ate everything up. Martin's ability to mix seriousness and comedy has always been above par when comparing him to any other modern day playwright. sometimes it feels like he's the only one left in this world of fluff and niceties. This was true again with Hangmen. The comedy in Hangmen is often so subtle, nuanced and dark one might not see it happening. McDonaghs ability to take vaudevillian banter and add a modern flavor then smash in some serious Quentin Tarrantino type violence knows no modern day comparison in the world of theatre. There's always some "Titus Andronicus", depraved in nature, type shit going on in his work. And I love it!!! Whenever I put a piece of his down I'm immediately forced to pick it back up.
Hangmen opens in 1965 in the UK at a hanging of a young man who truly seems to be innocent. Begging for his life he is fought off of a bedpost by two absent minded guards. Heading up this hanging is the towns number 2 best Hangman, Harry Wade, played with ferocity by, Mark Addy, whose turn in "The Full Monty" and death scene in "Game Of Thrones" are that of film legend and history.  After the hanging we are thrust forward in time two years to the day. Harry is dealing with the abolition of hangings as a death penalty as he manages a run down bar with his wife, Alice, played by, Tracie Bennet, whose turn as the haggard bartender gives her the opportunity to play many emotions on many levels and Harry's 16 year old daughter Shirley played by Gabby French whose shy but sharp manner contrasts nicely for the mother daughter relationship. The snapping, biting and bickering at each other all came off very real and concise with this nuclear family. There was a moment in the show where Alice leaves to smoke a cigarette and we see her silhouette from inside the bar. During intermission I caught Tracie smoking outside and her silhouette. A moment of clarity that reminded me art constantly imitates life.  There is a moment in the show where a stranger appears at the bar. Mooney played by Dan Stevens is both menacing and creepy as he refers to himself. He's there to rent a room. Or is he? It is believed this man later kidnaps Harry's daughter. We never really find out much about Mooney or his depraved nature.
McDonagh is so sly, slick and serio-comedic, and all the other alliterative possibilities, in his writing he even touches on the modern day issue of saying one bad thing at work and losing everything for it. Harry had fired his assistant Syd played by Ewen Bremmer two years earlier for making a comment about an executed mans very large……well, you know. Syd is subsequently fired and takes revenge on Harry two years later by trying to make him paranoid and convince him someone is out to get him and his family. That man is Mooney whom Syd is in cahoots with. The tables quickly turn and honestly I don't want to give away the ending but essentially the butler did it and we don't even meet him until the last moment of the play. None of that is true. The climax and falling action are that of trickery and Voo Doo. The kind that only McDonagh engrosses the viewer with. You really don't see it coming. So you should go see it coming.
I truly hope that Hangmen will come back to New York City after it returns to normal or a pale comparison of normal. As I assume will happen with all musicals and plays on Broadway, some runs will not come back. I hope for all our sakes they do. I don't know what I'd do without theatre. Free theatre tickets are the only reason anyone likes me. 🙂 But if it is the end of the world,  buy the script on Amazon. If you're a writer Hangmen is a lesson on how to compose a riveting play.
Run Time; 2 hours 30 minutes
Check out future performances at www.HangmenBroadway.com