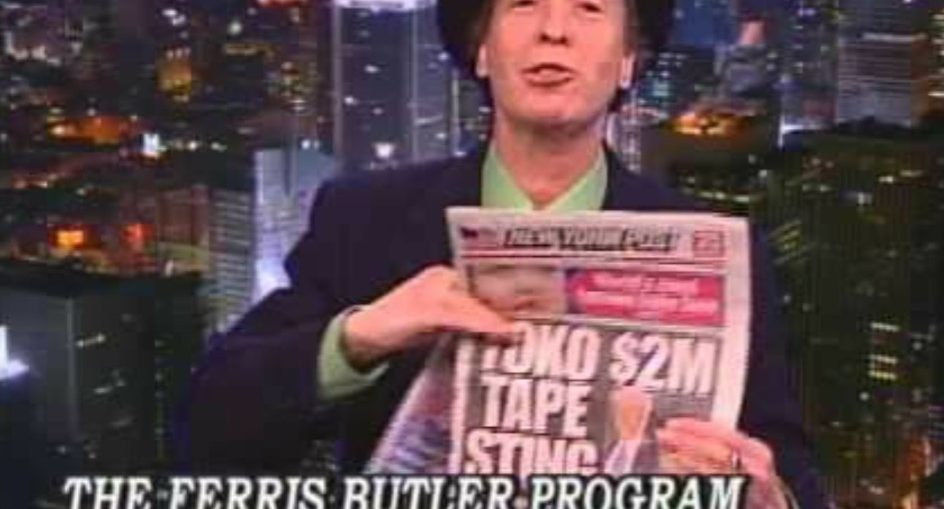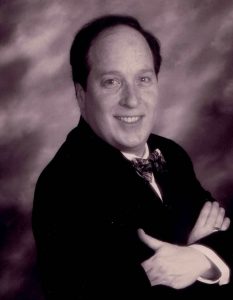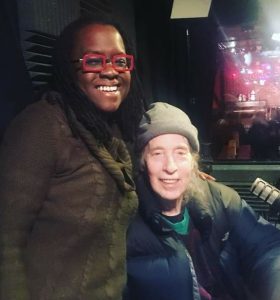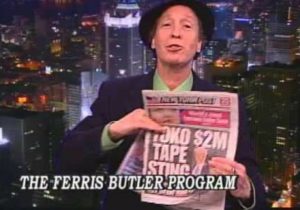 Ferris is Pictured with Celeste Jennings at The Comic Strip In NYC          
          Ferris Butler hails from the mean streets of Brooklyn and is regarded as the George Washington of modern day cable sketch comedy in America. He is an artist that asserts his main influences were Monty Python and Ernie Kovacs. While enrolled in NYU film school during the turbulent 1960's, Ferris Butler took the course "Fundamentals Of Filmmaking" by instructor Martin Scorsese. Then acting major, Billy Crystal, was in Ferris' "Television Production" class at NYU. During that class Ferris produced a sketch comedy show called, "A Psychotic Look At The U.S.A.", which Crystal eagerly appeared in as Ed McMahon in a sketch about the Tonight Show with Johnny Carson. Sadly the videotape of this piece was riddled with static and permanently erased. A former SNL Writer, for the infamous 1980, '81, 6th season, Ferris' famous bondage and discipline sketch "The Leather Weather" sharply raised eyebrows amidst the vast sea of SNL material. During pre-production this sketch was so controversial that the producer and director were too embarrassed to discuss the details of the piece.
          While on the writing staff of SNL 1980, 81' 6th season, Ferris enjoyed the wild experience of writing for now comedy legends, Eddie Murphy and Gilbert Gottfried. Ferris first gained comedic attention between 1976 to 1980 when in New York City he created the granddaddy of sketch cable comedy shows, the notorious, Waste Meat News. Certainly, it was the first of its kind in the English speaking world. It was a show of random sketches which Ferris wrote, directed and produced.  Ferris, then in 1983, along with original cast writer for SNL, Neil Levy, created "The Vintage Seltzer Comedy Hour" sitcom pilot. Levy as casting director at SNL has the distinction of discovering Eddie Murphy during SNL's sixth season. 
          Ferris is widely accepted to be the inspiration for the iconic character, Ferris Bueller, from the 1980's film classic, "Ferris Bueller's Day Off." This is a contention that Ferris Butler strongly maintains. Second City improv guru Del Close, worked on season six of SNL as a comedy consultant with Butler. Del was a colleague of John Hughes at that time. Del once grabbed Ferris in the SNL hallways of 30 Rock and stated, "I'd like to write a film script based on your personality".
          Waste Meat News along with Ferris' material he wrote for Saturday Night Live and his sitcom pilot from 1983 were recently included in the Archives of, "The Paley Center for Media" in NYC.  John Goodman did a guest voiceover while Michael O Donoghue and Garrett Morris did acting cameo apprerances in Ferris' 1983 comedy pilot, "The Vintage Seltzer Comedy Hour". Vintage Seltzer sponsored the show. Waste Meat News was a half hour show and would appear on Sunday nights at 11:30 on Manhattan Cable TV, and on Teleprompter Cable TV in New York County from 1976 to 1980.  The only other thing on TV at the time of night was David Susskind. Waste Meat News was so popular in the late 1970's that many cast members, male and female, were stopped in the streets by adoring fans in "The Big Apple". Also at the time Ferris found out celebrities like John Lennon and Deborah Harry were ardent viewers of the historic cable comedy show. 
          Ferris is also part of a power couple. He and Beverly Ross have been married and living together on and off for many years. Beverly is literally one of the "Mothers of Rock and Roll." She is a classic rock song writer from the 1950's and into the 1l960's. Ferris' partner penned a number of monster golden oldies, among them are such songs as, "Lollipop", "Remember Then", "Judy's Turn To Cry" and even two nifty tunes for Elvis. 
           Comedy is constantly changing. One of these people who helped shape that change in comedy during the 1970's and 80's is Ferris Butler. This weird and often unstructured maverick of comedy put his hands into so many pots it's hard to know where to end. Ferris' influence on the renaissance of comedy in the late 1970's and 80's is profoundly evident. Still to this day at 70 years old Ferris is involved in comedy as a stand up comedian in Manhattan. Most recently you can hear Ferris on…… 
"Vox Celeste" – podcast – Live From The Comic Strip – February 4th 2020 https://podtail.com/podcast/vox-celeste/episode-70-butler-anyone/https://podtail.com/podcast/vox-celeste/episode-70-butler-anyone/ . 
Ferris was also recently featured on the "The Reject Video Podcast", hosted by, Senior Facebook Engineer; Kyle Olson – April 2019
http://rejectvideo.libsyn.com/special-episode-ferris-butler 
You can also read about Ferris in this article by Simon Hardy Butler article – Jan 2014 http://curnblog.com/2014/01/28/interviewing-beverly-ross-ferris-butler-skits-films-rock-n-roll/
Featured first in 1979 as celebrity essays from, The Westside and Eastside TV Shopper in Manhattan then 20 years later turned into a book "100 New Yorkers of the 1970's" by Max Millard – 1998  https://www.wattpad.com/19751-100-new-yorkers-of-the-1970s
Meetings with Unusual Men – New York Daily Photo – January 2011
http://n3wy0rkc1ty.blogspot.com/2011/01/meetings-with-unusual-men_14.html
Welcome Back To America – With Hosts D.B. Frick and Robin Eve – April 2019
Live Interview with Ferris Butler and Beverly Ross -The World Famous Governors Comedy Club