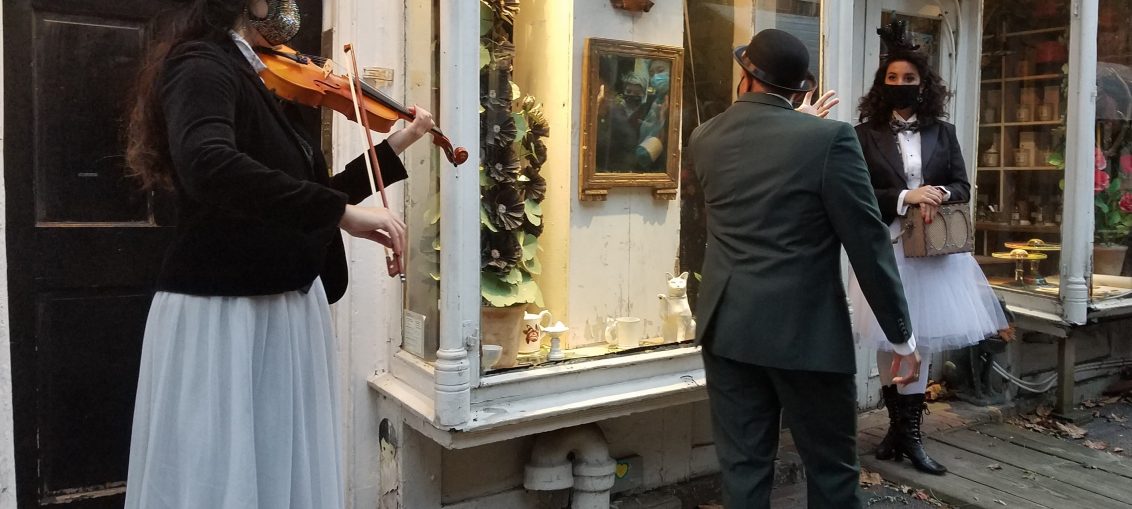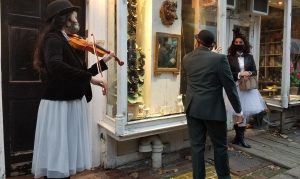 Part street theatre, part walking tour and all fun, Bated Breath Theatre Company's, Voyeur: The Windows of Toulouse-Lautrec uses the West Village as its stage.  Extended through November 22nd, the first live NYC stage production since COVID-19 shut theatres and disrupted everything is a socially-distanced (temperature check, audience is no larger than six, masks on at all times), journey through the artist's life and work.
The Moulin Rouge's most famous visual memoirist is also the subject of Bated Breath's suspended show Unmaking Toulouse-Lautrec, both conceived and directed by Executive Artistic Director Mara Lieberman. The artist's Belle Époque Paris makes for passionate theatre material.  In addition to creating poster art, using prostitutes as models and depicting same-sex relationships without judgement, his poor health, physical challenges and alcoholism add to his legend. Voyeur begins outside The Duplex on 61 Christopher Street with hookers dancing the can-can in windows above.  The audience (and outdoor diners and pedestrians, who are amused, confused or happy for the Instagram moment) meet Toulouse-Lautrec, a broken puppet.  From there, it's a short walk up Christopher for his funeral in front of a store window,  Live and recorded music of the era accompany the strolling players and audience.  Taped music comes from a hand-cranked hurdy-gurdy — a symbol of death.
What follows is a biographical "look" back at Toulouse-Lautrec's life.  His mother gives birth on the intersection 9th Street and 6th Avenue,  She wears a long white skirt (hiding another performer), emphasizing the artist's height.  The story of his parents' marriage  begins with a dancing in the street and ending with arguments in doorways.  A striptease with…a mask is performed in a store window transformed into a boudoir.  When Mademoiselle  (Yvette Guilbert) finishes, she runs outside breathlessly asking, "Who is the watcher? 
Following a stroll past the Washington Square Arch, the final destination is the artist's studio recreated inside Judson Memorial Church.  Much more unnerving than time being spent indoors is that such a vibrant space is so quiet.  This ends with the appearance of singer Yvette Guilbert (Kelsey Rondeau).  She first dances for, then berates a video image of the artist sketching her.  He did many times, providing her with long-lasting fame.
Voyeur: The Windows of Toulouse-Lautrec does a fantastic job bringing Toulouse-Lautrec and Belle Époque Paris to life,  Additionally, The Metropolitan Museum of Art  has an extensive collection of his work on display in the galleries and online. He is also featured in The Museum of Modern Art's Félix Fénéon: The Anarchist and the Avant-Garde—From Signac to Matisse and Beyond.  Up on MoMA's website and on view through January 2, 2021, the exhibit is the first honoring the critic, social commentator and visionary art collector.  Google Arts & Culture's Toulouse-Lautrec page includes his art from museums all over the world, including the Toulouse-Lautrec Museum.  A great place to learn about the history of poster making  is…Poster House, the friendliest museum in NYC.  Plus, while not about Toulouse-Lautrec, Jean Renoir's French Cancan.  is about the Moulin Rouge.  Photographed on a wide Technicolor canvas, this is the film Baz Lurhmann ripped off badly for his overrated Moulin Rouge!  Renoir didn't have to force the fun and energy for his can-can finale.  Neither does Bated Breath.