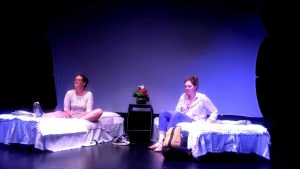 Get The Boat is a vital conversation. It's a timely play that taps into the current need to highlight crucial women's issues in a patriarchal society that still attempts to tell women what they are "allowed" to do with their bodies. The #metoo and #ibelieveher movements have given many female playwrights the "voice" to tackle relevant societal issues with a courageous urgency. Irish playwright, Eavan Brennan draws attention to the traumatic journey many Irish women have to take to England to exercise their right to choose. The play is making its North American debut after a successful run at the Limerick Fringe Festival.
In Get the Boat two female strangers embark on a well worn journey from Ireland to England. As the ship sets sail these women get entangled in each others stories, bonding quickly over shared secrets. Brennan easily captures the natural way women speak to one another, especially how quickly they are able to connect in a short space of time. There is a believable conversational tone as they slowly begin to let their guards down and reveal their personal crisis. We are eavesdropping and its great!
The travelers are played by Eavan Brennan and Siohan Donnellan. Brennan plays the feisty single mother full of energy and optimism. Donnellan plays the happily married mother of two boys. Both women are carrying a deep melancholia under their travelling personas. The actresses tackle the emotionality of the piece with honesty and express their opposing viewpoints with a fierce vulnerability. It feels like they are including you in the heightened conversation and you want to add your two cents. Storylines of this nature are fuel for intense debate and the characters easily stoked the fires for both sides of the argument. I was just starting to get into the play when it ended. I feel that there is more to the story. I would have liked at least another 25 -30 minutes to really get into these issues a little more and have the character's reveal even more layers to give the text complexity. At the moment the play tends to pivot around one core issue but I think there is room to excavate more issues impacting these women.
I would also like to see a little more variance in the direction of the piece. The two ladies were sedentary on their beds for most of the show so their performance energy was extremely low. I would have liked to have seen them explore the "confines" of the room/society with original blocking. It's a truly fantastic premise for a show and Brennan is a good writer. Hopefully she will expand it into a full length production.
The production was chosen by Artistic Director Darren Lee Cole, presented by SoHo Playhouse and produced by the Holy Show Theatre Company. It is one of two Irish female playwrights making their debut this month in the venue. The other production is INNIT by Colette Forde.
Running time: 45 minutes with no intermission.
Recommended ages 16 & up.
GET THE BOAT runs July 6 – August 5, at SoHo Playhouse (15 Vandam Street). For more information and tickets visit SoHoPlayhouse.com or call (212) 691 – 1555