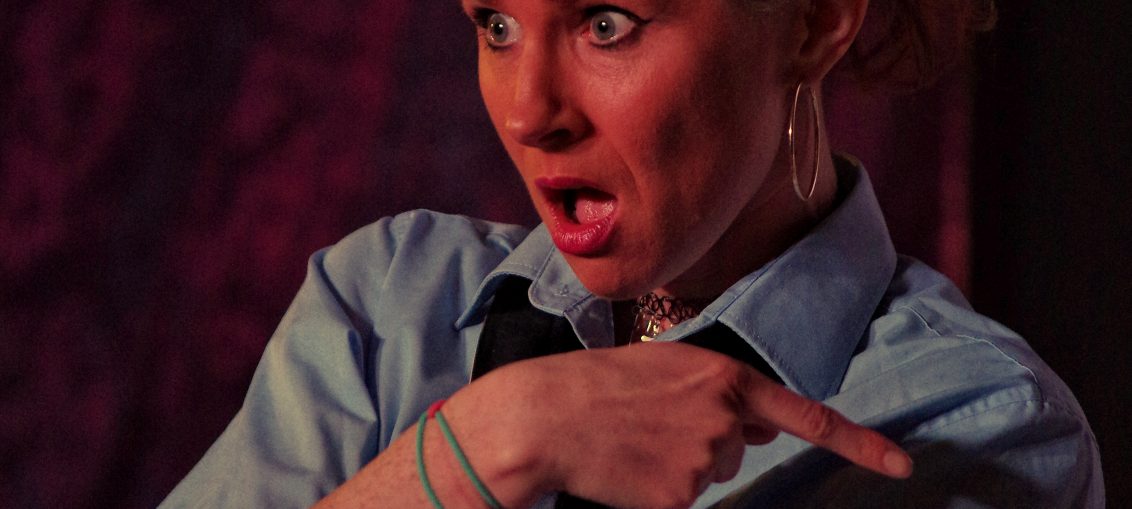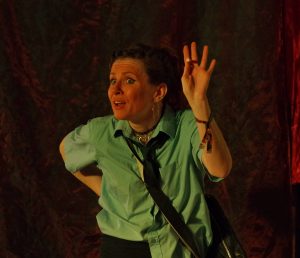 INNIT is Catherine Tate funny. Colette Forde introduces us to Kelly Roberts, a ballsy Manchester teenager that is visiting a psychologist for the first time. I laughed like an unblocking drain and then totally choked up as we got to know this broken bird with foul tongue and fragile heart. INNIT is having its American debut after a sold out run at the
the Limerick Fringe Festival. It's an intense ride through working class, teenage trauma set in the 90's. Kelly Roberts is a character you are not likely to forget. She is an undiluted truthsayer that does not shy away from diving head first into the tragedy of neglected children told through the clever filter of brash and bold comedy. She can turn a phrase more sharply than the Backstreet Boys Everybody (rock your body) routine.
Colette Forde is an Irish playwright, director, producer and actor of this one women tour de force and excels in every area. Her characterization of a 15-year old on the brink of implosion is riveting. Her storytelling style is fast paced, funny and ferocious. Forde as Kelly Roberts is an almost feral creature railing against her isolation and neglect with raw vulgarity. You completely understand the set of circumstances that have brought her to this pivotal point in her life and you ache for someone to rescue her from a disappointing future. Her detailed and nuanced performance is outstanding. Forde draws you in completely and you are caught like a deer in the headlights, unable to look away from the car crash of this character. Totally mesmerizing!
The writing is exceptional. Forde is a mighty wordsmith brandishing Kelly catch phrases like a knife thrower in a circus. They hit the mark every time and you hold your breath in anticipation of her next skillful wordplay assault. She also successfully teleports the audience to the heart of the 1990's, brilliantly reacquainting us with the pop culture, fashion, celebs and speak of the time.
I enjoyed her simple, yet effective directorial choices where we could experience Kelly in different environments that allowed us to clearly see her public and private selves. I also liked the clever use of the screen for shadow play and the powerful music underscoring the action.
Darren Lee Cole, Artistic director of the SoHo Playhouse chose this piece for New York audiences for its distinctive voice that powerfully displays theater's capacity to engage conversation on relevant societal issues. It is wonderful to witness a performer so on top of her craft – it's a gift to watch her work.
Running time: 75 minutes with no intermission.
INNIT runs July 6 – August 5, at SoHo Playhouse (15 Vandam Street). For more information and tickets visit SoHoPlayhouse.com or call (212) 691 – 1555