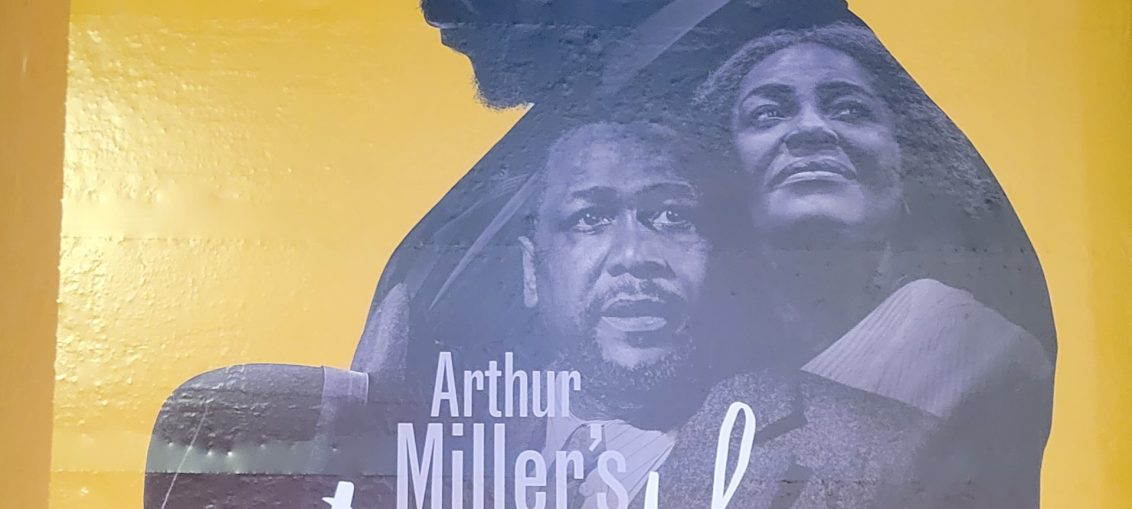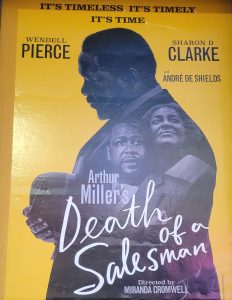 Photo D.B Frick
On November 16th, 2022 I went to see Arthur Miller's, "Death of a Salesman", at the Hudson Theater on 44th St. This was my first live Broadway show since I saw Martin McDonagh's, "Hangmen", on March 12th, 2020– the day the pandemic sent Broadway into a tailspin, bringing the fabled area of NYC to its knees. So much has happened in almost three years, and I'm so happy for the opportunity to give you a little feedback on this new production of a classic. There isn't much that hasn't already been said about this show. Despite that, here I go.
Arthur Miller is a Broadway mainstay. Rarely there is not a production of his plays coming or going on these stages in the theatre district. So many greats have taken on the roles of Biff, Happy, Linda, and possibly the most iconic role in dramatic theater history– Willie Loman– the low man on the totem pole. Firstly, this cast should get a Tony after every performance. Secondly, when one first hears that they are about to sit through a three-hour theatre piece, anxiety sets in as one thinks, "who is going to get my mail and clear my google history?" This did not end up being an issue. The pacing is perfection. There isn't a beat missed or an opportunity at nuance lost. Directed by Miranda Cromwell, she picks up on all the distinctions that come when being from a dysfunctional family. It really doesn't matter that the piece is set in 1949. This could be any time in history. Any family ever. Even 500 years from now, I imagine people living in similar circumstances. Everybody, all over the world, is going through something the Loman's are going through. Miranda Cromwell conveyed this and ultimately brought us the most well-crafted version of this play one could see. This play is almost 75-years-old and still resonates.
Stephen Stocking and McKinley Belcher III tear it up as the emotionally distraught over-loved and under-loved brothers and sons of Willie and Linda. Happy is named happy because every moment he is on stage he fakes his happiness. Biff is biff because he acts like he's been hit or "biffed" in the head after catching his father in the midst of an affair. I wonder if Arthur Miller ever considered killing one of the sons off in an iteration of this play.
Sharon D Clarke opens the show with some down-home gospel that sets the piece aside from many other productions. Sharon shines in her effort to keep her small family together and close to her heart, despite the lack of love around. Her sadness could be felt across the mostly sold-out crowd. She will forever be remembered as one of the great Broadway mothers. Wendell Pierce takes on the iconic role of Willie Loman. Willie's anxiety is ever present in every moment. All Willie's life efforts revolve around the money he needs to get to whatever he thinks or hopes his next step is. Something anyone can relate to. Wendell makes you feel awful for a person that is somewhat terrible, yet so very human.
Materialism is at the center of this destroyed family. All the set pieces hang above the cast like looming payments the family carries on their backs their entire lives. The talk of the never-ending bills and Willie's conversations about money with his devil-like uncle, Ben Loman, played by, Andre De Shields, of "Hadestown" fame, show us how desperate anyone of us can get. The water heating unit sits in the sky (or "fly space" as my theater nerds call it) in the home as a metaphor for how this family is about to burst. Everything is a payment. Nothing can be afforded. Even the silk stockings Willie gives to his lover. Even a handshake is a payment, as Willie regularly ignores the hand of his son, Happy.
Apparently, there are fifty-dollar tickets available for this amazing Broadway show. That means you are paying twenty-five cents a minute for the three-hour play. That math may be wrong, but my point is, it's probably the greatest deal in theatre history. I suggest you make some more history and go see this show, even if it's the thirtieth time you've seen it. It's a beautifully mesmerizing piece that changed the world and continues to touch lives. Go see this show. Change your life.
Run Time: 3 hours 20 minutes with one 20-minute intermission
Hudson Theater – 44th Street