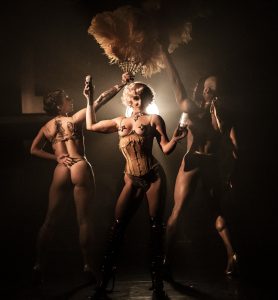 NUTCRACKER ROUGE is a scopophiliac's nirvana. The deep pleasure of "looking" is sated by being able to gaze unbidden into the erotic, sensual and sexy crack in the universe opened by this prurient production. We are not merely peeping through the keyhole into the secret wonders beyond, but are invited in to sit right up close to the cheeky exuberance. We are inside award-winning director/choreographer Austin McCormick's robust, decadent, gourmet, fantasy land of sexual awakening.  He has reimagined The Nutcracker as a titillating, seductive burlesque that takes the character of young "Marie Stahlbaum" on an unforgettable self actualizing journey – and we get to watch! It's a perfect evening of hedonism replete with exotic cocktails, absinthe shots and champagne filled bonhomie.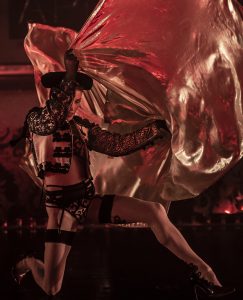 It feels like this production requires a thesis to fully explain it's cabinet of curiosities, it's sexual inquisitiveness, it's skillful theatrical athleticism, it's hypnotic chemistry…
Théâtre XIV is an erogenous zone! You feel it come alive with sensations at the arrival of the adventurous guests.  Many of the 19 performers are on the welcoming committee making you feel like kings and queens arriving at a decadent feast. The space is simply beautiful with its lush decor, glamorous chandeliers and cosy couches that are pure eye candy. You feel like you have entered an oasis of color and opulence. What follows is two and a half hours of bliss – incorporating aerial acts, circus stunts, ballet, opera, bawdy burlesque, vaudevillian style comedic links, live music  – all wrapped up in high fashion that is to exist for!
Every performer is multi-skilled and generously share their exquisite talents with effervescent joy and infectious playfulness (The audience are allowed to be voyeurs and are not roped into any unwanted participation). NUTCRACKER ROUGE is filled with handsome princes and Sugarplum fairies in this heavenly "Land of Sweets". A parade of original takes on hot chocolate from Spain, candy canes, mother ginger, popping cherries, dewdrop champagne bubbles all march past us on this wintry night. Every conceivable delicious, lick-able delicacy explodes your senses and transports you to another sugar coated world. Marie even gets her Prince (Herr Drosselmeier's nephew) in the end, in a mighty balletic climax.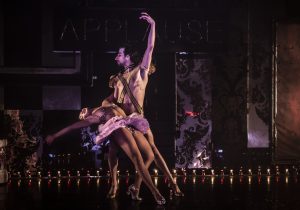 Christine Flores tackles the role of "Marie" with the inquisitiveness of an overstimulated teenage spy hellbent on finding out what lies behind the closed door and greedy when sampling the discoveries. Her combination of innocence and headstrong drives creates a palpable force on stage. Her aerial, ballet and dance abilities are astounding. She is the perfect vehicle to take us into this unknown universe with all of its marvels. The pas de deux with the "prince", Nicholas Katen, gave both dancers the opportunity to show us their beautiful balletic technique.
The four main singers each bring a completely different flavor to the piece. Cristina Rae has a voice that can summon the Gods – powerful, floor shaking, cloud bursting brilliance. LEXXE is the  sultry pop star, rock queen bringing her steamy vocals and sass. Josh Hobbs is an extremely charismatic, versatile singer with a Broadway belt that rattled the chandeliers. Marcy Richardson brought her opera diva chops to the party bursting out aria's while flying above the audience, wrapping herself around the moon. A truly monumental performance!
The "circus" acts felt like they were just above our heads or within in touching distance – intimate and in extreme close-up so you can really experience the mastery these artists display wielding their craft. Nolan McKew is a veritable giant with a grace in the air that is glorious to behold. He has a mighty presence on stage.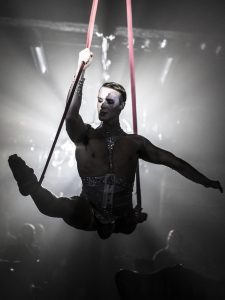 My plus one's favorite part of the show was Ashley Dragon's "hooping" prowess – she swiveled around the stage at top speed, contorting on the enormous, gyrating "hula hoop"  like a superhuman avenger. Troy Lingelbach looks like a cherub that has descended from on high tasked with mesmerizing human beings with his sylvan naughtiness. He has a nymph like ethereal energy whilst in the air and you feel that he might disappear at any moment or transform into a waterfall or a tree. He is a phenomenal artist.
My particular favorite of the evening was the performances by Jacoby Pruitt especially in the nod to activist, World War II spy and entertainer extraordinaire – Josephine Baker. He is a vivacious and bold performer.
Albert Cadabra is the lovely lewd master of ceremonies. He brings the edge, the bawdiness, the badass with a kinky twinkle in his eye. Lilin Lace is a steamy, sensational contortionist and stripteuse. She has a wonderful languid ease on stage that is deeply captivating. Sam Urdang's inventive juggling was a brilliant segue way into introducing interval absinthe shots. His adroit ability to toss cocktail making apparatus through the air was simply delicious. Cara Seyour's matador act was striking – like watching the flag gymnasts at the olympics – she controlled flying cloth like it was part of her body.
Youngsil Kim, Benjamin Freedman, Myles Hunter, Hannah Straney and Nicole Von Arx are the dancers, act supporters and crowd pleasers who never stop for a second.
The Costume and Set Design by Zane Pihlstrom is mind-blowing. The attention to details is gorgeous, Every scene brings brand new costumes that makes you feel like you are lining the runway at a Paris fashion week headline show. Jeanette Yew's Lighting design creates a suggestive, raunchy, hot atmosphere for Nutcracker Rouge- quite heady and intoxicating. Sarah Cimino's Makeup Design is simply superb!
Company XIV is a classy outfit that excels at creating explosively awesome theatrical experiences. I will be certainly singing their praises from the rooftops.
NUTCRACKER ROUGE is a theatrical aphrodisiac for open minded adults!
The running time is approximately 2 hours and 25 minutes with two intermissions.
The show contains partial nudity – 21 & over only.
Company XIV's NUTCRACKER ROUGE runs November 14, 2019 – January 26, 2020 in a limited 11-week engagement at Company XIV's new home at 383 Troutman St. in Bushwick, Brooklyn
Performances are Thursdays – Sundays and select additional evenings with a special show on New Year's Eve at 10pm. For exact show times visit http://CompanyXIV.com. Tickets are $105 – $195, and champagne VIP Couches for two people are $375 – $565. Purchase at http://CompanyXIV.com or by calling 1-866-811-4111.
For more info visit http://CompanyXIV.com, Like them on Facebook at https://www.facebook.com/Companyxiv, and follow on Instagram at @CompanyXIV (https://www.instagram.com/companyxiv).