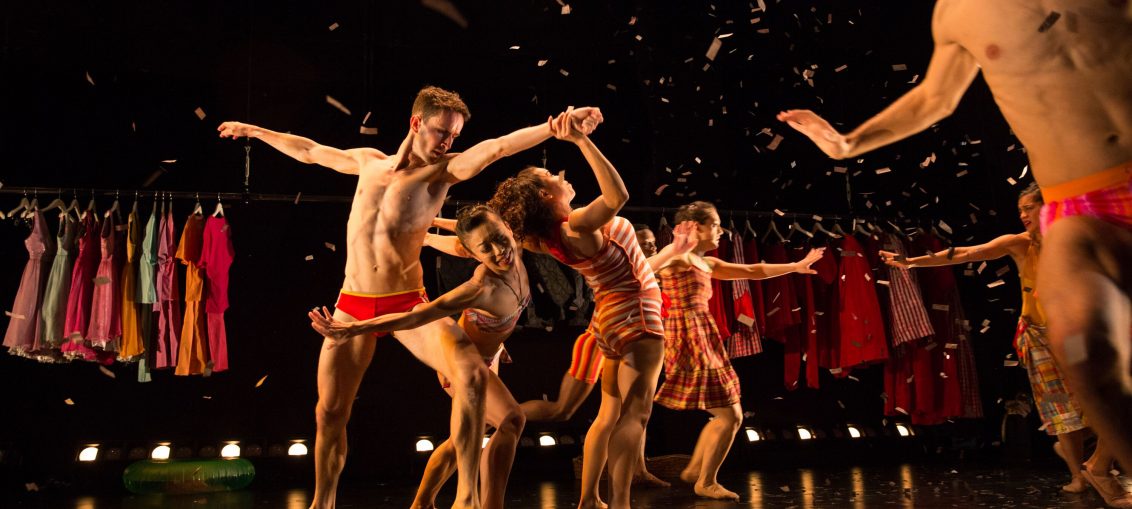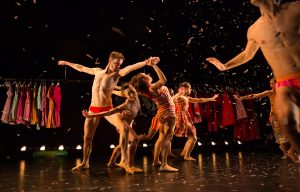 The November 26, 2019 publication of The UN environment programme Emissions Gap Report 2019  confirms yet again that Earth is in serious trouble.  Findings directed specifically at the U.S. and China conclude that action must be taken ASAP.  Thru Sunday, December 8 at Theatre Row, The Chase Brock Experience provides a strong response to climate change with The Four Seasons, which Brock visualizes as a dance of destruction.
Brock's 2008 ballet (female dancers wear ballet slippers instead of pointe shoes) is a loose, yet potent, narrative.  The dancers – Jane Abbott, Michael Bishop, Chloë Campbell, Kendrick D. Carter, Kassandra Cruz, Kory Geller, David Hochberg, Yukiko Kashiki, Honza Pelichovský, Tracy Shen, Emmy Spaar, and J.P. Viernes featuring Sarah Bowden as Roz G.- happily celebrate Spring with human daisy chains and Botticelli poses until they find a dead bird.  Brock's is a Summer of love, hook-ups and an unbroken heatwave of three-digit temperatures.  A Fall harvest dressed in Dane Laffrey"s beautiful red and gold colonial costumes is marred by loss and illness ends with a weather bomb much larger than the one that touched down locally a few weeks ago.  Winter finds the dancers stripped to their underwear scribbling messages of farewell on walls like prehistoric cave-dwellers as flooding destroys the world.
Each season is introduced with weather bulletins by Roz G.  Sarah Bowden speaks in hashtags and half-truths.  David Zellnik's lines are freely borrowed from John Oliver's regular "And Now This" segment splicing clips of weather reporters behaving like idiots.  Her babbling and spinning out of control is effective and delivering a message more potent than generational social media hashtags that divide rather than unite.
Along with chords of Beethoven's Symphonies #5 and #9 and Tchaikovsky ballets, Antonio Vivaldi's The Four Seasons (1716-1717) is itself an extinct member of the dying species of recognizable mainstream classical music.  It's used in movies, commercials, party music, museum exhibit background noise and documentaries like Carl Sagan's Cosmos.  The connected violin concertos with string orchestra are pretty, but Brock turns the music upside down.  Natural phenomena Vivaldi illustrates such as buzzing bees, thunderstorms or rough winds now signify full-force climate change.
Like our precious planet, The Chase Brock Experience's The Four Seasons dances against time.
The Four Seasons opened Saturday, November 23, 2019 and runs through Sunday, December 8, 2019 at Theatre Row (410 West 42nd Street, NYC).  The Chase Brock Experience is one of the resident companies of the renovated 40-year-old Times Square institution.