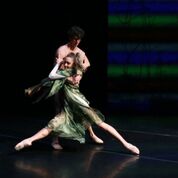 "Then she still had a body – she was not just a voice" is how Ovid describes the lovesick nymph Echo in Metamorphosis.  The poet is less kind to Narcissus, the object of her desire.  The royal teenager possesses too "much cold pride within his tender body."  Though the romance one-sided and symbolism overt, the artists of Satellite Collective vividly and memorably reinterpreted the myth at BAM Fisher.  It is too bad that there were only two performances of this imaginative production directed by Philip Stoddard.
Literally reflecting Narcissus falling in love with his own image, Stoddard and Satellite Artistic Director Kevin Draper's script doubled up the ill-fated couple with Echo played by dancer Michaela Rae Mann and soprano Christine Taylor Price and Narcissus by dancer Matteo Fiorani and baritone Philip Stoddard. The imagery went further in Aaron Severini's score which touchingly included real echos and the instrumental sounding of her name.  He also allowed Echo to sing full phrases once her heart was finally broken
Severini, choreographer Norbert De La Cruz III and costume designer Keiko Voltaire, all incorporated Neoclassicism, the twentieth century's artistic reinterpretation of antiquity.  However, the re-telling was not idealized because the story took place in New York City, 1971.  Manhattan has always had its own mythology, and that era's is rooted in the reality of an abandoned, decadent urban empire.  Draper and Simon Harding's projection designs are almost exclusively of photos reminding everyone of that gritty uncertain time.  Besides, much mythology is about bad and destructive (as in end-of-the-world) behavior.
The time shift provided variation on the pair's character profiles. They remain reckless and pay for it.  Echo's flightiness and vulnerability was now the tested as a society girl.  Narcissus is still a prince whose father is a king – of industry – which is the third layer of storytelling.  Satellite Executive Director Lora Robertson's short films depicted Narcissus and his father as robots.  At first, the intricate mechanical creations are off-putting, but eventually provide an unexpectedly emotional angle.
Through their robot avatar, the dancing and singing Narcissus find themselves in Washington, D.C.  It's up to the audience to decide who he could be and why he ended up there.
Echo & Narcissus premiered September 14-15, 2018 at BAM Fisher (321 Ashland Place, Brooklyn).  From September 19 – October 7, 2018, performances take place at SiTE:LAB (415 Franklin St SE, Grand Rapids, Michigan).  Please see Satellite Collective's website for upcoming projects.