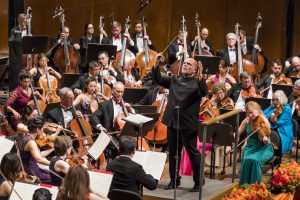 With an opening night gala and an ambitious, awesome sounding first subscription concert, Jaap van Zweden officially became the New York Philharmonic's 24th Music Director.  The Dutch maestro, who transitioned from Concertmaster of Amsterdam's Royal Concertgebouw Orchestra to conductor with the Leonard Bernstein's encouragement, comes to an orchestra still in serious need of overhauling and/or dynamiting David Geffen Hall and continuing its overdue image change.  van Zweden's predecessor Alan Gilbert succeeded making the NYP a local and digital presence (here's hoping Gilbert gets his wish to one day conduct Olivier Messiaen's St. François d'Assise because Manhattan socialites will never sign off on it unless Plácido Domingo sings the title role).  Based on the friendly "Meet Jaap!" ad campaign featuring the casual, non-intimidating maestro, confirmation of continuing playing new or underplayed music at Lincoln Center or elsewhere and – most important of all – how the orchestra sounds, this could be a good fit.
The Friday, September 21 concert (repeated September 22 and again on September 25) opened as it did on the previous evening's gala with Ashley Fure's Filament.  Merriam-Webster defines a filament as "a single thread or a thin flexible, threadlike object process, or appendage," which Fure created  a 14-minute echo for orchestra, soloists and Constellation Chor vocal ensemble.  Sometimes comforting, occasionally frightening, the music is kinetic and atmospheric.
Filament is a serious but happy departure from the usual commission.  Bassoonist Rebekah Heller played from mid-aisle on the main level, bassist Brandon Lopez sat off to to side of the stage, and trumpeter Nate Wooley stood behind the orchestra.  They and the NYP answered each other across a darkened Geffen Hall, thereby creating the echo. In turn, Constellation Chor members placed around the Hall answered their calls with voiceless replies and megaphones.  Towards the end, the Constellations made their way to the main level, breaking into two groups of angelic heralds.  The visual and sound concept proved mysterious and exciting.
The second piece on the program was what most of the sold-out house was waiting for when Daniil Trifonov joined the NYP for Beethoven's Fifth Piano Concerto.  Dressed in a suit and tie, the Russian pianist is all business; no theatrics or hysterics.  That calmness allows for thoughtful playing and listening.  The Concerto is nicknamed Emperor for Beethoven's patron, Rudolf of Austria, but here it applied to this gifted pianist and the NYP players and conductor providing elegant accompaniment.
Stravinsky's Rite of Spring closed the concert.  The ballet score that may or may not have caused a riot at its 1913 premiere (research indicated a premeditated publicity stunt) might be rough on delicate, wealthy, conservative ears, but it allows conductor and orchestra to show off in a good way.  There is precedent for including it on a NYP opening program:  Pierre Boulez did in 1971 when he succeeded Leonard Bernstein.  Boulez also made one of its most definitive recordings…with the Cleveland Orchestra.
There are several approaches to The Rite.  It can be countable to reflect its original intent to be danced, wild with the volume turned up, Russofied, which it is, though Stravinsky composed it in Europe, as a warning sign of the coming First World War and Russian Revolution, or with the gravitas that it changed music.  van Zweden controlled it enough to allow recognizing themes from Stravinsky's previous Firebird and what he would return to in Les Noces (The Wedding) and Persephone.  It was also ugly sounding when necessary.
This latest version of the New York Philharmonic's Rite of Spring was, to borrow a line from West Side Story, "a get-together dance" that is a public declaration that trust is being established.
Duration: 2 hours with one 15-minute intermission.
Information on the New York Philharmonic is available on their website.