---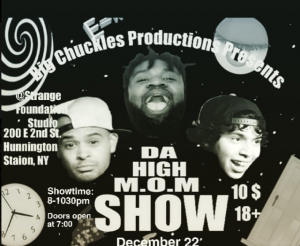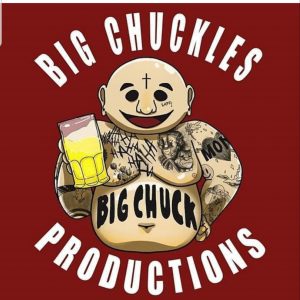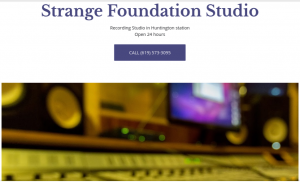 I'm someone who no longer says "no" to anything. It's yes all the way. I've cultured myself to a grand scale by saying "yes" all the time. Because of this I get the opportunity to find myself in a slew of footings one might not usually find themselves in. This past Saturday evening was no exception. After I was bumped from a show at a local Comedy Club because of an excessive amount of comedians, I decided my time would be better served elsewhere. After some careful introspection I found myself heading to a Stand Up comedy/Hip Hop production called DA HIGH M.O.M. SHOW. M.O.M. is an acronym for Mind Over Matter. I have to be honest I wasn't sure what M.O.M.meant, I was kind of hoping it stood for Milk Of Mom, turns me on just thinking about it, but I'm odd.
              Headed up by Owner and CEO Vic Hernandez, The Strange Foundation, in Huntington Station is a high end recording studio, with several recording rooms and a garage like back room for live performances that can fit 100 plus. There were also several other rooms, but I'll let you use your imagination. Oh my God, you guys are disgusting!! I digress, some of Long Islands hottest names in the rap game do their work at The Strange Foundation. Big Chuckles Productions is produced by Comedians Ely Velasquez, Rene Fuentes, Rapper FRZ who together created, Big Chuckles Productions. Through which they formed an unrelenting and unstoppable force in entertaiment and took over the venue at The Strange Foundation for one very special night..
             What I truly love about the story of the rise of this crew is a lifelong effort of not being stuck. They have turned a negative into a positive. Coming from some seriously hard streets opportunities to get out are few and too far in between. As life long friends who grew up together there's an understanding and a trust that is hard to find. Both Ely and Vic eventually hung up that fast lifestyle for a whole different style of life. Comedy and music production became the game. Ely boasts tours with the Marines. Vic Hernandez has had some serious artists in his studio, which is growing exponentially by the day. Seeing Ely and Vic work together is a perfect match. Two men who know what hard work is and what it will take to get to the next step. Adding Rene Fuentes and FRZ to the mix only strengthens the certainty of World Domination. Okay, that's a little extreme, but you are going to see a lot more of these producers in the near future. Keep an eye out.
             The garage like environment is the perfect venue for the variety that was consumed by the very eager audience. The first half of the show gave us the comedy stylings of some of Long Islands best comedians. Future superstars Sean Brown, Christian Hahn, Johnny Macdonald, Justin Mcdonald (only not related because of the "a" in "Mac"), Meno Fernandez, Ely Velazquez, Zack Zorovich, Devin Bramble, whose very special brand of self involved comedy recently won a stand up residency a Grenwich Village Comedy Club in Manhattan and brother to Kendle Bramble featured during the Hip Hop portion, All killed it on stage. A pretty big deal in what is a small circle. Rene Fuentes, Producer for Big Chuckles Productions and new to the game has already developed some serious stage presence and an understanding of how to produce a lucrative show. Closing out was John Battle who headlined the event and proved once again he has some serious comedy chops in front of this very vocal audience. Battle compared the well involved audience to that of a Cypress Hill concert. He wasn't wrong. The crowd was "dope" to say the least. Every single one of these comedians tore the house down. The only bad part was that during intermission they had to clean up that hot mess of funny that was left on stage for the second half, a second half that added some true variety to an already awesome evening.
             Our second act included some of the hottest hip hop artists coming up in the game today. First up, the solo artists in no particular order, Lijah Rios tore up the mic and can be seen on instagram @lijahrios. Skyrome killed it with his even flow, check him out on instagram  @$kyrome. Xanton Zombie showed readiness for some serious rap battle and they can also be found on instagram @xanton_zombie. Kelly- Ann Saunders aka the afr0dite has some great stories and tells some serious truths. The Hip Hop groups included Bruvs: FRZ who is also co creator of this production, a great rapper with some unforgettable style. Then we had the The AK's who definitely know how to work a stage, and just put out their new EP "Laws Of Attraction". Then we had my favorite production of the night, "If The Shoe Fits" which is made up of Kendle Bramble, Budd Brown, Robert Mckissick and Nkosi Archibald. The rhymes, the flows, the stories, the jokes that all these groups put together made for a slamming evening which also included a certain amount of debauchery. I suggest you check this out if and when you get the chance. Keep your eye out for everyone mentioned here.
The Strange Foundation studio is available for bookings: https://strange-foundation-studio.business.site/
Big Chuckle Productions can found on Facebook for future productions.