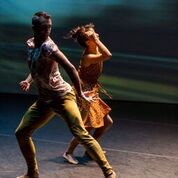 ZviDance, under the direction of founder/Artistic Director Zvi Gotheiner, appeared December 19-22, 2018 at New York Live Arts.  Their program included two provocative world premieres reflecting how effectively dance communicates the interior and exterior.
The timing for presenting Bears Ears couldn't have been more ironic.  The 1.35-million-acre Utah national park – sacred land to several Native American peoples – is threatened by the Trump administration twofold.  As a slap to President Obama for officially declaring Bears Ears a national monument, the administration wants to reduce its size and drill it for oil.  Then there's the partial government shutdown commencing during ZviDance's run rendering National Parks closed or about to be, their website unable to provide updates and all personnel furloughed.  The creation of this Bears Ears is due to a harmonious collaboration with Repertory Dance Theater of Utah. 
The final moments of Gotheiner's dance was a physical realization of nature vs. the unnurtured, but that is not all Bears Ears is about.  The eight dancers personify the land.  Mary Jo Mecca's costumes for the female dancers are shades of purple and grey dyed like changing light on rock formations while the men complement them in white tee shirts and black tights.  Their repeated pattern of raised, then bent, arms and legs followed by the gentle slapping of (individual, not each other's) heads and thighs are common in folk dance but never mimic indigenous movement.  
Accompanying the piece are Joshua Higgason's media design featuring images of Bears Ears and Scott Scott Killian's evocative original score.  They also contributed to Detour, the second new work on the program.
In a series of episodes Gotheiner explores how a gesture or feeling intensifies when passed on to another.  The choreography is so persuasive that these moments originate from a nightmare or high doses of daily distress.  Either is probable.  
Gotheiner lists his dancers as collaborators.  Those contributing to and performing both dances are Chelsea Ainsworth, Alex Biegelson, Alison Clancy, Isaies Santamaria Perez, Doron Perk, Isa Santamaria, Jessica Smith, Stephanie Terasaki and Will Tomaskovic.
Learn more about ZviDance on their website.
New York Live Arts presents and promotes dance year round.