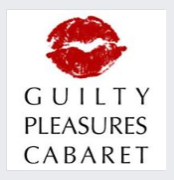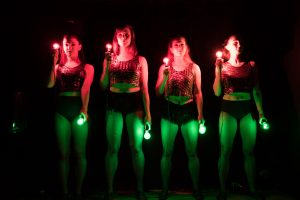 Photo Credit Mike Skigen
                   Merry Christmas to me!!!! This past Friday December 14th at 9 pm at the Duplex, 91 Christopher Street @ 7th Ave, I had the occasion to participate in some of the most lively entertainment I've ever gotten to be part of during the holiday season. Looking back it seems almost providence that timing was fortuitous enough to allow me to be invited to peer at Guilty Pleasures Cabaret. Created and Produced by the incredibly talented Bridget Bose and stunning Andrea Palesh who both also perform in the production, along with Theatrical Director, Gregory Levine put together Guilty Pleasures Cabaret, a high energy modern cabaret act run by women who know what they are doing. Especially when it comes to enticing a capacity crowd in The Cabaret Room at The Duplex. Andrea and Bridget bring forth a production that was filled with sultriness, sexiness, lively songs, alluring people, dances and dozens of truly funny moments.
                    Meredith Swanson was our host for the evening. Her performance was seamless. She was like having the perfect prom date who might vomit on you, but in a good way.  The variety show appeal that she brought to the stage was reminiscent of "The Colgate Comedy Hour", which sadly most people will have never heard of but is very important in the annals of comedy history. Though very modern Meredith is able to play this fine line between modernity and the inception of television. Her timing and ability to connect with the audience was on par with Johnny Carson and Joan Rivers. Her character in the show though probably mostly an accentuated version of herself embodies that 1950's Man Men ideal of a woman, while breaking through that exact concept at the same time. Meredith is a bewitching host and should probably emcee most events while we are all here on earth. I even see a possible late night talk show in her future.
                    The three Sirens,
 Allyson Horn, Annie Ester, and
Melissa Becker had some truly passionate moments. Tremendous songs choices all around. They hit on every Christmas note (no pun intended) one might want. Toward the end of the evening Andrea Palesh performed a specialty of hers that involves LED poi. Two lights swung in time to Carol of the Bells. If the show was fireworks this was the rising climax. I would be hard pressed to leave out the piano player and musical director, Vincent Ester who is an immense talent. He especially shined when improvising some of the sexually deviant things the audience suggested earlier for the musical improvisation portion of the evening. Which all shows should have, even Les Miserables should add some audience musical improv.
                    The Dancers!!! Holy Shit!! I'm almost at a lose because words may not describe how distracting their presence on stage was for me. 
Kayla Radomski, 
Marissa Staniec, 
Melany Smith, Melissa Cammarata, Moira Saxena, Yuanhao (Cercle) Zhang have some serious strength, confidence and a serious gift for connecting with their environment and whats in front of them. They took charge every chance on stage and fluidly moved through it all with constant fervor. When they were on the stage, they owned it. What truly makes a cabaret act, is the intimacy. The eye contact the audience gets to make with the performer. Something that can't be done in large venues. But In The Cabaret Room at The Duplex the performers made you feel like you were part of a rare shared experience by letting you know they know you are right there with them.
                     In this world where everything is at our fingertips on smartphones, it isn't always an easy task to find something truly enticing, classy, sexy and funny all at the same time. Guilty Pleasures Cabaret has all of that. Part burlesque, part traditional holiday piece, part 1950's socialite gathering, but mostly part truly exquisite women singing and dancing for the pleasure of NYC theater goers. It was beautiful event on all levels. Watching Guilty Pleasures was like seeing "The Marvelous Wonderettes" on Crack at an AA meeting……..I'd guess. From the moment the dancers took the stage I was spellbound.  I'm not sure I blinked for 90 minutes. I didn't want to miss the occasion for any moment from this brash group of strong women. This show was like the greatest foreplay ever. Though sadly my night ended watching The Pajama Game with John Raitt and Doris Day, no they were not with me, they are dead, I was alone. My only problem with this production would be I wanted more. Go see Guilty Pleasures Cabaret, you'll be begging your clergy for forgiveness. See it!!! Or regret you didn't.
Holiday Set List:
Holiday Mash-up: Entire Company
Step Into Christmas Tap Dance – Sirens, Melany, Mel C, and Marissa
Christmas Tree Hip hop routine – Moira, Cercle, and Kayla
Favorite Things Showgirl act – Singer – Meredith, Dancers – Melany and Marissa
Santa Claus is Back in Town Contortion Trio – Bridget, Kayla, and Mel C
Man with the Bag – The Sirens and Vinnie
Diamonds – Singer: Annie, Dancer – Mel C, Kayla, Melany, Marissa
Christmas Mad Libs – Vinnie
Booty Swing – Meredith, Melany, Mel C, Kayla, and Marissa
Sway – Singer – Mel G, Dancers – Vinnie, Moira, Cercle, Melany, Mel C, Kayla, and Marissa
Grinch – The Sirens and Vinnie
No Diggity – Mel C, Kayla, Melany, Marissa
Let's Be Bad – Meredith and Vinnie
Rocking Around the Christmas Tree – Singer: Allyson, Dancers: Moira, Kayla, Melany, and Marissa
It's Christmas Let's have Sex – Meredith, The Sirens, and Vinnie
Carol of the Bells light and poi act – Poi Spinner: Andrea, Dancers – Mel C, Kayla, Melany, Marissa
All I want for Christmas Is to Dance with Somebody Mashup – entire Company
MORE ABOUT GUILTY PLEASURES CABARET:

NYC's Premier Song and Dance Variety Show features high-energy synchronized dancing, live music, and cheeky comedy…just a few of our guilty pleasures.  Produced and directed by a female team, the show is full of sultry charm and feminine energy that's redefining the American cabaret experience.  This production can be described as an extravaganza in which "Great Gatsby meets Mad Men meets Video Vixens." Guilty Pleasures Cabaret was founded in 2014 by six friends in New York City who wanted to produce a show that highlighted both their performing and creative talents. Inspired by music, dance, and costumes that fulfilled their guilty performing pleasures, the show was born – thus earning their name "Guilty Pleasures Cabaret." The ladies debuted their show in Manhattan on the Upper West Side at a neighborhood bar, and after nine months, moved downtown where they sold out monthly shows at the renowned Duplex Cabaret Theater. The ladies have since made the Duplex their performing home, with guest appearances at Feinstein's/54 Below, Cutting Room, DROM, The Triad, The Ten-Foot Rat Cabaret, Clocktower Cabaret in Denver, and Voodoo Comedy Lounge in Denver.  In the spring of 2017, the group began performing internationally with performances in San Pedro, Belize and Bimini, Bahamas.