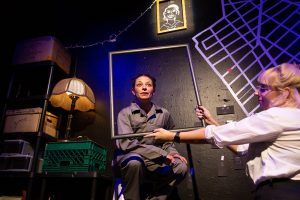 Being the reviewer is fun stuff but can be awkward – particularly when covering children's theatre, when the only reactions that matter most are from those wearing glittery unicorn horns and holding a parent or grandparent's hand.  Therefore, it's heartening that New Ohio Theatre takes such good care keeping them entertained and informed at their second UP CLOSE FESTIVAL.
Rather than a seasonal story, UP CLOSE is about community; specifically, the Village.  Kids and their adults are divided into small groups and enter the theatre via a secret knock (it really works!).  They are greeted by Pizza Rat (Marisol Rosa-Shapiro), emcees their hour-long (give or take a few extra minutes getting everyone settled getting in and between segments) tour.  Borrowing both the Christmas village and craft show concept, the stage minus seats is an Archive, appropriate because 154 Christopher Street is THE Archive building, divided into four areas: The Custom House (New Ohio's home), The Church of St. Luke in the Fields on Hudson Street, 219 Thompson Street where the "Chess Wars" of 1995 took place and the victor resides, and the Bell Lab's "Idea Factory."  When Bell left for New Jersey in 1966, the 55 Bethune Street complex became Westbeth,
That's enough information for several Ken Burns' documentaries.  Rather than overwhelm audience members in the making, the intrepid creators and performers provide hands-on activities holding their attention.  Oyster shells are handed out at Custom House.  St. Luke's grounds also serving as a map is a DIY braided rug large enough for all the kids in attendance to sit on.  Chess is illustrated on a checkered floor with audience members of various ages personifying the pieces.  (The Bishop kissed his Mom after maneuvering across the board.)  Bell scientists catch sounds reverberating throughout the Village's history in meticulously labelled mason jars.  They then lead children through all the Archivess, listening and capturing new sounds.  The message, mission and lesson is achieved, for history neither stops nor excludes.
Perhaps only an adult can hope that while UP CLOSE's target audience is too young to know about community organizer Jane Jacobs  (she's a bit more than a plot point on The Marvelous Mrs. Maisel), the AIDS epidemic, that both the original Lenape settlers and Walt Whitman used the phrase Mannahatta, and that contemporary Village life favors the wealthy and non-artistic, that they one day will.  Even if their future education does not, theatres and libraries in their neighborhoods holds these answers.
UP CLOSE FESTIVAL opened at New Ohio Theatre (154 Christopher Street, #1E, NYC) on Friday, December 27.  Remaining performances are: Monday, December 30 (11:00am and 2:00pm), Tuesday, New Year's Eve (2:00pm), Thursday, January 2 (7:00pm), Friday, January, 3 (7:00pm), and Saturday, January 4th (11:00am and 2:00pm).  Please click here for tickets.