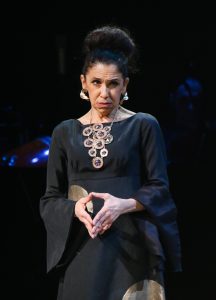 The Royal Shakespeare Company (RSC) approximates that the Bard wrote Timon of Athens and King Lear between 1604-1606.  Lear is a masterpiece about dysfunctional families, abuse of power and neglecting the elderly.  Timon is a "problem" play Shakespeare co-wrote with Thomas Middleton offering neither redemption nor emotional satisfaction.
Though Timon might pose problems in a required rote humanities class and repertory justification, the rise and fall of a historic figure from Plutarch provides a cautionary tale: what happened to Timon can happen to anyone, the moral being the rich stick to their own kind.  Not exactly the perfect benefit night offering.  Since the protagonist lives in frivolous, dangerous times, the RSC produced the play in 2018, and Theatre for a New Audience (TFANA) brought it their Polonsky Shakespeare Center thru February 9.
Along with moving the time from the ancient world to an abstracted contemporary one, director Simon Godwin's Timon is female.  "The Cradle of Civilization" treated women no better than dogs (pups are Shakespeare's insult of choice in this one), but Kathryn Hunter is persuasive enough to suspend historical disbelief.  Soutra Gilmour's costumes for her are copies of the functional stylish gowns and gold accessories Martha Graham wore in her Greek dance dramas.  Like Graham, Hunter is small, slight – and fierce, using her throaty alto like a singer heard first as a Lady Bountiful.  Soon, she is overdrawn on credit with no more property to sell.  Her friends of politicians, aristocrats and artists refuse to help.  Before leaving Athens, she throws one last party, serving her "knot of mouth-friends" bowls of blood, her voice now controlled by betrayal.
Act I is plot-driven, with revenge dished out early.  Act II is Timon's reconciling her place in her world, now the woods.  She rejects her loyal steward Lucilius (Adam Langdon), the cynical philosopher Apemantus (Arnie Burton) who genuinely cares for her and Alcibiades (Elia Monte-Brown), a loyal friend about to attack Athens.  This version of Timon ignores both the general's gender and questionable career but works because these women are spiritual allies.  The de-gendering is easy to accept; the Ancient Greek/Elizabethan/Brechtian magic moment of Timon finding gold isn't.  But this is Shakespeare, and Timon is no longer interested in it.  She isn't interested in anything.  Her suicide is of her own free will – reborn though loss.
Director Godwin makes a case for Timon as an oddity in the Shakespeare canon.  Both onstage and in book form, it seems like sections are missing.  Changes in gender and era make it more accessible.  Inclusion is taken further by Michael Bruce's Greek-infused score played by an onstage trio and sung by Kristen Misthopoulos.  Songs are based on Sonnet 53 ("What is your substance, whereof are you made…") and the Cretan protest hymn "When Will the Skies Get Clear".  Soutra Gilmour's costumes for the rest of the cast and set design are right out of – take your pick – mid-century Better Homes and Gardens,  The Kardashians and Trump Tower.  Shakespeare knew that dressing up never hid human nature.
Running time:  2 hours and 30 minutes with 1 intermission.
Timon of Athens opened on January 19, 2020 and runs thru February 9, 2020 on the Samuel H. Scripps Mainstage at Polonsky Shakespeare Center.(262 Ashland Place, Brooklyn). Ticket information is available here. 
Timon of Athens is a co-production of Theatre for a New Audience and Shakespeare Theatre Company in association with the Royal Shakespeare Company.  Following performances in Brooklyn, the production moves to the Shakespeare Theatre Company in Washington, DC from February 20-March 22, 2020, where Simon Godwin is the Artistic Director.