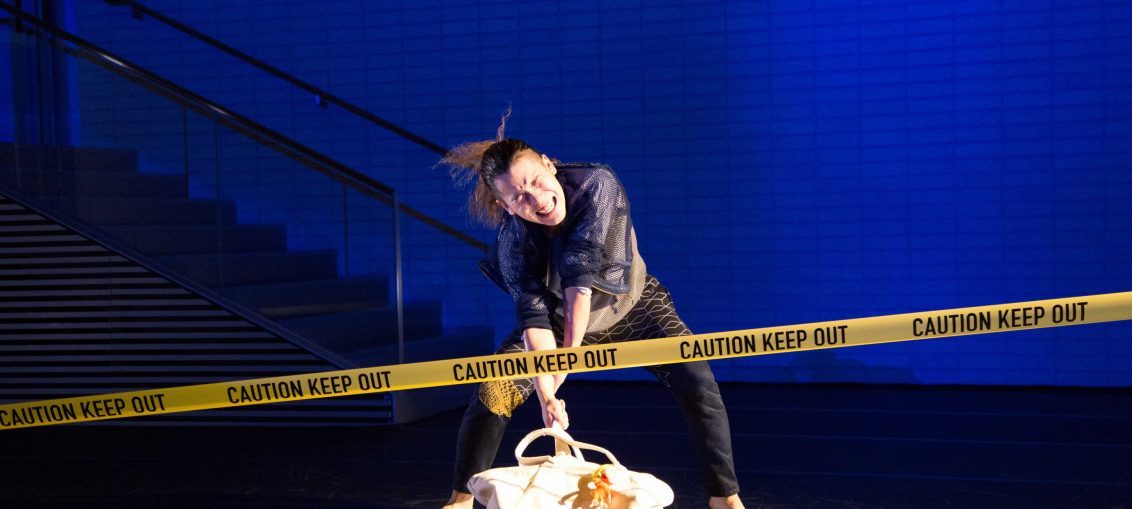 When the lights come up, one immediately observes what could only be a silverback gorilla. The gait, the strut, the way he pounds his chest and paces the stage — anyone who has seen a nature film or visited a zoo would find these distinctive characteristics undeniable. But why is he there, what is this about? Suddenly and unexpectedly, after the attendees have spent some time with the ape, the performer morphs into a couple, then an obnoxious and rowdy child, followed by a gentle yet absent-minded mother, a passionate but perturbed photographer and, finally, an annoyed older man. This all takes place within the first 15 minutes of The Unknown Dancer in the Neighborhood, written and directed by Suguru Yamamoto — founder of the Japanese theatre company Hanchu-Yuei. The piece was enacted in an enthralling, yet exhausting, 90-minute marathon of physical, textual, conceptual and emotional acrobatics by a single artist, Wataru Kitao, at Japan Society as part of the Public Theater's annual Under the Radar Festival.
This marks Yamamoto's triumphant return to Japan Society after his North American debut of Girl X caused quite the sensation in 2017. Yamamoto is part of Japan's current trend and boom of talented young Japanese playwrights/directors/theatre company founders which also includes those such as the world-renowned Toshiki Okada of the theatre company chelfitsch (whose Eraser Mountain will play at NYU's Skirball Center this February 28-29, appropriately on a Leap Year for the visionary's work) and Yu Murai (Romeo and Toilet and Ashita no Ma-Joe) of Theatre Company Kaimaku Pennant Race (KPR) — both of whom also performed their plays at Japan Society. These forces in global contemporary theatre are acting as the next generation of Japanese theater-makers who are picking up where those such as Tadashi Suzuki and most especially Oriza Hirata — a pioneer of the "quite theatre" movement who has two new one-act plays inspired by events leading up the 2020 Summer Games in Tokyo that being presented at Japan Society this May — have left off. The language is more colloquial, relaxed and natural, a far cry from the over-stylized noh or kabuki that some Westerners may associate more readily with Japanese theatre. Those traditions and styles were formed and became popular around the same time as Shakespeare (though noh is older), they continue to be performed to this day and carry the elegant, if outdated language of the period. But Unknown Dancer and other works from contemporary Japanese theatre company founder/writer/directors lean more heavily on technology, avant-garde ideas and implications, realism, naturalism (as well as some bizarre surreal aspects) with a good dose of quirkiness and an underlying simplicity that strings the disparate parts together and makes them cohesive. If you've enjoyed an excellent, more high-end Japanese meal by a master chef you might understand — the flavors, textures and tastes are well-balanced yet potent, served in small samplings (never overwhelming or overwrought) with a clear structure and story-line that strings the whole experience together, though it may not seem clear at first. The result is leaving satisfied but not stuffed, and with a lingering air of mystery. Such is the Japanese way in cuisine as well as contemporary theatre and Unknown Dancer was a delectable example to both the uninitiated and the connoisseur.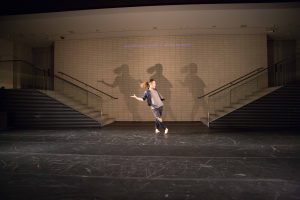 Yet, as much as one tends to (and should) praise the creator/director, the performer is the one who breathes life into the piece and Kitao achieved this masterfully with grace, subtlety and ineffable commitment, not to mention strength and endurance, plus a bounty of charisma. He was captivating to watch as he transformed into each of the characters and personified them verbally and physically like a man who was possessed. As previously mentioned — and the roles continued to expand — he fully became and embodied every living creature imaginable be they animal or human, male or female, child, teenager, adolescent and elderly persons seamlessly. The one that struck and stayed with me the most, however, was the stripper. She was described by an older man who came to see her as "an amateur sumo wrestler" not due to her size but ambition and desire. Kitao portrayed her with seductiveness, but also a delightful tenderness and femininity that showcased his dance training exquisitely (which was unveiled more prominently as the evening continued). After a night at the club, she walks home in the rain, during the most poetic and charming moments of the text, which ends in tragedy as she is never seen again. She becomes the victim of a brutal and senseless crime. This is the twist in the play, where reality is further warped and the town of Nagai is scrutinized for being a dangerous place. First, there is the stripper's murder, then a train accident, followed by a serious hostage situation where every one of those held captive for days were killed for reasons that were not only incomprehensible, they were impossible to comprehend at all as they were unintelligible, and the perpetrators were killed before an explanation could be given. These kinds of outrageous, aberrant and irrational crimes evoked the mass murders taking place in America, but also globally and increasingly in Japan — a place historically known for being low in such transgressions, though they have been on the increase shockingly of late. Kitao also plays both the conductor and the "train boy" — a living entity who swallows and carries people — as well as the train accident witnesses of varying ages and genders brilliantly in one of the most disturbing and memorable scenes.
Text plays a major force in The Unknown Dancer in the Neighborhood, not only in the monologues/dialogues but as the form of communication most Millennials and younger (and, let's face it, pretty much everyone) feels the most comfortable with — texting. Though all Japanese is translated, the text on the screen is often not what is said by Kitao himself, but an exchange through text dialogue with another character. Sometimes all is text while he adds physicality and gesture to the words. There is a great feeling of isolation and that is precisely the point — a mother and teenager behind a closed door, a pimp and a prostitute discussing deal and business but also loneliness. In a profound moment, Kitao becomes the unborn child that never was between those two lost souls if they had decided that was the night to find another to quench the never-ending thirst of an isolated heart-seeking comfort. Only they don't and it doesn't happen, so the child was never born (perhaps a poignant jab at Japan's ever-decreasing annual birth rates?). 
The Unknown Dancer in the Neighborhood concludes with a physically astounding and mesmerizing, yet totally exhausting, sequence — which Kitao confirmed was based on the characters and text yet, as most of the movement in the entire piece, completely improvised. In the end, the audience is nearly as breathless as the performer and left with so many unanswered (and possibly or likely unanswerable) questions. And yet, like an excellent Japanese meal from a master chef, one feels satiated and fulfilled. The queries are meant to hang in the air exponentially and the takeaway is to have enjoyed being a fly on the wall in various scenarios and interactions, without the need for any kind of resolve or clear and neatly packaged ending. Life isn't that way, so why should theatre be?
For more information about The Unknown Dancer in the Neighborhood, please visit: https://publictheater.org/productions/season/1920/utr/unknowndancer/
For more information about Japan Society and its 2020 season programming, please visit: https://www.japansociety.org/