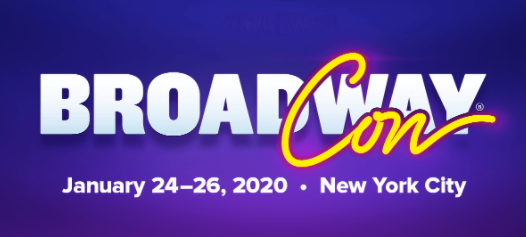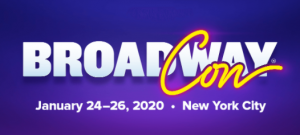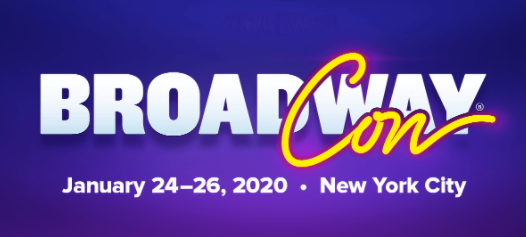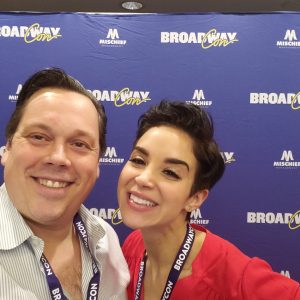 Alexandra Silber Brings It To BroadwayCon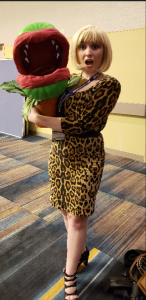 Audrey and Audrey II Hand Puppet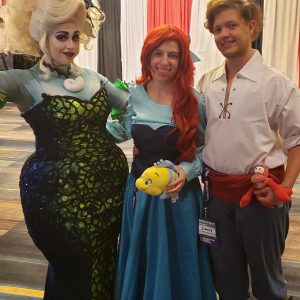 Ursula, Ariel and Eric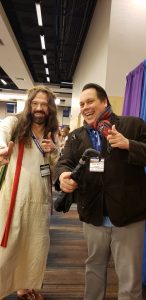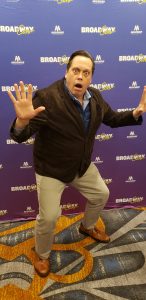 Jesus and D.B. Frick (Left to Right)
My hearts attachment to the process of theater started at age 6 when my mother first brought me to see "The Tap Dance Kid". I was awoken that day by theater and haven't slept since. I love nothing more then seeing like minded people brought together. Nobody does that quite like the producers of BroadwayCon which hit New York City once again this past weekend from Friday January 24th to Sunday the 27th at the Midtown Hilton in New York City. For five years now BroadwayCon has brought together tens of thousands of fans, performers and Broadways biggest names in a way that no other entertainment event does. 2020 marks my third effort covering this convention. This Church is built on inclusion, love and a heaping spoonful of Sondheim and Webber. Some of the most established names in theater attend this event. From panels and seminars to karaoke to meeting with producers and agents who make the theater world go around. Everybody is here and they are here to talk and meet everyone. The opportunities are abound. There is so much going on its impossible to not find something that will spark ones interest.
The cosplay was everywhere. The most favored costume seemed to be that of Beetlejuice. As I walked the hallowed halls of the hotel I saw three Beetlejuices in a row and I got uneasy. Then remembered you have to say Beetlejuice out loud three times. Even, Beetlejuice himself, Alex Brightman, star of Broadways most popular show was in attendance, signing autographs, doing panels and interviews. Ok, now I've definitely said Beetlejuice too much. Some of my favorite moments are photographed above. You'll see, Mykala, dressed as Audrey with her Audrey 2 hand puppet.  It was nice to see Ursula and Ariel made up. They had a hard run of it, but I guess since Ariel is a person now and no longer a mermaid everything is cool between them. I met Jesus too. I asked him what happens when he sneezes. He laughed. He then smote me. Which I guess is kind of a compliment. How many people get to say Jesus smote them? He also stated that he "never liked Jesus Christ Superstar" citing it as, "too preachy". Funny hearing that from Jesus. I personally love Jesus Christ Superstar.
My fave fave part of the event was my opportunity to speak with one of the most lovely people I have ever met, Alexandra Silber.  A favorite of Broadway and the West End since Alexandra's debut in "Masterclass" in 2010. I sat down with Alexandra in the Holland Room at the New York Hilton this past Friday afternoon. Alexandra and I have one very interesting thing in common. We both appeared in the 2007 John Cusack, Samuel L. Jackson film 1408 based on the Stephen King short story by the same name. I digress. The last 10 years have been quite a ride for Miss Silber. Books, Readings, Broadway and West End productions. So much going on in this wonderful lady's world.
Two and a half years ago, August of 2017 I had the opportunity to see Alexandra do a live stage version of her book, "After Anatevka". A sequel to "Fiddler On The Roof", mainly about Perchik and Hodel and Hodel's search for her husband in deep cold Siberia. A truly great book. Check it out on Audible read by Sheldon Harnick "the last living creator of Fiddler on the roof" and "a theatrical grandfather" to Alexandra. He was in attendance that evening. Alexandra read from her book then sang songs from Fiddler as well as several new songs for "After Anatevka". There is even one song meant to be in the original "Fiddler On The Roof" that didn't make it. Alexandra also just finished up a fantastic run of "Einsteins Dream" and she is headed to the West End in London once again to be part of "Indecent". Alexandra was so excited about BroadwayCon. She calls it "The Superbowl for theater nerds". I asked Alexandra her first memory of being on stage,
"I think I was 5, It was a ballet recital. I remember that it was the "Skaters Waltz" and two little girls in butterfly wings crossed the stage and I joined and we all did Passe. When it was over I felt this little surge. My father even says he saw a light go off in me. Then I think I was more significantly on stage in the 3rd grade. It's always where I felt the most creative and alive. The wonderful thing about the theater specifically is that it is such a community social art form. It has to be consumed and created with a group. Whereas as writing is most often consumed and created in solitude."
I also asked Miss Silber if there was any dream roles or anything she wanted to work on.
"I have always wanted to work with Paula Vogel and in nine days I am headed to do the London production of "Indecent". It's a dream to work with her and Rebecca Taichman. These powerhouse women that are really changing the face of theater. And on a personal level it's a return to my theatrical birthplace and its such an important Jewish play and as a Jewish actress it's so wonderful to tell stories with complexity, dignity and nuance. It also always feels like I'm coming home when I go to the West End."
It was an honor to speak with Alexandra Silber and all the people I met at BroadwayCon. So many great memories. Definitely looking forward to next years Convention. I consider myself very lucky to have the opportunity to do so many of the things I do, this three day event is always a favorite. If you want to check out next years Convention go to www.BroadwayCon.com
If you want to check out what Alexandra Silber has coming up go http://alexandrasilber.squarespace.com/
or check her out on Twitter at @alsilbs