Ideals like those proclaimed in the Declaration of Independence, including "life, liberty, and the pursuit of happiness," may be considered "self-evident" to the Founding Fathers of the USA, but they weren't living in today's world, inundated by obstacles to these "certain inalienable rights," despite the progress made over a few hundred years. Admittedly, we have it comparatively better in many ways, but pursuing happiness can feel more challenging than ever. Whole movements, companies, and apps have been created to support our quest for contentment. Yet even for those fortunate enough not to be caught up in the worst of woes, happiness can still feel elusive. And still, the desire to be loved, understood and happy remains among the most basic human needs. 
Chasing Happy, a new play by Michel Wallerstein, now playing a limited run at Theatre Row, presented by Pulse Theatre and directed by Alexa Kelly, explores that pursuit. The five characters initially seek fulfillment from outer sources instead of finding it inside themselves. The story, in two acts set in Provincetown, MA, follows each one's evolution and revelations as they chase that fleeting feeling, colliding into each others' desires and clashing with or supporting one another in their dash for sustained delight. The five joy chasers include Nick (Spencer Aste), a Provincetown architect; Helen (Jenny Bennett), his posh British former wife, now best friend; Nick's eccentric mother, Maria (Antoinette LaVecchia); Rob (Christopher James Murray), a Provincetown construction worker; and Brad (Schyler Conaway), the hot young thing Nick and Rob are both pursuing.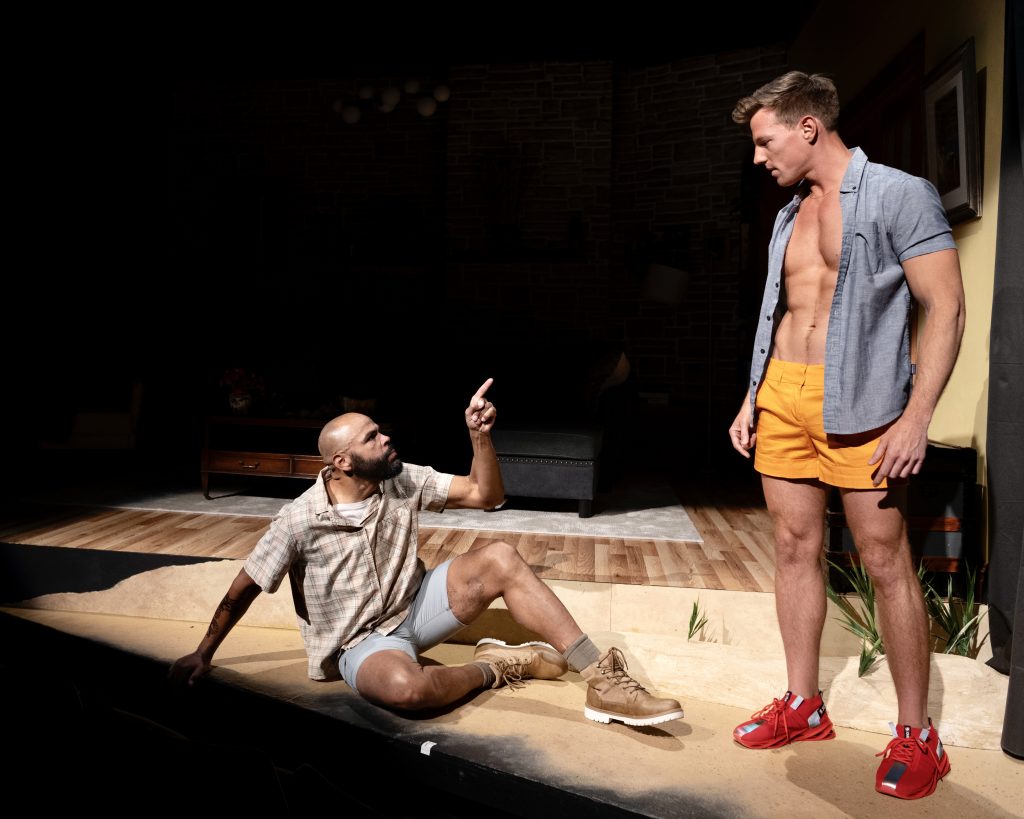 Chasing Happy is a romantic comedy, an untypical genre for the stage outside musical theatre. It's such a fresh, refreshing break from the heaviness of drama or saccharine-sweet lightness of some musical comedy that it makes one wonder why the style isn't employed more often by modern playwrights. Perhaps that's because Chasing Happy has more in common with bingable sitcoms of recent yesteryear than it does with the present-day theatrical offerings. That shouldn't come as much of a surprise, for Wallerstein is also a screenwriter and prolific television writer for the European market. 
With a single set designed by Christian Fleming and lighting cues designed by Joyce Liao to indicate other locations like a bookstore, art gallery or the beach, it felt like being part of a live studio audience in a 1990s sitcom. (Well, maybe the 2000s, given the focus on gay characters.) Only the laughter was real, not canned, and the shared experience with other audience members and live-action encounters made one feel more connected to the performers onstage. Chasing Happy is as refreshing as an afternoon at the beach and as welcome as an Indian summer day in the middle of autumn, something different from the norm but delightfully so. It makes one nostalgic for more innocent bygone days, before the pandemic, before the divisive Trump era, before the wars on the other side of the world.
The single set is the beach view living room of Nick's Provincetown home (the play is a true love letter to the queer oasis, where the author has held a residence for 20 years). The opening scenes reveal the postcoital moment of Nick and Brad's tryst, which sets into motion a metaphorical revolving door that brings in Helen (in need of a safe, supportive space to recover from a pending procedure), Nick's mother, Maria (visiting from Florida), and Rob (come to fetch his boyfriend from the arms of another man).  
One of Chasing Happy's greatest achievements is that it knows what it is, gets out of its way, and makes it all look effortless and playful, a feat that is more complicated than it seems. In comedy, timing and pacing are everything. Wallenstein's script is witty, pithy, quippy, and quick-paced, and with 55 productions under her belt for Pulse Theatre alone, veteran theatre director Alexa Kelly knows how to move things along without letting the audience in on the magic or efforts involved in the process. The simplicity of the set, lighting, costumes and general design of the production keeps things real and moving and maintains focus on the action, flow and actors.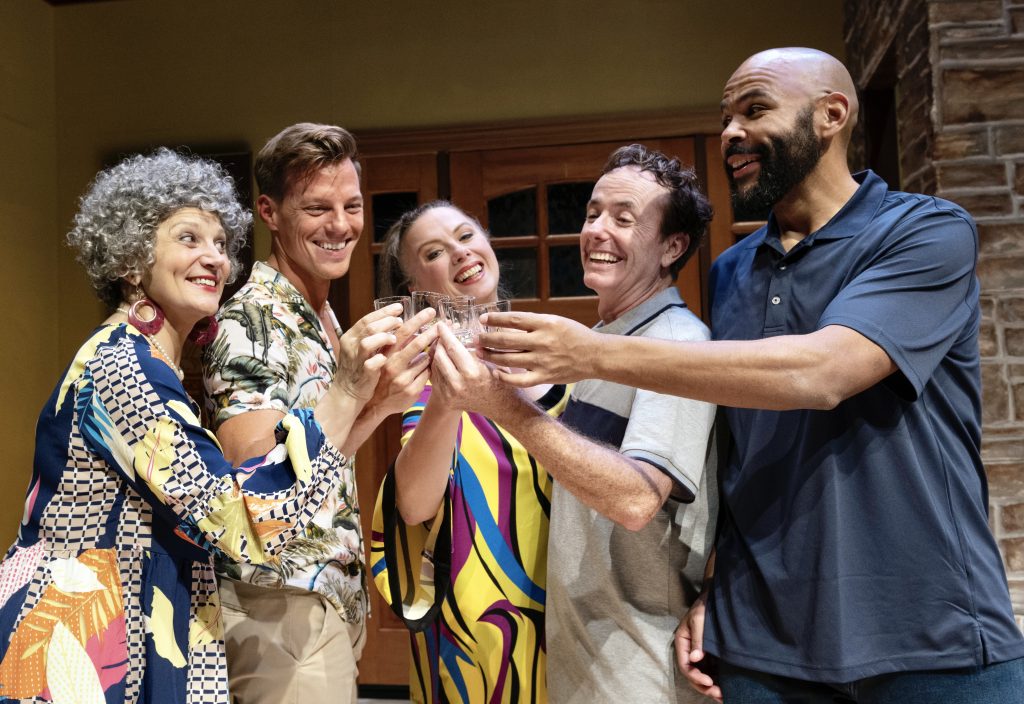 The actors work well as an ensemble, and all do a service to their roles, though some more dimensional and developed than others. As Nick, Spencer Aste is tasked with carrying the load of the show and its story; all the characters only exist in relation to him. It's a burden to bear, and he volleys from being almost annoyingly focused on selfish desires to showcasing a softer, sweeter side that is deeply endearing. Jenny Bennett's Helen is the most relatable, earth-bound character who often speaks aloud what the audience is thinking. Antoinette LaVecchia's Maria is a hilarious scene-stealer whose fleeting moments of over-the-top intensity rooted in her own reality make one laugh to tears. Off-Broadway newcomer Schyler Conaway's Brad is pretty one-dimensional, but that's not entirely his fault; he's the six-pack abs wielding projection of everyone's fantasies (excluding Helen but including Nick's mother Maria, who uses him as her geriatric art world arm candy). He may be as uninspired as the odd abstract artworks he creates, but that's the role, and he delivers it with aplomb, often shirtless. 
But the surprise standout actor and character was Christopher James Murray's Rob. When first introduced to the story, he burst through Nick's door in such a fury that it didn't seem he could go anywhere from there. His anger and intensity surpassed 11 out of 10, and I was fearful that the veins on the side of his head would pop before the second act. However, he surprised me by going in the opposite direction; he switched it up by dropping the machismo facade, softening as the play progressed. As the only person of color and blue-collar worker in a world of privileged people (including Brad, whose privilege comes through being a young and beautiful sugar baby with men and women chasing after and spoiling him), Rob brought welcome groundedness to Chasing Happy. He was also the character whose arch and evolution felt the most unexpected, intriguing, and rewarding.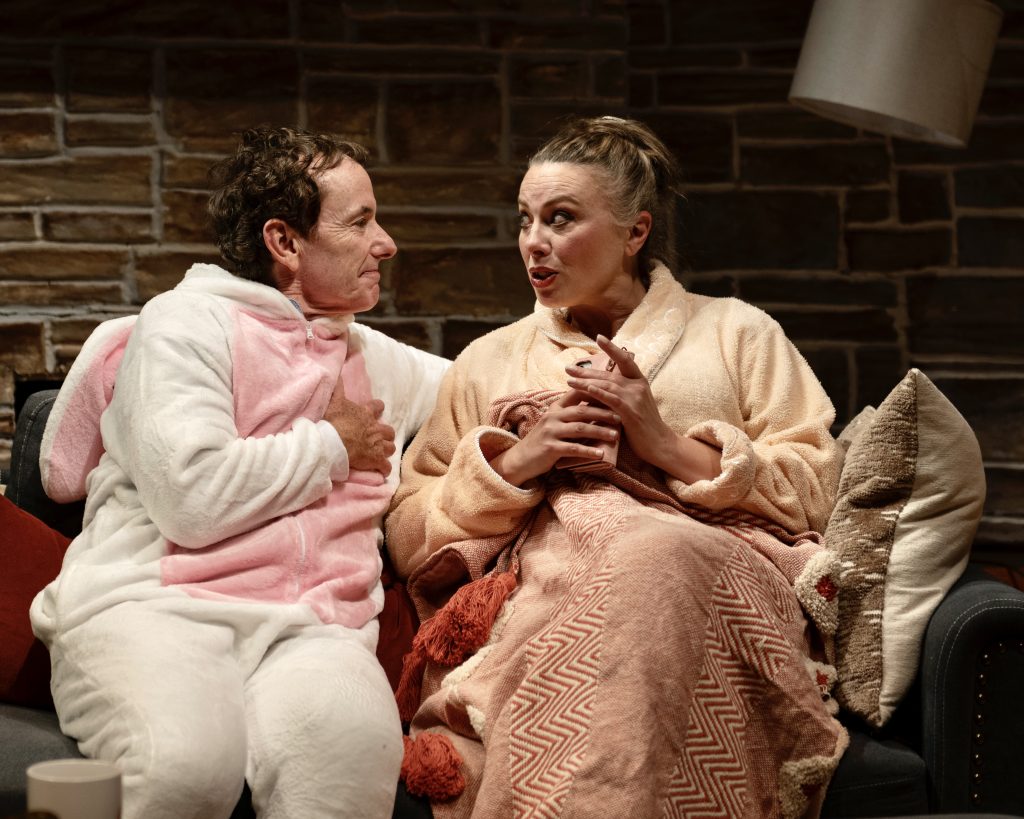 An interesting thing about Chasing Happy is that it is written without overly specific character descriptions outside of basic genders and ages (Brad is younger than the two men fighting over him, Helen is a similar age to Nick and British, and Nick's mom is older). But casting creates chemistry and inevitable choices that influence the characters, their costumes (compliments of Elena Vannoni, who bounced from classic beach town vibes to absurd and outrageous, depending on what the scene called for) and how the story is conveyed. For its debut, casting director Jamibeth Margolis did a marvelous job bringing this charming ensemble together, but it would be interesting to see what another combination would yield. (The play would do well in regional repertory.) 
While the stakes feel high for these characters, they aren't life or death; even the medical condition Nick's ex-turned-bestie Helen has to deal with is embarrassing, not terminal. Emotions are heightened, but it's neither farce nor melodrama, just pure rom-com charm. Chasing Happy isn't provocative as a play that examines or dissects our current issues, a Greek drama or Shakespearian tragedy, but it sure is a fun way to spend an evening. You leave the theater with a slight face ache from laughing, a glowing warmth in your heart, and some tension lifted from your shoulders. It's as therapeutic as binging nostalgic sitcoms, yet more engaging and fulfilling.
Chasing Happy will play a limited engagement, through November 11, at Theatre Row (410 West 42nd Street, NYC). Opening night is Thursday, October 19 at 7PM. The preview performance schedule, through opening night, October 19: Tuesday, Wednesday, Thursday, Friday & Saturday at 7PM, with matinees Wednesday, Saturday and Sunday at 3PM. Beginning October 20, performances are Wednesday, Thursday, Friday & Saturday at 7:30PM; with matinees Wednesday, Saturday & Sunday at 3PM. Tickets are now on sale at TheatreRow.org or by calling the box office, 212-714-2442 ext. 45.