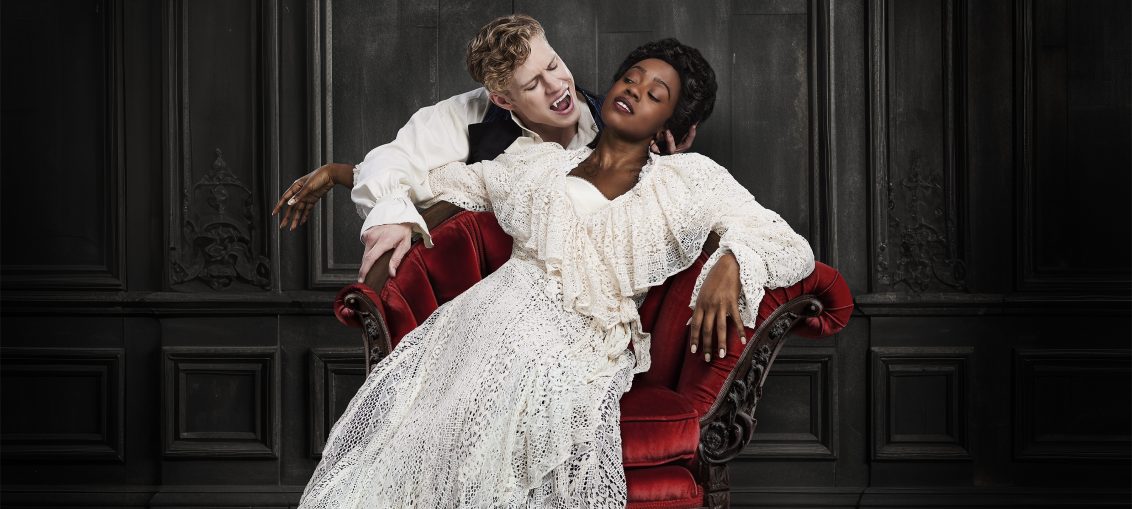 Combine elements of Rocky Horror Picture Show and Beetlejuice with The 39 Steps and Mel Brooks's Young Frankenstein, add a quick-witted, fast-paced, farcical script, mix in five phenomenally talented actor comedians, dozens of fanciful quick-change costumes, all wrapped up in a big batty vampire bow and you'd have Dracula: A Comedy of Terrors. The show, written by Gordon Greenberg (who also directs it) and Steve Rosen, now playing Off-Broadway at New World Stages, is a riotous romp that's sexy, spooky and utterly hysterical. 
Though Dracula (played by the devastatingly dashing and terrifically talented James Daly, who's more of an Alexander Skarsgard in True Blood vamp than a Bela Lugosi or Nosferatu type) is the title character, the show is truly an ensemble effort and across a cast of five, everyone pitches in to play multiple characters with aplomb, wigs (by Ashley Rae Callahan) and lace furiously flying as they switch seamlessly from role to role. You'd think the cast was the size of Les Miserables!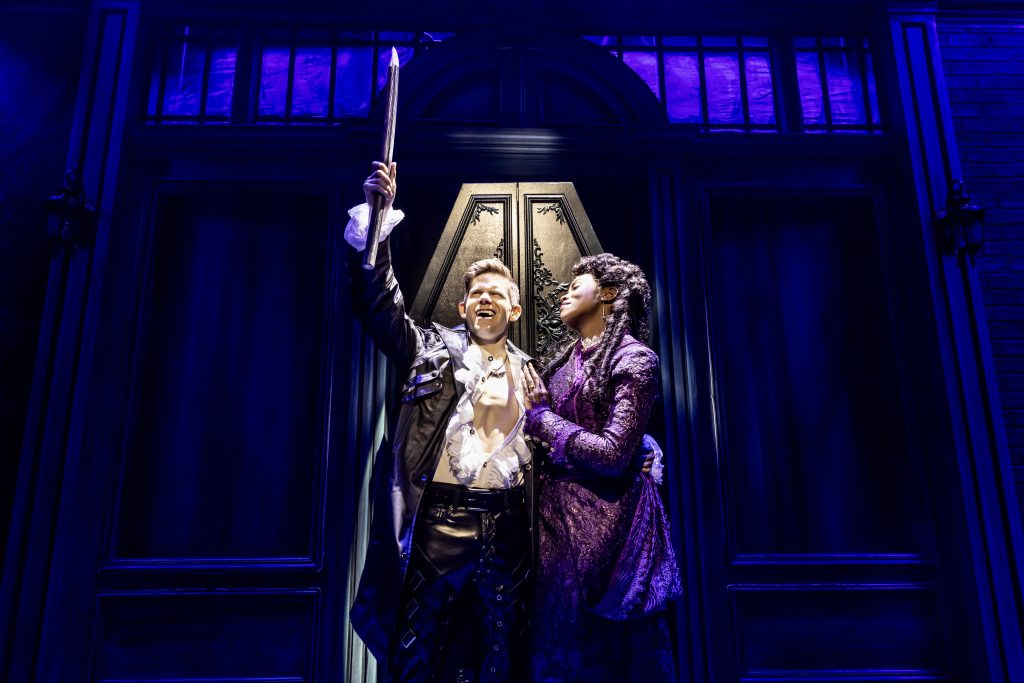 The charismatic ensemble includes Jordan Boatman (Actor 3, mostly Lucy, the leading lady), Arnie Burton (Actor 4, mostly Lucy's awkward sister Mina, and the vampire slayer, Jean Van Helsing), Ellen Harvey (Actor 2, playing Dracula's minion Renfield, Dr. Westfedlt, father to Mina and Lucy, and others), and Andrew Keenan-Bolger (mainly Lucy's fiance Harker who also hosts a podcast, Dracula the Podcastula on Broadway Podcast Network). All are exquisite actors who work as a team to achieve near-acrobatic feats of quick changes and rapid-fire delivery. 
A standing ovation is merited for the scenic and puppet design (Tijana Bjelajac), lighting (Rob Denton) and original music and sound design (Victoria Deiorio), all of which work in tandem with the actors at a furious pace to manifest a truly enchanting world that transports its attendees. The ringleader pulling this amazing circus together is director/co-writer Gordon Greenberg. It takes vision and gumption to create such a high-speed spectacle and make it still feel imbued with the magic of old-school vaudevillian theatre, not over-the-top slickness.
Boatman's portrayal of Lucy is believable as an elegant Victorian woman with a kind heart, strong independent streak, shrewd intelligence, feminist spark and courageous nature, in contrast to Keenan Bolger's "adorkable" beta male, the cowardly and prudish Harker. Dracula's presence spices things up for the couple, but they always stay faithful to one another (a nice, notable bit of moral compass amid otherwise debaucherous encounters). Actress Ellen Harvey is brilliant as an unhinged Renfield. In contrast, she gives a good stiff upper lip in another gender-bending twist as the stuffy, misogynist Dr. Westfedlt, who eventually melts for Frau Jean Van Helsing, played by Arnie Burton, who swaps pants for frocks in both his main roles. But the standout among standouts is Burton, who steals the scenes and the show again and again as Van Helsing, yes, but especially as Dr. Westfedlt's daughter and Lucy's sister, the painfully homely and achingly horny Mina.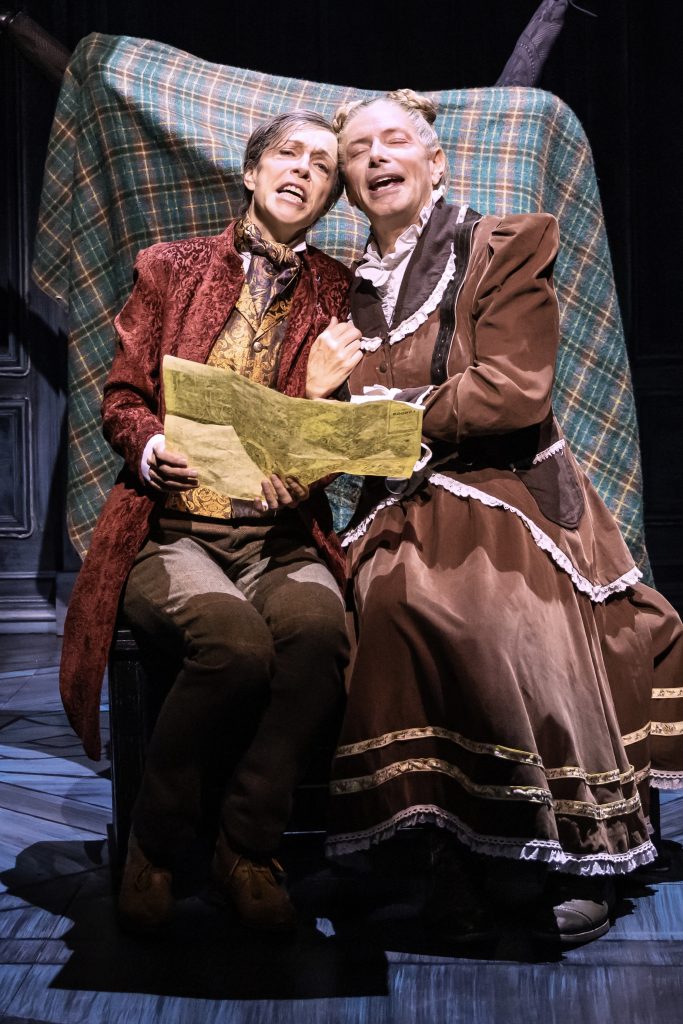 For those familiar with the magical, marvelous British holiday tradition of a Pantomime or "Panto," a funny fairy tale performed around Christmas with distinctive characters that always includes a villain the audience gleefully boos (the loudest taunts proclaim the best villains) and a Dame, or a comedic bloke in a dress. The "Dame" role is distinctive from Drag or a male actor realistically portraying a female character, as there is nothing glamorous or authentically feminine going on there, and that's precisely the point and the joke. Think of Monty Python, and you'll get the gist. Dracula: A Comedy of Terrors is the perfect spooky season Panto, and Arnie Burton is an extraordinary, world-class Dame. If only it were appropriate on this side of the pond to goad and boo the villain. I bet our handsome hammy Dracula, Daly, would lap it up like a pint of fresh O negative.
Dracula: A Comedy of Terrors is primarily based on Bram Stoker's 1897 Gothic classic, and the story stays true to the era (down to the costumes with a neo-Victorian steampunk edge by Tristan Raines). But it was penned with plenty of modern-day references, jokes that range from clever and quirky to raucous and outrageous, and even a few winking nods to the theater's Hell's Kitchen neighborhood. The immortal Dracula has enjoyed so many lives and adaptations that, like Shakespeare's works, if the underlying rights were subject to royalties, the coffers of Stoker's estate would overflow for the character and story have garnered hundreds of interpretations across all genres. 
Irish author Abraham "Bram" Stoker (1847-1912) began his writing career as an unpaid theatre reviewer (sounds painfully familiar!) for a local paper before his Gothic novel about a Romanian vampire's adventures in England catapulted him to literary superstardom. A devotion to the theatre would remain in his blood, for during his lifetime, Stoker was better known as the manager of the Lyceum Theatre in London, which actor Henry Irving owned.
Dracula: A Comedy of Terrors borrows from various sources while keeping loyalty to Stoker's tale, though the play's authors dig deeper into the cloaked recesses of his mind to unearth a treasure trove of taboo topics now seen as commonplace today. (Remember, comedy equals tragedy plus time.) Rosen and Greenberg's script highlights and humorizes the suggestive themes in the novel that not so subtly hint at polyamory, submission and dominance, playing against gender stereotypes and exploring queer urges amid other forbidden yearnings and illicit passions. What kind of a mind imagined these dark desires? 
A contemporary belief is that Stoker was a closeted gay man, something rather unsurprising from the lusty depictions, secret pinnings for delights deemed dangerous and sense of "otherness" that flows through the novel. There are also letters and correspondence that offer evidence of more than friendly affection for his peers, mentors (and possibly paramours?) from other literary figures who felt the heat of controversy for their sensual, homoerotic musings, Oscar Wilde and Walt Whitman. Rosen and Greenberg play up these angles, depicting Dracula as a pansexual (though it seems his "type" is more based on blood) who liberates the stuffy Victorians' sexuality through his ravenously amorous, sensual presence and transformative bite.
However, attendees of Dracula: A Comedy of Terrors who are fans of Stoker's original work may notice some inconsistencies between the play and Bram's book. That's because this version is inspired by not only the titular source but also the funny, farcical Gothic parody play by Charles Ludlam, The Mystery of Irma Vep (an anagram of "vampire"), first produced in New York City in 1984 on Off-Off Broadway, Ludlam's The Mystery of Irma Vep featured campy style, adult humor, and cross-dressing with numerous quick changes. 
The show's success garnered an award-winning Off-Broadway run and revival with numerous tours across the USA and internationally. (Fun facts: The Mystery of Irma Vep was the most-produced play in the USA in 1991 and was recognized in 2003 as the longest-running play produced in Brazil). Dracula: A Comedy of Terrors acts as a 21st-century homage to Ludlam's spooky satirical gem but focuses more on Stoker's characters than a host of ghastly monsters like Irma Vep does. Both showcase extraordinary comedic chops, ghoulish charms and remarkable costume-changing skills. One hopes Dracula: A Comedy of Errors may share some of the success and theatrical immortality of its frightfully fun predecessor.  
With an impeccable cast, superb writing and subtle insights beneath the guffaws, the "spooky season" need not end when the Jack-o-lanterns' faces start to get leathery and pucker like an octagenarian who spent too much time in the sun; Dracula: A Comedy of Terrors is a vamp for all seasons!
Dracula, A Comedy of Terrors is now playing a limited Off-Broadway engagement through January 7 at New World Stages, Stage 5 (340 West 50th Street.) Performances are Monday, Wednesday, Thursday and Sunday at 7PM, Friday and Saturday at 8PM, with matinees Saturday and Sunday at 2PM. (Schedule subject to change.) Tickets are $89 – $119. Premium seating is available. Tickets are now on sale at Telecharge.com, (212) 239-6200. For more information, visit www.DraculaComedy.com.