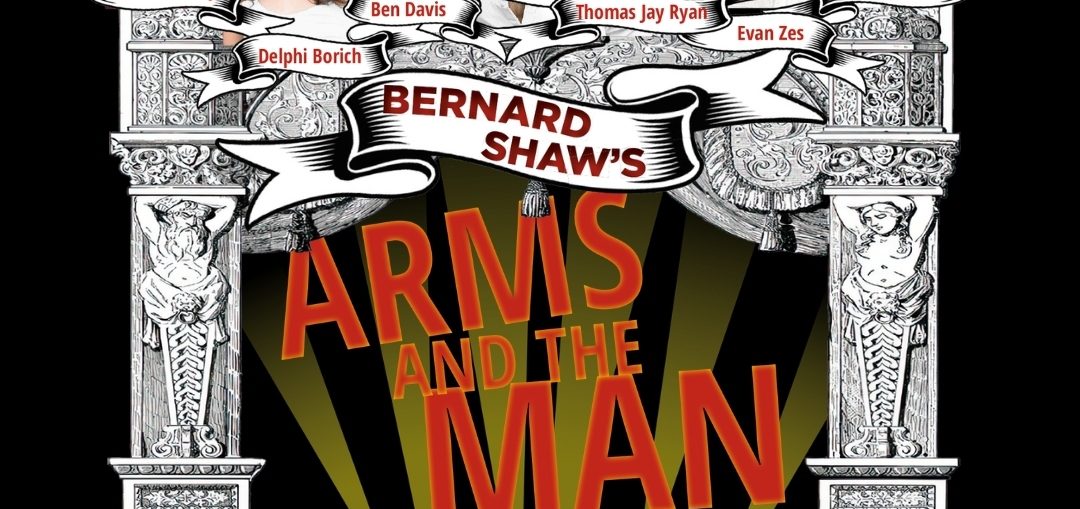 Gingold Theatrical Group's recent production of Bernard Shaw's hidden gem, "Arms and the Man", at Theatre Row, is a delightful revival that captivates theatergoers with its infectious humor and engaging performances. While it may not enjoy the same level of recognition as Shaw's renowned works like Pygmalion and Mrs. Warren's Profession, this lively rendition, skillfully directed by David Staller, successfully showcases the play's timeless anti-war theme, infusing it with campy humor that resonates with modern audiences.
From the moment the curtains rise, the production exudes an air of comedic brilliance. The cast, after a introduction, fully embraces the laughably exaggerated characters penned by Shaw. Their transformation allows for a non-stop parade of hilarity that is a testament to their remarkable comedic timing and commitment to the material.
Set in 1880s Bulgaria during a tumultuous war, the play unfolds primarily in an aristocratic bedroom adorned with a mesmerizing monochrome dollhouse set design by Lindsay G. Fuori. Shanel Bailey brings Raina Petkoff to life with charm and grace as she muses on the virtues of heroes and eagerly awaits the return of her gallant soldier fiancé, Sergius, portrayed with magnetic appeal by Ben Davis. The tranquility of Raina's world is suddenly shattered by a gunshot, masterfully rendered by Julian Evans' subdued sound design, which introduces the dashing Swiss mercenary, played with captivating energy by Keshav Moodliar, who seeks refuge in Raina's room.
The production excels at highlighting the play's poignant anti-war message, drawing relevant parallels to contemporary conflicts and provoking thoughtful reflection. While there are occasional moments when the potential for campy humor and exaggerated characters could be further explored, these minor limitations do not overshadow the overall enjoyment of the play. The cast's occasional stiffness, fitting for the time period and Shaw in general, is quickly forgotten as the production finds its stride, delivering an abundance of laughter that is both infectious and heartwarming.
Gingold Theatrical Group's revival of Arms and the Man breathes new life into Shaw's early comedy, reminding audiences of its enduring relevance and charm. The play's accessibility to modern theatergoers is enhanced through the clever infusion of humor, and the exploration of the absurdities of war provides a thought-provoking backdrop for the comedic moments to shine. Once the cast settles into their roles, the comical moments unfold with remarkable finesse, leaving the audience in stitches and ensuring a memorable theater experience.
In conclusion, Gingold Theatrical Group's revival of Arms and the Man is a true delight, bringing to light a lesser-known work by Shaw and infusing it with irresistible laughter. The production's ability to entertain and engage is commendable, and the performances, once any initial stiffness dissipates, deliver a comedic experience that is nothing short of captivating. Audiences are sure to leave the theater with smiles on their faces and a renewed appreciation for Shaw's comedic genius.
For Tickets:  https://bfany.org/theatre-row/shows/shaws-arms-and-the-man/
Run Time : 1 hour 45 minutes
One Ten Minute Intermission