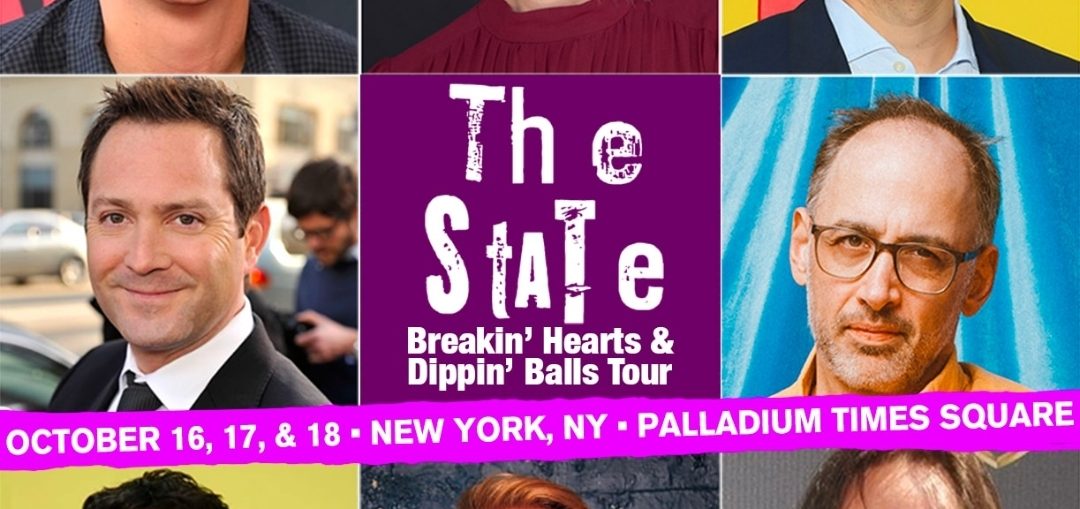 "The State's Dipping Balls and Breaking Hearts Tour" finished up its 3rd night in NYC at The Palladium in Times Square on October 18th. It was an unforgettable evening which paid tribute to over thirty years of history of one of the greatest sketch comedy troupes in the pantheon of sketch comedy.
As the first day of The Hall of Fame induction ceremony approached, it became evident that "The State", alongside legendary groups like Monty Python, Key and Peele, The Kids In The Hall, and Little Britain, rightfully deserved their place among the sketch comedy elite. Wait! Whats that? I'm sorry? Did you say there is no sketch comedy Hall of Fame? Fuck!!! Well there should be!!!
Comprised of Kevin Allison, Michael Ian Black, Robert Ben Garant, Todd Holoubek, Michael Patrick Jann, Kerri Kenney-Silver, Thomas Lennon, Joe Lo Truglio, Ken Marino, Michael Showalter, and David Wain, The State has left an indelible mark on the comedy landscape and its full bodied history. Though a few of the members Micheal Showalter, Robert Ben Garant and Todd Holubeck were no where to be seen live, what they added to the group were shown though old videos and sketches.
We also got to watch bits from the all too forgotten MTV classic, "You Wrote It, You Watch It" a late nineties MTV sketch show that put funny spins on dating stories hosted by Jon Stewart. Watching these nostalgic videos brought me back to a time when comedy wasn't taken so seriously.
From the moment I stepped into the Palladium, I was enveloped in a nostalgic wave of 1990s vibes that instantly transported me back to the days when my high school friends and I would gather in East Meadow, Long Island, to share laughter and watch sketches on repeat to no end. Lines like, "Don't You Worry About Aids!!!" and "I'm Doug and I'm outta here", we're ubiquitous to our vernacular.
It is no exaggeration to say that "The State" played a pivotal role in shaping my decision and many other "wanna be comedians" to pursue a career in comedy. Their fearless and innovative approach to humor inspired me and countless others to embrace the power of laughter. Walking into the very same building where "The State" first filmed their show as, Kevin Allison, mentioned, left me awestruck. That note filled me with a sense of awe and reverence. The walls of the Palladium were adorned with photographs depicting the rich history of "The State's" tenure at CBS and MTV, further highlighting the profound bond that this comedy team shares.
While it was unfortunate that Showalter, Garant, and Holubeck were not present, their absence did not diminish the importance of their contributions to the group's success. The show beautifully emphasized how each member of "The State" played an integral role in shaping the comedy landscape we know today. It became abundantly clear that so much of the comedy that exists today, in one way or another, is connected to the brilliance of each individual in The State.
As the sketches unfolded on stage, the audience was treated to a masterclass in comedic timing, absurdity, and satire. The troupe effortlessly weaved together hilarious scenarios, memorable characters, and razor-sharp wit. We saw new sketches and old including "Porcupine Racetrack" a musical about, well, a Porcupine racetrack and "The Gangsters and Cookie Puss Sketch" where mobsters want for a bite of Carvels Cookie Puss before a mobster gets Made. Their performances were a testament to their enduring talent and the enduring relevance of their work and of course the importance of Cookie Puss to our culture.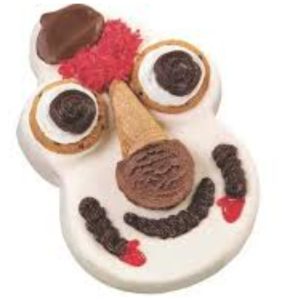 In lieu of Showallter's absense a void for "Doug" their most popular sketch about a detached teen who always refers to himself as, Doug, was evident and couldn't be gotten around as its popularity was among the highest of "The States" Sketches. A woman was plucked from the audience to perform as "Doug" in what became one of the shows most inspiring moments, as the cast directed as to how to act like Doug, to no avail. So many deep belly laughs were had.
The State's impact on comedy cannot be overstated. Their influence can be felt in the work of countless comedians, writers, and entertainers across generations. From their groundbreaking television series to their subsequent individual projects, (Stella, Reno 911, Wet Hot American Summer) The State has left an unfettered imprint on the comedic landscape.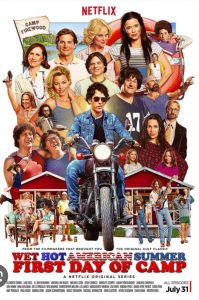 Attending The State Sketch Comedy Show at The Palladium was not just an evening of laughter; it was a celebration of comedy's past, present, and future. It served as a reminder of the enduring importance of these comedic pioneers and the profound influence they continue to exert on the world of humor. The State's place in the Fantasized Hall of Fame is well-deserved, and their legacy will undoubtedly continue to inspire future generations of comedians for years to come. Or not. There's always that possibility. As with anything. 😉
For Tickets Link Below. https://davidwain.com/thestate
Run Time: 91 minutes