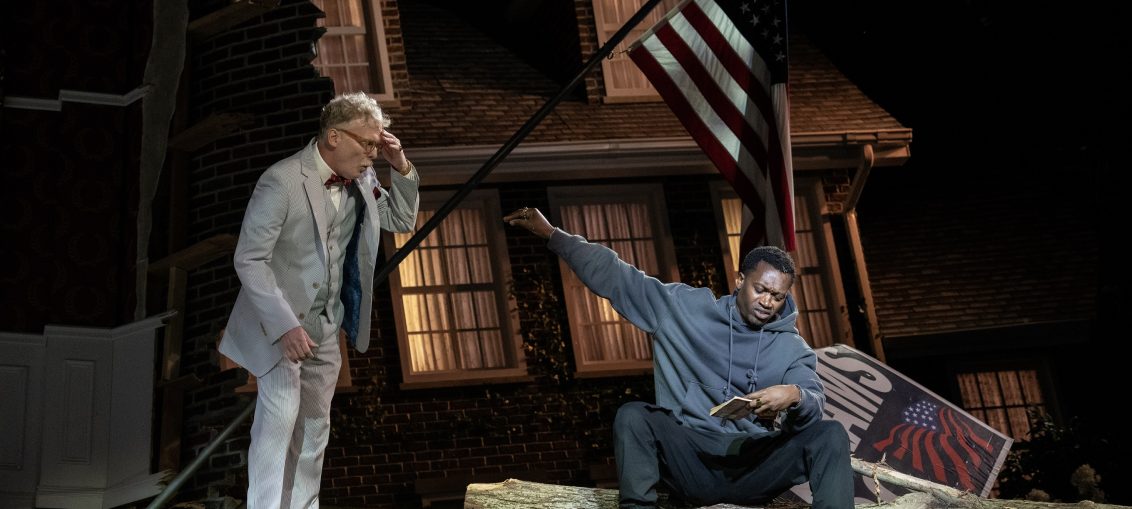 If last year was "The Summer of Richard III," with numerous productions worldwide and varying portrayals of the "poisonous bunch-backed toad," including The Public Theater's Free Shakespeare in the Park version directed by Robert O'Hara (see my StageBiz review here), then 2023 is "The Tale of Two Hamlets." Two Public Theater productions featuring the titular tragic prince were running simultaneously at the time of Free Shakespeare in the Park's Hamlet's opening, the second being James Ijames' excellent, Pulitzer-Prize winning modern-day riff on the Hamlet tale, dubbed Fat Ham, which transferred to Broadway and closed July 2 after an extension (see my StageBiz review here).
Both productions' similarities are as striking as their differences. Each play features an all or majority Black cast and Black directors (Kenny Leon helms Hamlet, and Saheem Ali leads the Fat Ham team) and is set in the American South, the main action taking at the family home. They could almost be neighbors if it weren't for the clear class divide between the families (Kenny Leon's Hamlet family is a more likely neighboring extension of the families in Leon's highly-lauded, memorable and exquisite production of Much Ado About Nothing starring Danielle Brooks as Beatrice). 
Hamlet is set in Atlanta, home of True Colors Theatre Company, where Leon is the Artistic Director; Fat Ham takes place in an undefined backyard barbecue in the South. Those gathered around the picnic table of funeral-meets-wedding of Fat Ham are casually dressed, whereas the Hamlet attendees are regally costumed in sophisticated modern African style, much like the royals from Coming to America. 
Taking its "BB cue" from Shakespeare's Hamlet but written by a living playwright and set in modern times, Fat Ham's dysfunctional family uses typical Southern Black vernacular. In contrast, Leon's Hamlet utilizes the Bard's original text; only the setting is present-day. If 2022 was the year for examining if nature or nurture makes a despicable, murderous man (the questions explored through the various interpretations of Richard III), then 2023 is the time to look inward and investigate the sensitive, thoughtful, conflicted man filled with inner turmoil and repulsion his outward circumstances and the ugliness that surrounds him. 
Hamlet is one of Shakespeare's most layered, dimensional and cerebral characters, an empath; his famous soliloquies offer a glimpse into his internal struggles and debates. Fat Ham's Juicy (Marcel Spears) is queer or nonbinary, wearing his softness and femme-leaning qualities outwardly, much to the chagrin of his stepfather/uncle, along with others who hold fast to misogynist, patriarchal attitudes. Hamlet is played by Ato Blankson-Wood, a gifted actor of stage and screen whose versatility includes his Tony-nominated role in Slave Play, film and TV roles in Spike Lee joints, and many Shakespeare productions, including last year's Public Works' Free Shakespeare in the Park playful, delightful musical adaptation As You Like It (see my StageBiz review here), where Blankson-Wood played the oft-confused lover Orlando with humor and sensitivity.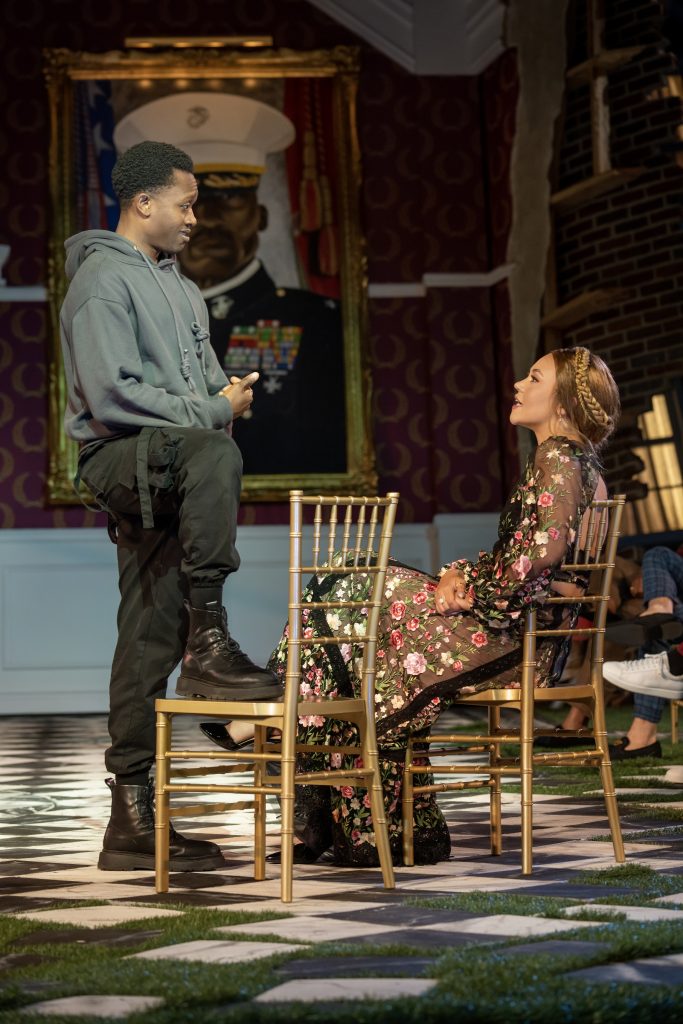 Blankson-Wood brings all that sensitivity to his Hamlet, minus some of the comedic chops he showcased as Orlando (though his interactions with and instructions to "the players" spook his uncle and new stepfather, Claudius, offer a bit of his jovial nature). Hamlet is a tragedy where life and death are at stake. Upon the death of Hamlet's father, his uncle, Claudius (John Douglas Thompson), marries Hamlet's mother, Gertrude (Lorraine Toussaint) and succeeds his father's position in all senses. 
The play opens with a funeral at the family's Atlanta estate, where a choir (Brandon Gill, Colby Lewis, Laughton Royce, and Lance Alexander Smith) sings a soulful and sorrowful gospel tune. It introduces the minor and major characters who come to pay their respects, including Polonius (Daniel Pearce), Claudius' slimy advisor and father to Laertes (Nick Rehberger) and Ophelia (Solea Pfeiffer), Hamlet's love interest, Horatio (Warner Miller), his friend and confidant, and smarmy frienemies, Rosencrantz (Mitchell Winter) and Guildenstern (Brandon Gill).
Hamlet's grief and confusion are only compounded when his father's ghost (with a booming voice like Mufasa speaking to Simba from the skies in The Lion King, which Hamlet partly inspired) implores his son to avenge his murder by killing Claudius. One recognizes the distinctive baritone voice of Samuel L. Jackson as the ghost, making a quality argument for utilizing his vocal skills if James Earl Jones or Morgan Freeman isn't available.
This demand for vengeance sets the play's action into a domino effect of betrayals and Hamlet's internal struggle. Hamlet feels, rightfully so, that no one is to be trusted. Knowing he is being spied on, he rejects Ophelia and spitefully beseeches her, "Get thee to a nunnery!" Here Blankson-Wood makes Hamlet's inner conflict and pain clear through immaculate restraint, as if perpetually holding back tears and screams that he can never release, only repress.
Solea Pfeiffer's Ophelia uses her angelic voice to express herself but also carries a strong level of restraint amid her confusion until she goes mad with grief upon the death of her father, Polonius, at Hamlet's hand due to the unfortunate circumstances of his spying habits. Daniel Pearce is a scene-stealing "fat ham" as Polonius. He is a delight to watch, along with the Gravedigger and his assistant (Greg Hildreth and Cornelius McMoyler), all offering some lightness to the solemn circumstances. 
In contrast, the reserved and stately nature of Hamlet's family, notably Gertrude and Claudius, makes them all the more mysterious and leaves you wondering what their motives are. Thompson plays Claudius like a politician, not outright evil (though recent events make one wonder what politician isn't?) by nature but always striving, willing to commit wicked deeds to get ahead by any means. Toussaint's portrayal of Gertrude may be one of the most restrained and equally among the most intriguing. What motivates this woman who marries the brother of her husband and the one responsible for his murder? Is it lust, power, position, or simply circumstances to survive? Toussaint brings incredible elegance and regalness to the role, then adds complexity and mystery through small looks and gestures that speak volumes, like when she resists Claudius' embrace when they are alone. Is she part of the villainous plot or imprisoned in a gilded cage, forced to follow the will of dangerous and powerful men?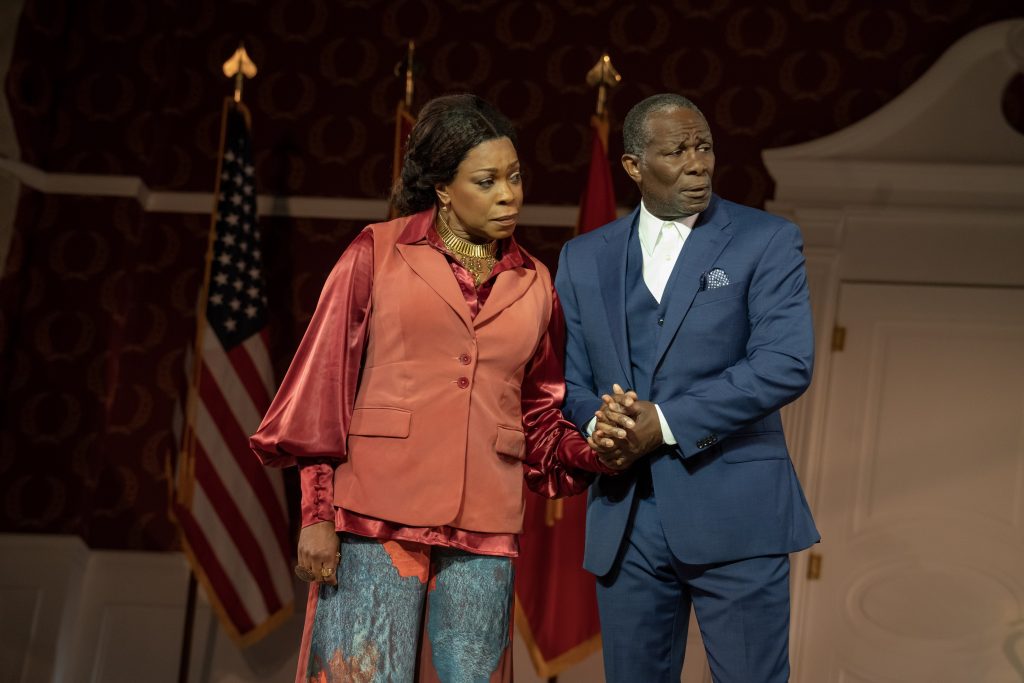 Gertrude's restraint and seeming aloofness add an even greater contrast to Ophelia's unhinged hysteria that leads to her death by drowning. In contrast to Macbeth's wife, Toussaint's Gertrude doesn't seem to want to be part of the action but to wash her hands of it as best she can. Her death by accidentally drinking the poison crafted by Claudius and intended for her son only adds a final punctuation that she has never been in control of her destiny. Hamlet has a high body count, and few escape the fate of "to be or not to be," including the tragic prince who dies in Horatio's arms, stung by Laertes' vengeance and poisoned blade. 
This is where Fat Ham flips the script the most from the original Shakespearian source material. In Fat Ham, Ijames decides to end the cycle of violence, betrayal and macho aggression with Juicy and Larry (the play's closeted soldier version of Laertes) kissing, not dueling, and the only death is Rev (the Claudius role) who chokes on his food and refuses any assistance. With so much tragedy in the world, this modern version of one of Shakespeare's best-written and most-produced works offers hope, redemption, freedom of expression, and the ability to grow and evolve. To change or not to change? That is really the question. 
Either way, The Public Theater, its incredible casts, crews, designers and directors have graced New York City's stages' tables with two succulent offerings of Hamlet cooked up to perfection and served up hot, tender and juicy, leaving New Yorkers and visitors alike a lot to chew on. So whether you like your Shakespeare bloody or well done, get thee to Central Park's Delacorte Theater for the last time before next year's renovations shutter one of NYC's favorite summer traditions.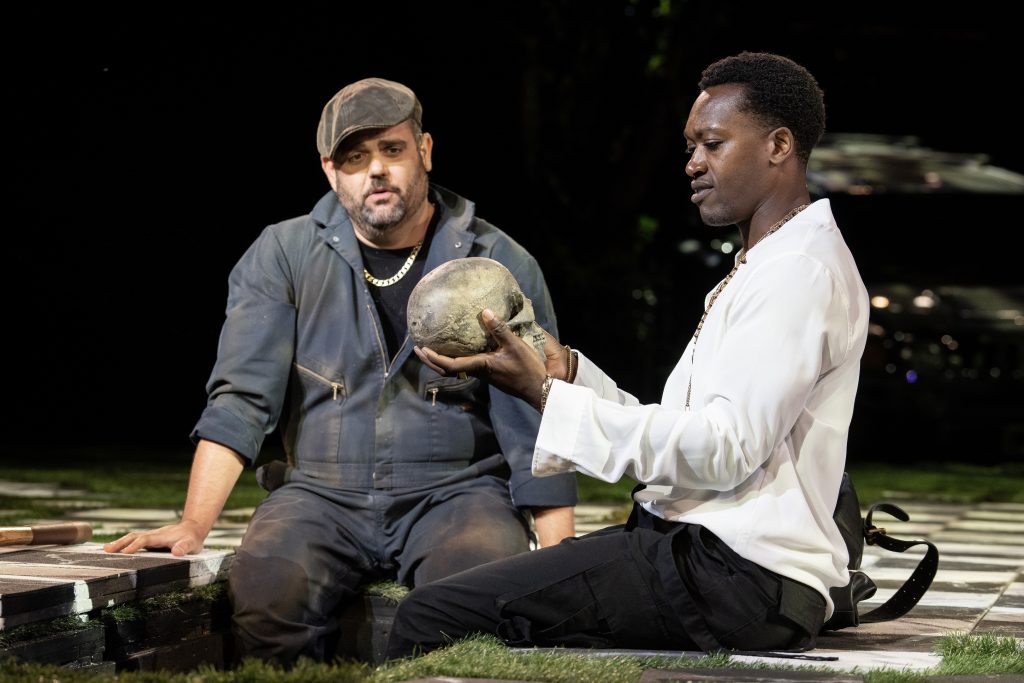 For tickets and more information:
HAMLET and Public Works' THE TEMPEST Mark Final Productions at The Delacorte Theater Before Renovations Begin; 2024 Season to Feature Special Programming Across Five Boroughs. HAMLET Runs for Nine Weeks Through Sunday, August 6; Official Press Opening on Wednesday, June 28. Free Tickets Available to All at The Delacorte Theater and The Public Theater, Through Borough Distributions, and on TodayTix. The performance schedule is Tuesday through Sunday at 8:00 p.m. The full performance calendar can be found at publictheater.org.
Free tickets may be acquired on the day of the performance in person at The Delacorte Theater, in person at a borough distribution site, via an in-person lottery in the lobby of The Public Theater at 425 Lafayette Street, or through a digital lottery via the TodayTix mobile app. All tickets are subject to availability. The Open Caption performance will be on Friday, July 14, at 8:00 p.m. The American Sign Language Interpreted performance will be on Friday, July 28, at 8:00 p.m. The Audio Described performance will be on Saturday, July 29, at 8:00 p.m. A limited number of tickets are also available via advance reservation by making a contribution in support of Free Shakespeare in the Park. To learn more or to make a contribution, call 212.967.7555, or visit publictheater.org. Complete ticket distribution details are available at thepublic.nyc/FSITP-Tix. The Delacorte Theater in Central Park is accessible by entering 81st Street and Central Park West or at 79th Street and Fifth Avenue.