The 60th anniversary of The Public Theater's Free Shakespeare in the Park series was memorable. It opened with risk and ended with a reward. The first of the two productions for summer 2022 was Richard III, directed by Robert O'Hara and starring Danai Gurira in the title role. It seemed to be the summer of Richard III, and the choices made by The Public's version and other productions worldwide (notably in Canada and the UK) were the source of many conversations, press articles, and hot debates. 
In contrast, it's hard to imagine anything but praise for the delightful, exuberant modern musical interpretation of As You Like It, adapted by Shaina Taub and Laurie Woolery, with Woolery in the director's seat and Taub responsible for the music and lyrics. This work marks another anniversary, the 10th anniversary of Public Works, one of the most vital and vibrant branches of the Public Theater's programs. It's also the second chance for a show that has evolved greatly since its debut for a brief weekend in 2017. 
If the first offering of Richard III was a flash thunderstorm, As You Like It is like a sweet summer breeze, welcoming and refreshing. It's an invitation to escape one's myriad concerns and realities and spend 90 minutes in a charming theatrical oasis under the canopy of Central Park, with an orchestra of crickets providing interim atmospheric music between lively and mirthful musical numbers. Especially in his comedies, Shakespeare created relatable human characters in extraordinary circumstances that acted as elevated fairy tales and appealed to commoners and royalty alike. I'd venture to say that Woolery and Taub's fast-paced musical reimagining offers the same effect for contemporary audiences.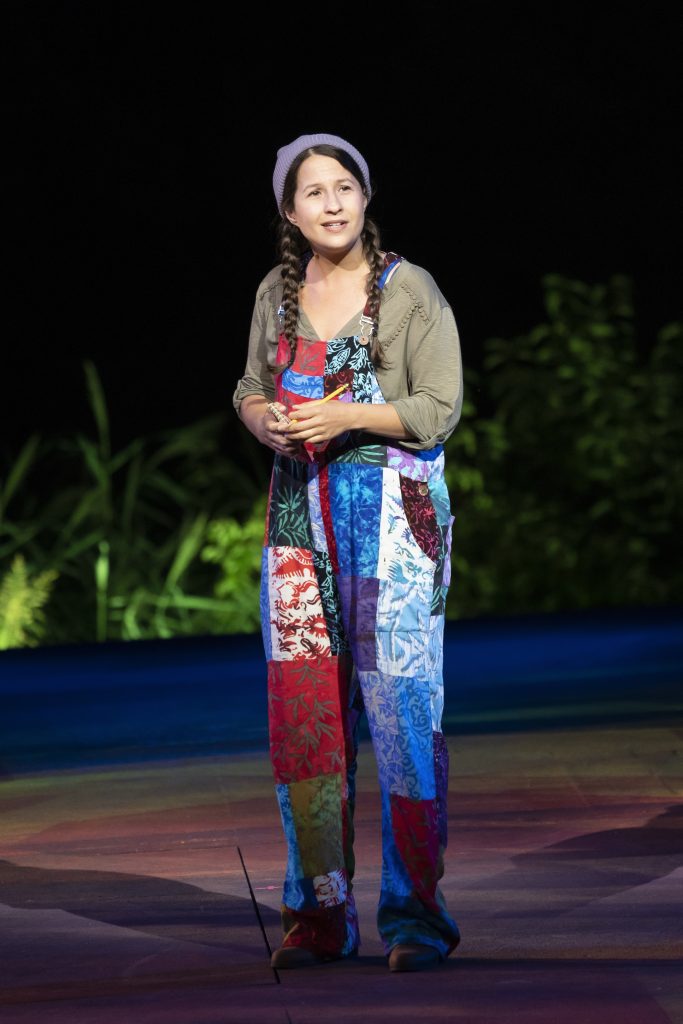 It opens with Taub as the character Jaques, a young philosopher/writer reflecting on the dynamics of life as a theatrical performance. "All the world's a stage. Everybody's in the show. Nobody's a pro." She delves deeper into the metaphor and ponders how they are all "Trying to tell a story we can feel" but wonders, "How do you make the magic real?" This prologue song sums up the show and poses profound questions of life and theatre told by a quirky, neurotic narrator. It utilizes some of Shakespeare's most iconic phrases in a fresh, modern way and sets the tone for what is about to unfold. The charming cast and catchy songs offer a soulful story you can feel. Whether or not the magic is real is beside the point because everything feels so honest and genuine. The legendary theatre director Peter Brook proclaimed, "Make believe is a necessity." That sense of playfulness, unabashed theatricality, innocence, and magical realism make this As You Like It so endearing.  
As You Like It features many signature Shakespearian hallmarks: cross-dressing disguises (Twelfth Night), banishment (The Tempest), and cupid's arrows flying in all directions in the sensual, mystical forest setting (A Midsummer Night's Dream). Being a comedy, it ends happily ever after with four weddings and no funerals. Since this is NYC in the 21st century, it's natural and right that Woolery and Taub's updated version features queer and interracial couples. But unlike the "wokeness" and heavy-handed messaging currently populating arts and entertainment, nothing in this production feels forced. Every choice is clear and sincere with heart and realness, free of fuss or soapboxing. 
As You Like It is essentially a 400-year-old rom-com. It doesn't always receive credit as one of Shakespeare's greatest comedies, but this interpretation makes one want to reinvestigate why not. It's a joyful work that allows for playfulness and creativity. In the right hands, it offers expected depth and insight into the human spirit. 
The basic plot centers around the two lead characters, Orlando (Ato Blankson-Wood) and Rosalind (Rebecca Naomi Jones). They fall in love at first sight early on, then spend the rest of the play complicating things before they finally profess what they felt from the start and marry. At that point, the other couples who'd engaged in similar follies decide they are meant for one another too. All of this bliss might be blamed on some magic (but not the mischievous kind that Puck distributes in A Midsummer Night's Dream) in the woods of Arden. The conflict that drives the characters into the forest is Rosalind's banishment from the court of her uncle, Duke Frederick (Eric Pierre, whose entrances trigger a signature song of bombastic fanfare). Her exile is due to his stubborn disdain for her father, the banished Duke Senior (played with warmth and wisdom by Darius de Haas, who we later meet hiding in Arden, much to his family's surprise) and any and all who support him. 
One such supporter is Orlando. He opens the action with an angsty rock song ("The Man I'm Supposed To Be"). After verbal sparring with his brother Oliver (Renrick Palmer), Orlando enters an actual wrestling match in which he wins not only the fight but the eyes and heart of Rosalind. Many plot points give the team marvelous opportunities to flex their imaginative muscles and offer sly pop-culture winks. For example, the undefeated champion is dressed as a La Lucha Libre-style wrestler with WWE competitors played by actual Bronx Wrestling Federation grapplers. Later, when Orlando waxes poetic about his affections for Rosalind in an R&B number a la Babyface or Boyz 2 Men, he is supported by "De Boys" backup dancers. The production is a mesmerizing mix of clever lyrics, outrageous scenarios, excellent interpretation by the actors, and dazzling yet functional sets, props, and costumes. 
When Rosalind seeks refuge under the protective canopy of trees, she dons a disguise of a young man and her cousin Celia (Idania Quezada) assumes the role of her shepherdess sister. Their bumbling buddy Touchstone (the scene-stealing Christopher M. Ramirez) joins them and becomes smitten with one of the woodland handsome inhabitants (Jonathan Jordan as Andy, a gender flip of the original Audrey). The trio's adventures in Arden offer rich opportunities for hilarious city folk vs. country folk mishaps and miscommunications. Imagine three trust-fund hipsters showing up on a farm in rural Idaho. 
Upon arrival, the residents treat the strangers to a warm welcome in a glorious, exuberant song, "In Arden." The large ensemble, a beautiful tapestry of the rich threads and fabrics of human beings who make up the patchwork quilt of New York City, moves as one to simple yet touching choreography by Sonya Tayeh (of Moulin Rouge acclaim). Their gestures feel akin to traditional dances from various cultures worldwide. It expresses an authentic sense of community and acceptance in stark contrast to the pomp and intrigue of the court. Suddenly, Shakespeare is transformed into a mashup of Into the Woods meets The Lion King, as envisioned by the cast of HAIR. And it works!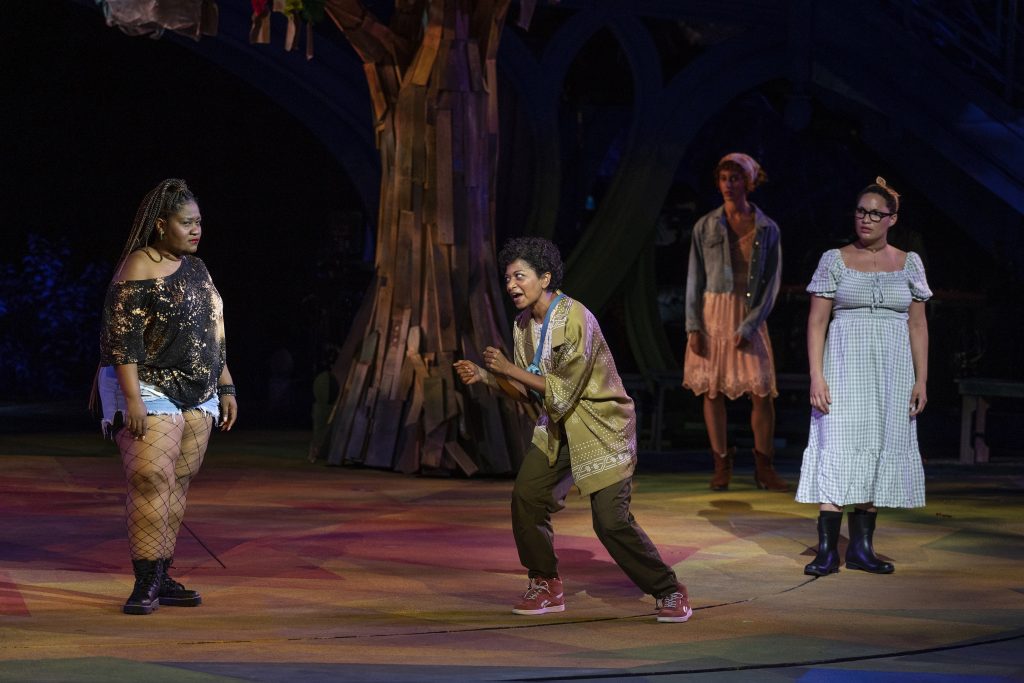 Women drive the story in As You Like It and are the more intriguing, dimensional and complex characters, with Rosalind at the helm. The Public's Artistic Director, Oskar Eustis, compares the heroine's depth and internal probing to Hamlet, noting that he's not the first to do so. It's hard to imagine a more perfect person to portray Rosalind's complexities, neurotic tendencies, and depth with humor, charisma, and likeability than Rebecca Naomi Jones. Jones has an impressive resume on Broadway (American Idiot, Passing Strange, Hedwig and the Angry Inch) and off, but she's usually playing a supporting role. Always a bridesmaid, never a bride. In As You Like It, she is the blushing bride and star of the show, both literally and figuratively. Rosalind is a part she can sink her teeth and acting chops into, showcasing her talent for comedy with the richness and sincerity she brings to every role she embodies. Her introspective musings in "Rosalind, Be Merry" and "When I'm Your Wife" reflect the internal questioning and struggles most women face but dare not to utter aloud. Her duets with Blankson-Wood's Orlando are adorable and bubbling over with chemistry.
Quezada's Celia makes a cute and clever companion to Jones' Rosalind. Together, they outwit the menfolk at every turn. But the women whose romantic capers captivate the attention most are the would-be couple Silvia (formerly Silvius, played with sweet earnestness by Brianna Cabrera) and Phoebe (the seriously sassy Bianca Edwards). Silvia's unrequited love and utter devotion to scornful Phoebe inspire her to transform her paramour's name into a verb in the showstopping number "You Phoebe Me." (Pho-be /feeBEE/ verb. causing someone to become smitten and then dismissing their very existence. "You Phoebe me when you ghosted me after our sensational first date."). Typical to anyone familiar with those who enjoy the chase more than the catch, Phoebe falls for Rosalind in disguise as the young shepherd boy. In her attempts to thwart the sudden unwanted desire, Rosalind tells Phoebe to "sell when you can cause you're not for all markets" — a rejection that only fuels Phoebe's fire. With her fishnet tights paired with shorts and swinging braids, Phoebe might be described, in contemporary urban terms, as "extra." The whole thing feels like a musical episode of MTV's Catfish with a Shakespearian twist.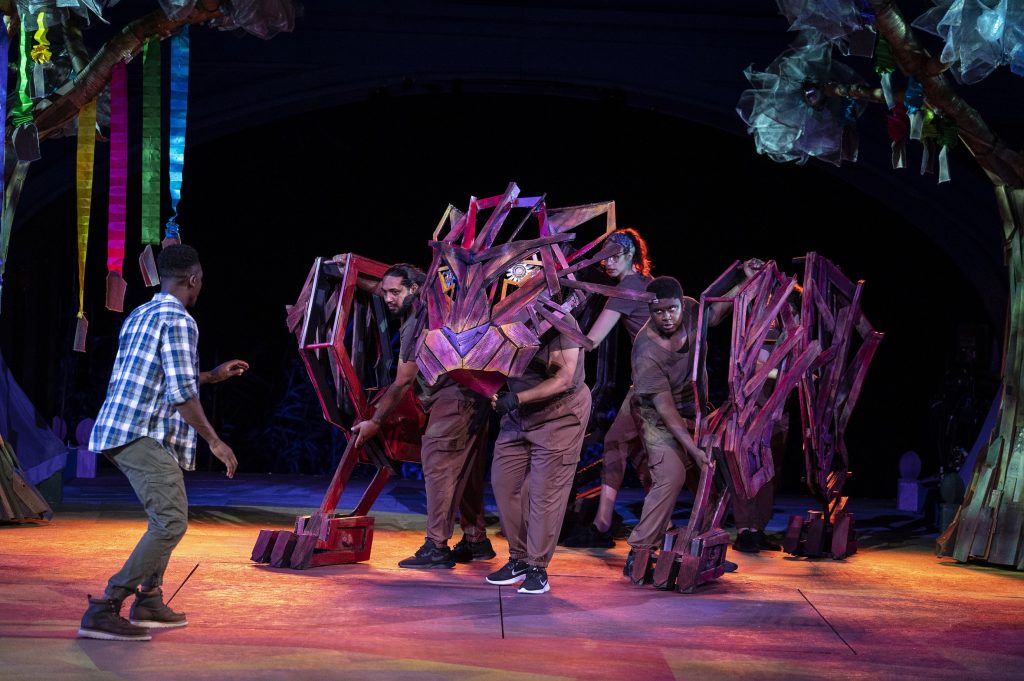 The scenic design by Myung Hee Cho and costumes by Emilio Sosa draws the audience into a world of wonder that's as functional to the storyline as it is pleasing to the eye. Marvelous puppets designed by James Ortiz bring whimsical forest creatures to life. The band of five, led by Andrea Groudy, is small but mighty; they cover styles from R&B/Soul to Country to Indie Rock and traditional musical theater like a full orchestra between them. The way the elements are stitched together feels multifold yet congruent and unified in their purpose. 
The drawback of As You Like It is that it ends too quickly. The tight 90 minutes breeze by just when you're settling into the quadruple wedding reception, feeling the effervescence of the symbolic champagne of multiple happy endings kicking in and gearing up to join the residents of Arden's utopia for a conga line. But as full of famous lines as the play is, it reminds you of another truism, "Nothing gold can stay." Just as the sweltering heat is breaking and Labor Day is upon us, the reality hits that summer is coming to an end, with winter just around the corner. So if you want to experience that enchanting summer feeling before it fades away, go see As You Like It at the Delacorte Theater, where the magic is real through September 11. 
FREE TICKET INFORMATION: Performances of AS YOU LIKE IT begin at The Delacorte Theater on Wednesday, August 10 and run through Sunday, September 11, with an official press opening on Tuesday, August 30. Tickets to The Public Theater's Free Shakespeare in the Park are distributed in several ways. On the day of each public performance, free tickets may be acquired in person at The Delacorte Theater, in person at a borough distribution site, via an in-person lottery in the lobby of The Public Theater at 425 Lafayette Street, or through a digital lottery via the TodayTix mobile app or website. All tickets are subject to availability. The Audio Described performance will be on Wednesday, August 31 at 8:00 p.m. The American Sign Language Interpreted performances will be on Thursday, September 8, at 8:00 p.m. The Open Caption performance will be on Saturday, September 10 at 8:00 p.m. A limited number of tickets are also available via advance reservation by contributing to Free Shakespeare in the Park. To learn more, or to make a contribution, call 212.967.7555, or visit publictheater.org. The full performance calendar can be found at publictheater.org, and complete ticket distribution details can be found at thepublic.nyc/parktix22. The Delacorte Theater in Central Park is accessible by entering at 81st Street and Central Park West or at 79th Street and Fifth Avenue.