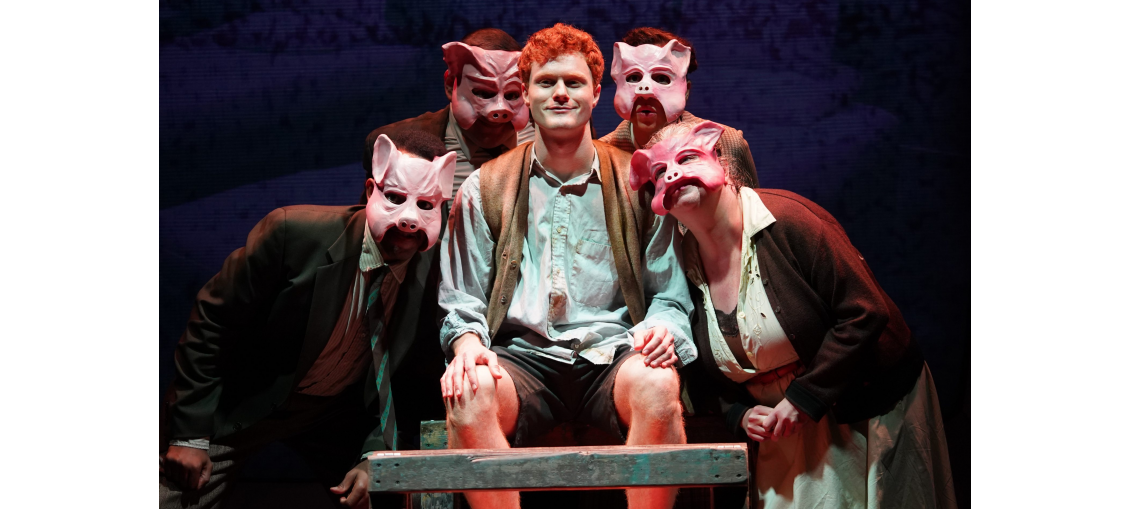 Adaptations are tricky. The best ones manage to cover the key points and honor the tone of the source material without getting bogged down by too many narrative details. These elements must also work well with the tools of the chosen medium. The Butcher Boy, a new musical now playing at Irish Repertory Theatre, achieves the benchmarks of a solid, imaginative adaptation, despite the oddball choice of transforming Patrick McCabe's acclaimed 1992 novel about a schoolboy's descent into mischief, madness and murder as the world around him collapses in a small Irish town in the 1960s. 
The Butcher Boy features a book, music & lyrics by Asher Muldoon, with music direction by David Hancock Turner, direction by Ciarán O'Reilly, and choreography by Barry McNabb. It's the world premiere of Muldoon's musical version, but not the first time the novel has had a stage adaptation. McCabe penned a two-hander dubbed Frank Pig Says Hello in 1992. 
Musical theatre is often associated with comedy and jazz hands (there's some of that here, too), though there are notable exceptions (Sweeney Todd comes to mind as one of the finest examples). It's refreshing to see darker subject matters explored through the art form while staying true to the genre's classic hallmarks. At its finest moments, the show strikes a balance between comedy and tragedy thanks to the excellent ensemble, clever choices, and striking set (designed by Charlie Corcoran) that create the twisted fantasy world where the young lad resides.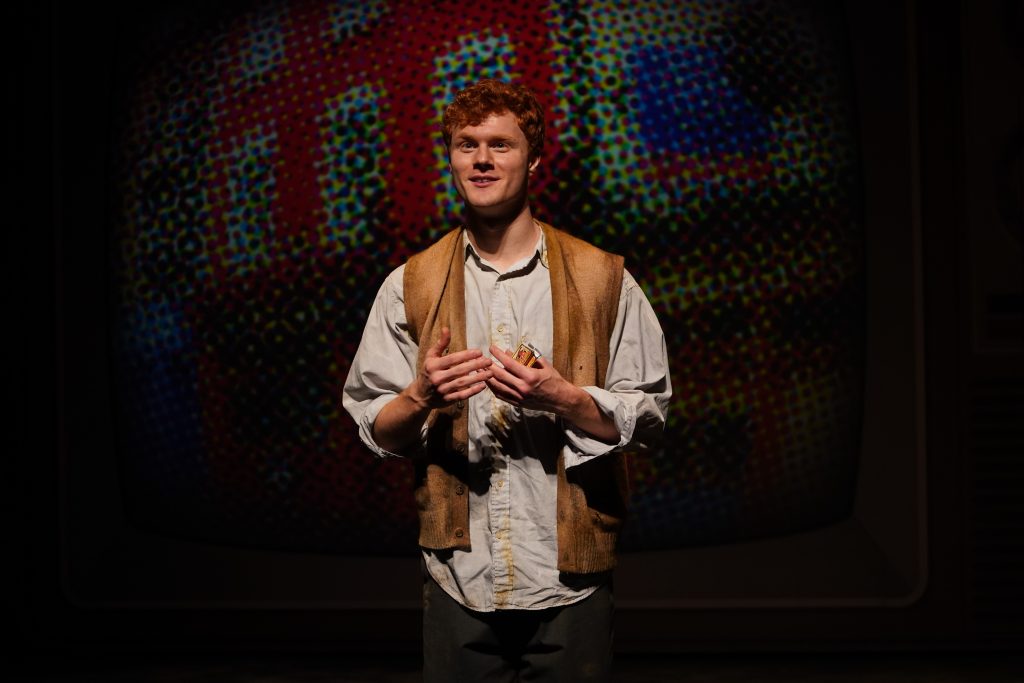 The lead character, Francie Brady, is played by Nicholas Barasch with oodles of charisma, layers of depth, and an innocent air that masks the diabolical nature of his inner world and outer actions. In McCabe's novel, the story is told from Francie's point of view through a mix of stream-of-consciousness and first-person narrative with no separation between his thoughts and interactions with others. The distinctive style forces the reader into Francie's head, rumbling along with his ramblings as the story unfolds. Muldoon's adaptation places Francie in the role of narrator, jumping in and out of scenes to explain the situations to the audience and then partake in the interactions himself through soliloquy, dialogue, or song and dance. 
The band, called "The Slaughterhouse Five" with David Hancock Turner (piano/conductor), Danielle Giulini (violin), Mike Rosengarten (guitar/banjo), Joseph Wallace (bass), and Martha Hyde (reeds), is small but mighty and create a full, rich, robust sound. Muldoon's music isn't especially remarkable or distinctive, but, along with the lyrics, it serves the story well and offers a nice variety of song styles. It's classic musical theater, maybe not Sondheim, but Muldoon's efforts come close to Stephen Schwartz at its finest moments.
Francie's a lovable anti-hero you root for despite his terrible behaviors and disturbing thoughts. That's perhaps the greatest achievement of this adaptation. If you aren't Team Francie from the beginning, then there's no point in joining him for the ride of his sad life laden with disappointments and a downward spiral into madness and mayhem. Credit is partly due to Muldoon's crafting of the character's words and songs, O'Reilly's direction, and a supportive ensemble to play off, but most of the accolades should be given to Barasch. He makes the juvenile delinquent sympathetic and likable without shying from his worst qualities. The closest comparison is Alex, the merry sociopath from A Clockwork Orange, played by Malcolm McDowell, to whom Barasch bears a striking resemblance if McDowell had a head of fiery ginger locks.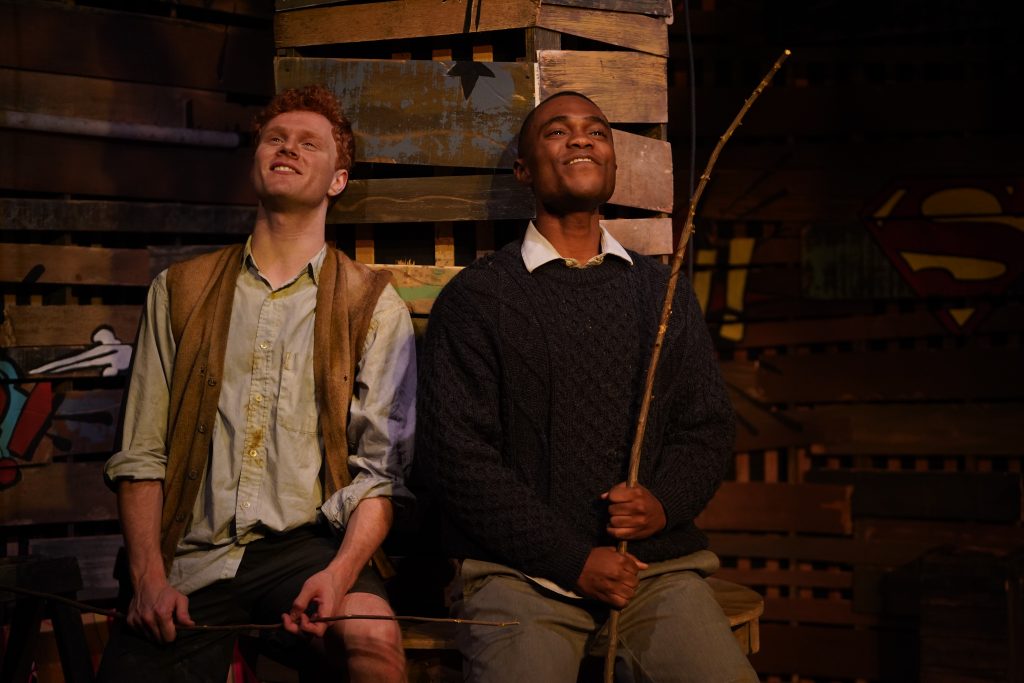 Barasch's boyish charm and wide-eyed innocent naivety make Francie's actions almost forgivable and get him in and out of trouble. All he wants to do is spend time with his best friend Joe (Christian Strange) and his family, but those relationships are built on unstable ground that Francie can't or doesn't want to see. His friendship with Joe is threatened when a posh yet meek young chap, Philip Nugent (Daniel Marconi), comes to town. At first, the pair bully the boy, but as Francie becomes more unhinged, Joe distances himself and gets closer to Philip. There's warmth between Strange's Joe and Barasch's Francie, but the character is the most one-dimensional of the more colorful cast, which gives him less to work with. Strange's accent sometimes goes in and out, breaking the spell of time and place. By contrast, Marconi's Philip Nugent has a veritable playground of opportunities to upstage almost everyone, even Francie in "Philip's Song," a waltzy uptempo showstopper with jazz hands, shuffling steps, and a kickline as Francie imagines Philip seducing his friend away. Marconi also gets to explore more vulnerable and grounded moments in Philip's interactions with his mother and being bullied by the boys. It's Philip's mother, Mrs. Nugent (Michelle Ragusa), who creates the catalyst for Francie's visions and becomes (along with Philip) the target of his hatred and resentment when she calls his family "a bunch of pigs." 
That cruel comment provokes Francie's obsession with the animal, prompting his porcine hallucinations. Naturally, this being a musical, these pigs don't fly, but they sing and dance, as first demonstrated in "Big Fat Piggies." The embodiment of personas tormenting the narrator's head reminded me of "The Thoughts" in Pulitzer Prize and Tony-award winner Michael R. Jackson's A Strange Loop. The Pigs, along with other characters such as the gossipy townspeople, are played with extraordinary panache and sinister glee by David Baida, Carey Rebecca Brown, Polly McKie, and Teddy Trice. Their eerie masks are designed by Stanley Allan Sherman and render any human qualities almost imperceivable. 
There's trouble at home, but Francie is too delusional to see. His Da (Scott Stagland) is a bitter, unhappy alcoholic and his Ma (Andrea Lynn Green) is suicidally depressed. Da is another role that could fall into one-dimensional traps, and sometimes does, but he gets his moment in the spotlight while reminiscing about his days as a jazz musician in "Those Were the Days." Green's Ma is tender and delicate. Abused, neglected and frightened, she tries to escape it all by ending her life and finally succeeds when Francie runs away. Green's performance is subtle and sincere; you can feel the all-consuming envelopment of her sadness without any showiness or over-acting. She has a lovely voice, like a gentle birdsong when she sings traditional-style Irish songs to Francie. The weak thread holding the Brady family together further unravels when Francie's uncle, Da's brother Alo (Joe Cassidy), comes for a visit and shares a beautiful duet "My Lovelies" with his childhood sweetheart, Mary. Mary is played by the excellent and versatile actress Kerry Conte, who transforms into three different Marys (including a teenage girl Francie meets in Dublin and wishes to marry and the Virgin Mary aka "Our Lady") throughout the show. Envious of his brother's happiness and success, Da humiliates Alo. Francie, horrified, runs away to Dublin, engaging in some theft. Thus begins the downward spiral that makes the Pigs' grunts overpower Francie's consciousness and inspire him to defecate on Mrs. Nugent's floor (handily represented by sausages).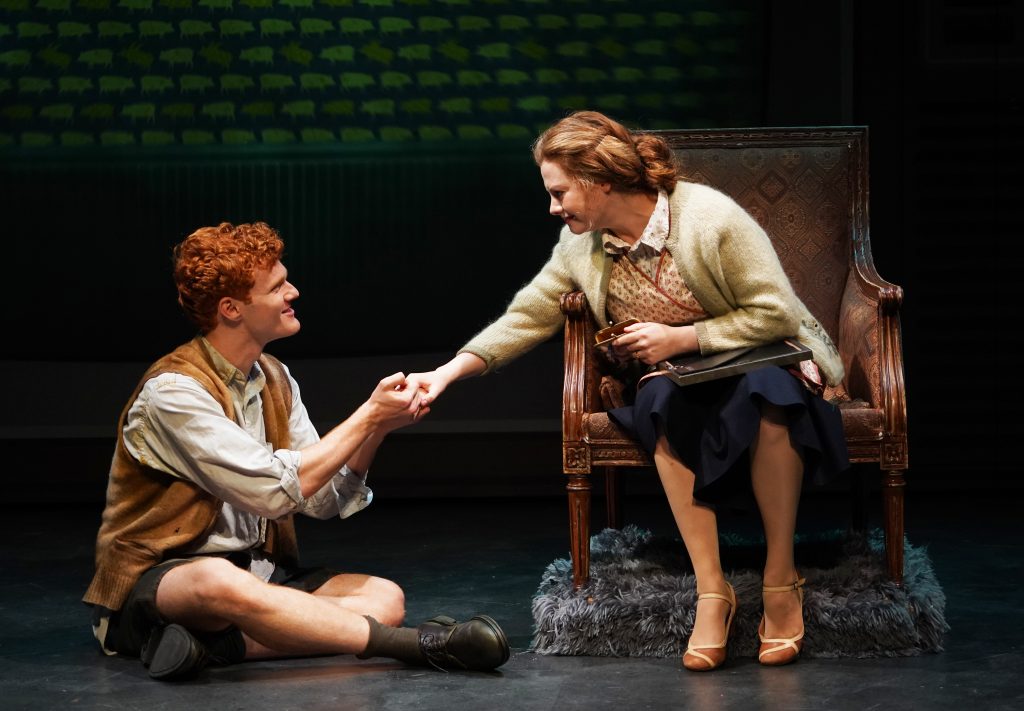 Act Two opens with Francie receiving electroshock therapy in "Buzz," a slight nod to Rocky Horror Picture Show's creator Richard O'Brian's lesser-known follow-up effort, Shock Treatment. Scenes from the infamous Twilight Zone episode with the pig-faced race alternate with Vincent Price in The Fly are projected (designed by Dan Scully) on Corcoran's fantastic moveable 1960s pop culture nostalgia set. These inhuman entities torment Francie and plunge him deeper into madness. His delusions increase as he is abandoned by all he knows and loves, right when he gets a job as a butcher boy, impressing the boss by killing a baby pig without flinching (though we are made aware of his inner turmoil). The Pigs urge him deeper down the rabbit hole in "Run," an upbeat Irish jig with feet stamping and anxious, relentless string arrangements. Rejected by Joe, he sinks into melancholy with the almost overly-sentimental, albeit rather beautiful and haunting, piano ballad of loneliness, "Snowdrops" (echoing the opening and closing moments of the 1997 film version of The Butcher Boy). But Francie's story doesn't end there. He returns to the home of the family he believes destroyed his perfect (though an illusion) happiness, murders Mrs. Nugent, then scrawls the word "PIG" in her blood. 
Hardly a happy ending, but the musical remains faithful to the book, which feels more terrifyingly timely than ever when a young man around Francie's age can shoot up a school or a squabble over french fries can lead to a fight that ends in a gunshot with the victim in critical condition. The time is right for stage plays and musicals to explore what makes a loose cannon or apparent psychopath tick and what could be done to prevent abhorrent actions before it's too late. The Butcher Boy may not be for the faint of heart or stomach. Nevertheless, it is a compelling and provocative wild ride with an excellent team if you dare to follow Francie's mischievous and murderous musical misadventures for an evening. 
The Butcher Boy: A New Musical is playing at Irish Repertory Theatre through September 11, 2022. Previews began July 21, and Opening Night was August 1. For tickets and more information, visit https://irishrep.org/show/2021-2022-season/the-butcher-boy/