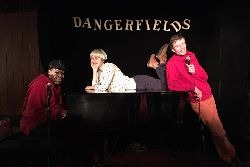 Prague-New York Effects #7
Bohemian National Hall
Snapshot Review: Delightful
Jacquelyn Claire, Reviewer
Prague-New York Effects is a Czech Center NY project that fosters collaboration between artists from Prague and New York City. They are given a residency at The Bohemian National Hall where they create an original work together. The transatlantic dialogue results in a performance in NYC and then the artists head to Prague to perform at the Palác Akropolis. For the seventh installment of this inspirational project, Miřenka Čechová, Robert Janč and Quentin Heggs sought to explore the differences and similarities between Czech and American humor.
The performance opened with Miřenka Čechová inhabiting the persona of McKenzie Tomsky –a wide–eyed immigrant that looks at everything in NYC with wonder and sometimes bewilderment. McKenzie is an avatar of a "love explosion between theatre and photography". Miřenka Čechová (theater performer/director) and Marie Tomanova (photography) created her as a way to explore their intense experiences as Czech artists living and working in the US. They have collaborated on a book that will be published by "Nakladatelstvi wo-men" in the new year and the performance used three of these 60 stories. The three were entitled "Central Park", "Pedigree" and "Love Thy Neighbor".
For each segment McKenzie showed us what caught her attention in the city and used a combination of beat poetry, physical theater and movement to keep us enthralled. Each story was a dialogue with epically talented sound designer, Martin Tvrdy who was on stage underscoring the heartbeat of each "poem." Together they crafted an evocative, sensory landscape of spoken word and symbolic sounds. Čechová is an astounding multi-talented artist with the ability to draw an audience in with her ironic storytelling that vibrated our solar plexus via her clever vocal gymnastics and exceptional physical gestures. She turns each phrase into a mini choreographic feat.
Next up was Robert Janč from the Czech clowning company, "Squadra Sua". As a master of non verbal performance he was making his first foray into spoken word comedy. His set was a delightfully humble expression of self deprecating humor. He has an infectious spirit that charms the pants off the audience. Janč married his years of clowning physicality with detailed stories of self discovery using the comedic genre. He is incapable of offending anyone as his comedy is wrapped up in joy. You can feel his optimism for life and can't help but be carried along by the tide of euphoria. I was laughing like a hyena at his segment on the power of the "Taint".
The evening wrapped up with a boisterous, energizing set from "the next Eddie Murphy" – Quentin Heggs. He has funny bones. He has been honing his comedic craft for 30 years and every punchline landed to raucous laughter. Heggs understands the American stand up comedy format so perfectly and filled every corner of the Ballroom with his commanding presence. My cheeks were seriously sore from smiling.
It was another delightful evening at one of my most favorite venues in NYC. The Czech Center events are always free and you get to experience some of the greatest Czech and American artists of our time.
Running time: Running time 60 minutes, no intermission
Prague-New York Effects #7 was performed on November 17, 2017 at The Ballroom of the Bohemian National Hall. The performance will take place at the Palác Akropolis in Prague on November 27 (Robert Janč solo performance), 8PM and November 28 (Miřenka Čechová + Quentin Heggs)
For more information, click HERE
© Copyright 2017 by Jeff Myhre, PhD, Editor. No part of this publication may be reproduced without written consent. Produced using Ubuntu Linux.