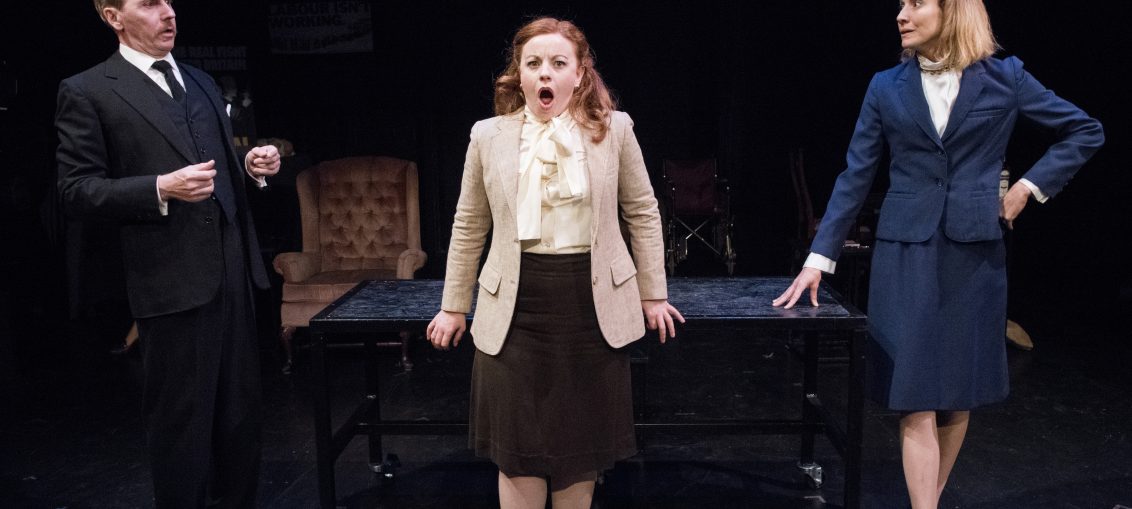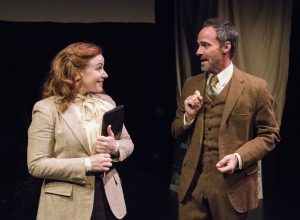 The After-Dinner Joke is a biting black comedy about the "business" of doing "good". It's a fantastic production that seems to have a cast of thousands wrapping us up in a tornado of lively performances. Caryl Churchill wrote this teleplay for the BBC in 1977 and it remains an astute satire that pokes and prods at charity organizations and their effectiveness. The Potomac Theatre Project (PTP) mounts a phenomenal production that is slick and incredibly entertaining. PTP/NYC's artistic vision is to "redefine politically aware theatre for the 21st century by presenting theatrically complex and thought-provoking work of contemporary social and cultural relevance" and they exceed all expectations with their current 32nd season.
Churchill's play tackles the mission of the obsessed "do-gooder" in 66 short episodes. We are introduced to Selby whose feverish passion to end poverty leads her to quit her secretarial job at Price Bedding in order to pursue her life's purpose – doing good. Her decision is endorsed by old man Price who tasks her with raising funds for his five non profits. Selby feels like she has found her calling and sets off to syphon as much money as she can off the rich. Her new "boss" Dent, who heads up the charities, is a sociopathic capitalist who knows that a charity is exactly like any other business, "It exists to make money." Selby's work takes her across the globe where she tries hard to avoid the political issues associated with the plight of the people she is trying to help. But as the Mayor of a town keeps showing her, "There's something political in everything."
Director Cheryl Faraone, who is also the Co-Artistic Director of PTP/NYC, has conjured an impressive masterpiece. She has coaxed astounding performances from the 12 cast members and ensured an exhilarating theatrical ride through the rugged terrain of humanitarian aid. Her clever use of projected animations as scene setters helped to contextualize each episode so we could keep abreast of Selby's globetrotting. Faraone's casting is magnificent and she has given every actor an opportunity to shine. There are no weak links in the chain as her direction is clear and focused.
Tara Giordano, as the super charged Selby, is as powerful as a wrecking ball picking up speed. She has a gigantic presence and never veers off course. Giordano anchors the piece with her skillful characterization and singularity of purpose. It is a total joy to watch her work. She deliciously whips up the stage with Selby's frenetic drive to reach the moral high ground. A truly memorable performance.
Jonathan Tindle, as Price, has jolly hockey-sticks radiating out of his pores. Tindle's Price overflows with evangelical exuberance for "giving back" and bobs about the stage like John Cleese on a pogo stick. He invokes an infectious optimism as he gets ecstatic about helping others. It's a gorgeous characterization that has been honed for brilliant comedic effect.
The cold, corporate queen – Dent, is portrayed by the remarkable Kathleen Wise. She gives us a stiff, sharp, scalpel of a character who can freeze the blood of any warm blooded attempt at good deed doing. Chris Marshall as the Mayor gives a devilish performance as he intoxicates Selby with the politics living in every word we utter. He is such a great, solid actor enlivening every scene he enters.
The rest of the cast vibrantly transform into a myriad of colorful characters like chameleons on a pride flag. Christo Grabowski, Lucy Van Atta, Roxy Adviento, Madeline Ciocci, Noah Liebmiller, Adam Milano, Eliza Renner and Madeleine Russell play a range of extravagant characters like Hippie Collector, Popstar, Patient, Thief, Knitted Hat Lady, Woman with Catalog to name a few with such commitment it felt they were competing for gold in the actors Olympics. You want these performers on your team –their energy is irrepressible and their versatility with characterization was seriously impressive.
This is a perfect play for our seismic shifting political climate. We need more of these sagacious, hard hitting satirical Catherine wheels to thrust us into action. The PTP/NYC season is presented in association with Middlebury College and forms part of a double bill with Howard Barker's potent play, The Possibilities.
The awesome production team for The Possibilities and The After-Dinner Joke includes Hallie Zieselman (Set Design), Joe Cabrera (Lighting Design), Annie Ulrich (Costume Design), Cormac Bluestone (Sound Design) and Devin Wein (Production Stage Manager). The exceptional Animation Projection for The After-Dinner Joke was created by Kyle Meredith.
Running time: The Possibilities: 45 minutes, The After-Dinner Joke: 60 minutes. There is a 10-minute intermission between the two plays
The Double Bill of The Possibilities (see Stagebiz review) & The After-Dinner Joke run July 10 – August 5, at The Atlantic Stage 2 (330 West 16 St.). For more information and tickets visit http://ptpnyc.org/