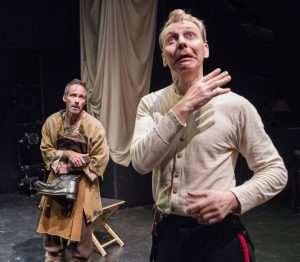 The Possibilities is soul food for those intellects starved by the current political climate of idiocy. Four sophisticated, thought provoking short plays make up this refreshing production that asks us to evaluate our individual moral response to the unfolding complexity before us. You leave the theater feeling like your brain has had an intense workout and your body is pumped full of life inspiring endorphins. You immediately want to reach for a good book or engage in an intellectual hoop jumping discourse thanks to the stimulating perspectives that have shaken all complacency out of you. The production elevates your thinking and I felt like I had a cerebral growth spurt in a mere 45 minutes.
The Possibilities by Howard Barker is actually comprised of ten short plays but director Richard Romagnoli has perfectly selected a quartet of these theatrical parables to suit our palates. Barker's work has been dubbed the Theatre of Catastrophe which "explores the boundaries of the tolerable and explodes them." The aim is to induce "a roaring sense of possibility and a rinsing out of accumulated expectations." Bring on Catastrophism so we can leave the theater either disturbed and/or amazed! I love his work because he excels in the realm of presenting the unexpected. You can't guess at the plot or the outcome and it is deeply satisfying to witness. Barker has said, "I have contempt for messages in theatre. I'm not trying to influence anyone." However, the work is so magnificent you want to engage with it, mull it over, dissect moments and find meaning. His intention might not be to imprint messaging on the audience but my individual response to his work had me foraging and storing "messages" from every phrase, pregnant pause and plotline.
Director Richard Romagnoli is also the Co-Artistic Director of the Potomac Theatre Project (PTP) presenting this work as part of their 32nd repertory season. He has crafted four exceptional works crammed full of extraordinary performances and detailed, defining moments. You can see his strong hand coloring in the unique scenarios with exquisite timing and clear intentions.
The first play, The Unforeseen Consequences of A Patriotic Act deals with the aftermath of the assassination of a foreign leader by a woman whose most lethal weapon is her desire. Kathleen Wise, as the deadly Judith, portrayed the seductress with snake charmer-like hypnotism. Wise makes it easy to believe that she would have lured the leader into his death bed as her Judith oozes sensuality and an unhinged passionate response to the world. A stunning performance. Marianne Tatum as "The Servant" gives us a Rasputin-esque figure who seems to dominate events from the sidelines. Tatum is a powerhouse, commanding the stage with a brutal femininity that works in tandem with Wise's emotive sensorium. Eliza Renner as "Woman" arrives as the hardline representative of the "community" wanting to praise Judith's patriotic act. Renner is a force on stage charging the ions of the space with her captivating presence. The trio are delight to watch as they wrestle with asserting their status in the play.
Reasons For the Fall of Emperors followed and is one of the most electric short plays I have every witnessed. The script, direction and performances are flawless and succeeded in making me feel anxious, spellbound, helpless and angry all at the same time. Jonathan Tindle, as Alexander of Russia, is a master of his craft. His portrayal of the narcissistic, fearful and lethal leader was an honor to observe. Tindle is able to portray the full gamut of the emotional spectrum in a short time leaving one in total awe of his talent. Adam Milano as the "Officer" matched Tindle's energy with vocal excellence and a strong physical characterization. Milano expertly executed the high status, alpha male soldier with a ramrod straight demeanor and condescending air.
The role of the "Peasant" was gloriously brought to life by Christopher Marshall who embodies charisma. He imbued the character with an inner untouchable strength that was mesmerizing. It made me think of the line in Herman Melville's Moby Dick, "For as this appalling ocean surrounds the verdant land, so in the soul of man there lies one insular Tahiti, full of peace and joy, but encompassed by all the horrors of the half-known life." Marshall gives a mighty performance and shakes the firmaments.
The third play is Only Some Can Take the Strain and it trains the magnifying glass onto preserving knowledge in dystopian times. We know knowledge is power so should we prevent it from getting into the wrong hands? Marianne Tatum transforms into the "Bookseller" tramp guarding her books with a ferocity usually reserved for a mother's altruism. She perfectly portrayed the exhausted individual left threadbare from years of activism. Adam Milano enters as the "Man" relentless in his pursuit of a specific book and encapsulates the drive to get what you want at all costs. Eliza Renner takes on another "woman" hell-bent on upholding the rules of the "authorities" with delicious maliciousness. All three deliver strong performances.
The final play She See the Argument But incited a delirious irrationality in me. I wanted to enter the debate and shout out expletives – a little like how I behave watching an episode of The Handmaids Tale. It is such an invigorating experience where you feel triggered by clever writing and spot on performances. Kathleen Wise as the supercilious, "Official" was amazing as she twisted up "Woman" into more knots than your iPhone earphones left in an overstuffed handbag. You just aren't sure how to even start to untangle the mess. Madeleine Russell was hilarious as the unrepentant temptress flashing her ankles with intentional provocation. Her portrayal of "Woman" was simply spectacular. You can't help but cheer her open flirtatious flouting of repression and rules. Adam Milano returned to play a small cameo as the desensitized "Man" – immune to feminine wiles.
These four episodes are theatrical catnip for thinking adults. The best part is that after a ten-minute interval you get to see Carol Churchill's The After-Dinner Joke – as these two plays form a double bill. This is high quality theatrical fare. The PTP/NYC season is presented in association with Middlebury College and also includes the musical Brecht on Brecht as well as the After Dark Season of performances(free admission) focusing on "the temper of our times."
Running time: The Possibilities: 45 minutes, The After-Dinner Joke: 60 minutes. There is a 10-minute intermission between the two plays
The Double Bill of The Possibilities & The After-Dinner Joke  (see Stagebiz review) runs July 10 – August 5, at The Atlantic Stage 2 (330 West 16 St.). For more information and tickets visit http://ptpnyc.org/