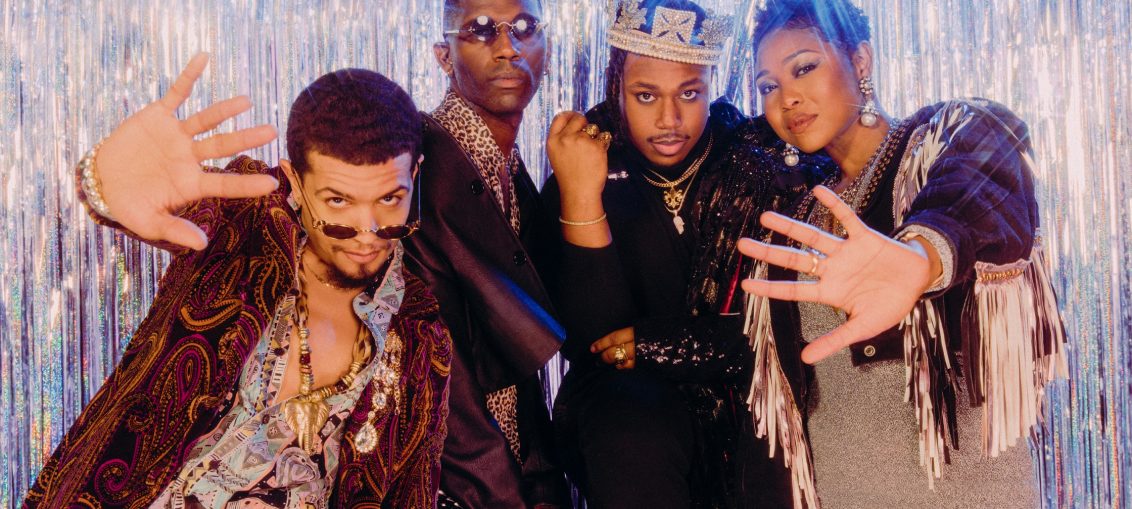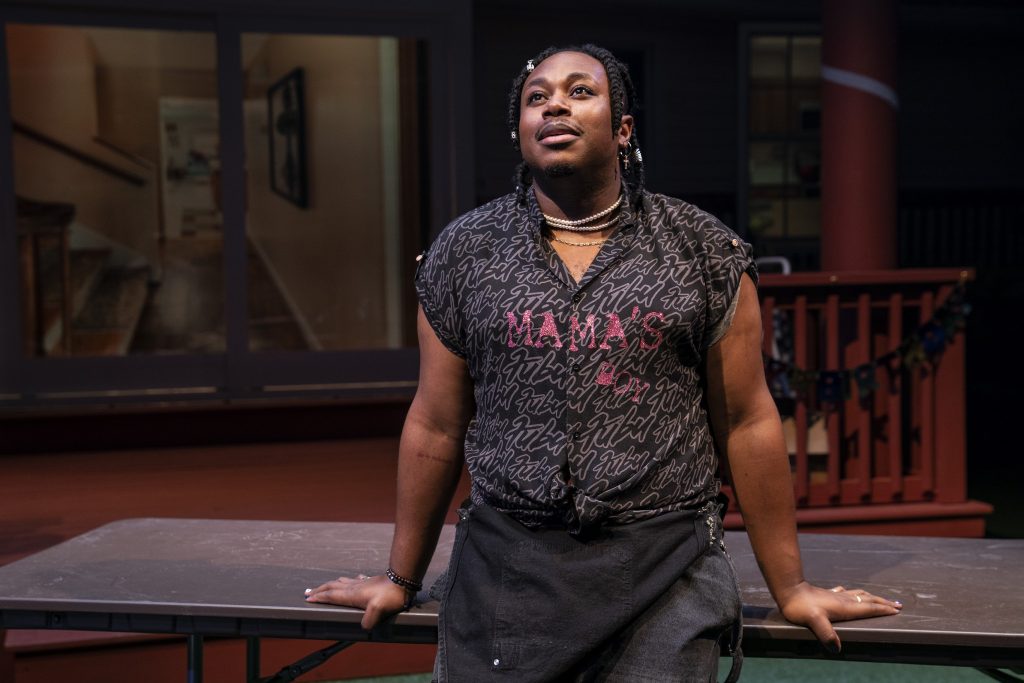 For a play premiering on Memorial Day weekend, what could feel more festive than a family gathering at a backyard barbecue served with a side of Shakespeare, a heaping portion of pop culture references, simmered in family drama, seasoned with violence and a dash of glitter to taste? Ay, there's the spice rub!
Shakespeare's plays have had many adaptations and updated versions that take creative licenses with the Bard's works and themes. A favorite choice is the tale of the brooding, tragic prince with intense and questionable family dynamics. The Guardian recently published a piece examining the obsession that dramatists of stage and screen have with Dane. Some of the interpretations are good, a few are excellent, but many are mediocre or forgettable. One that stands out as a thick cut from above is the collaborative effort between the Public Theater and the National Black Theatre with succulent direction by Saheem Ali, FAT HAM.
FAT HAM is a hysterical and heartwarming celebration of Black joy about a modern-day Southern American dysfunctional family and their friends who choose to break the cycle of darkness and abuse to choose lightness and life.
James Ijames' newly Pulitzer Prize-anointed play — a comedic riff on "Hamlet" set at a barbecue in the American South — is like a great meal; cooked to perfection and served with a smile complex in its flavors, and ultimately satisfying. It's also rich, fulfilling, and takes time to digest. Like bits of brisket that get stuck in your teeth, FAT HAM lingers with you.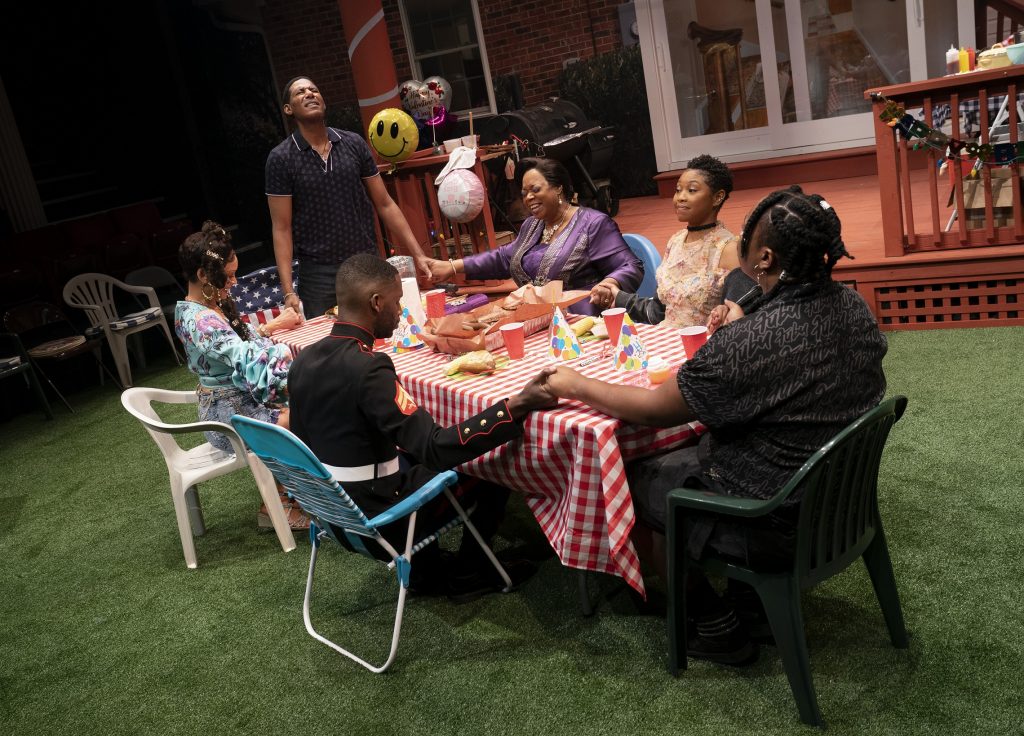 But calling FAT HAM an adaption diminishes both the original and Ijames' imaginative production that offers one of Shakespeare's most intriguing and layered characters a thoroughly contemporary update. It's less of an adaptation and more of its own entity. FAT HAM takes inspiration from the tragically human characters in high-stakes circumstances. Ijames borrows a few essential ingredients from the original and then changes the recipe entirely, similar to how Hadestown took a myth and made it into a modern musical. The result is a sort of fusion flavor. Notably, FAT HAM is sweeter, like the sugary tea served in the place the play is set that's undoubtedly a contributor to what the characters call "The Sugar" (diabetes).
The character of Hamlet is an archetype, and as such, he's meant to hold a mirror to society. FAT HAM's troubled hero Juicy is played with panache, depth, charisma, and humor by Marcel Spears. Juicy is a self-proclaimed "empath" called "soft" by the men in his life. He's a thoughtful drifter lost in a sea of conflicting emotions, cycles of abuse, and family dysfunction who dresses in gothic/emo garb and attends the online school that's a cultural cliche — the University of Phoenix.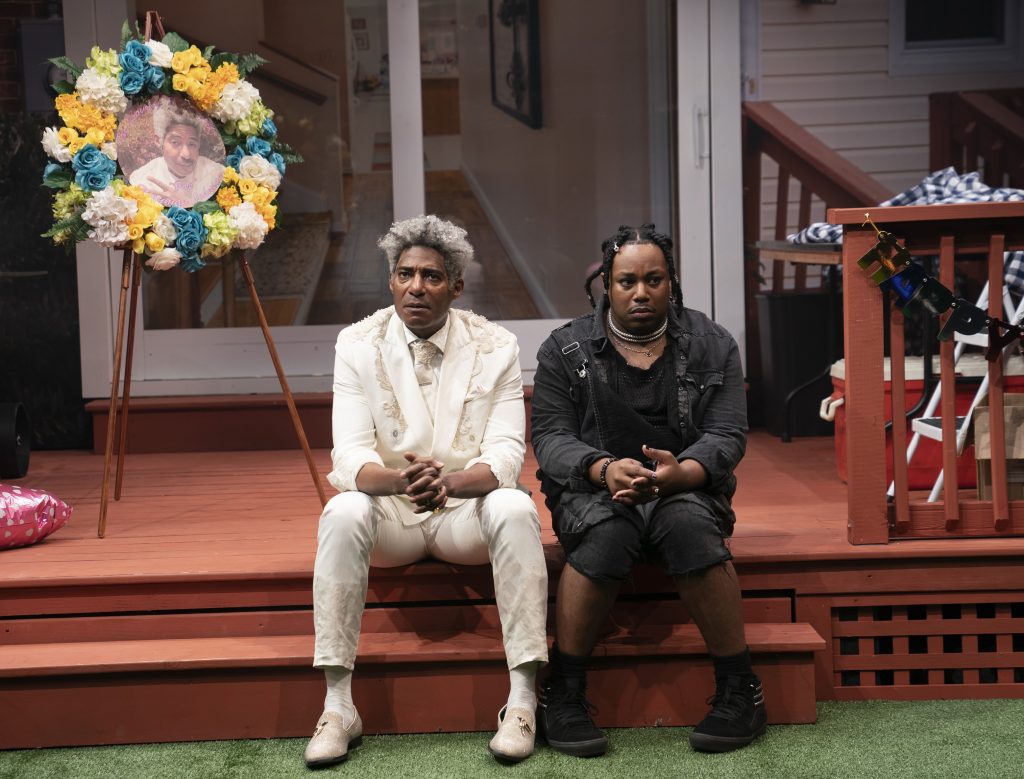 On top of it all, he's queer, though how his queerness seeks to express itself remains a mystery even to him. (Is he gay? Bi? Asexual? Or all of the above?). His closest peers and cohorts are queer, too (in all senses of the word). His peculiar pal Tio (played by the hysterical scene-stealer Chris Herbie Holland) imagines being set free by gingerbread man fellatio in a video game while stoned. Opel, who puts an edge into the Ophelia archetype, played with razor-sharp cunning and cutting intensity by Adrianna Mitchell, is a lesbian.
Opel's brother Larry, dashing yet stiff and awkward in his military uniform, is closeted and in love with Juicy. He shudders at the violence he's witnessed and partaken in, desires to be "soft," asks Juicy to "save him," and offers to be his "mirror." Larry's arch is the most dramatic and complex of all characters. With Saheem Ali's skillful direction and Calvin Leon Smith's masterful performance that's both subtle and surprising, his transformation from a dull secondary character to the one who unravels it all to a disco diva is a delightful evolution.
Though soul-searching and questions of Identity with a capital "I" are issues that plague the Gen Z youths, the adults aren't faring much better; they are as two-faced as Janus or the DC comics villain with a double-sided coin.
Juicy's mother, Tedra, is played with humor and depth by the physical comedy savant Nikki Crawford. She swapped the mourning veil from her imprisoned husband's shanking death for a bridal veil when she marries his brother Rev. Tedra's maternal instincts conflict with her need for a man that comes from deep-rooted insecurities. The conundrum of a torn heart is performed with sincerity and relatability by Crawford.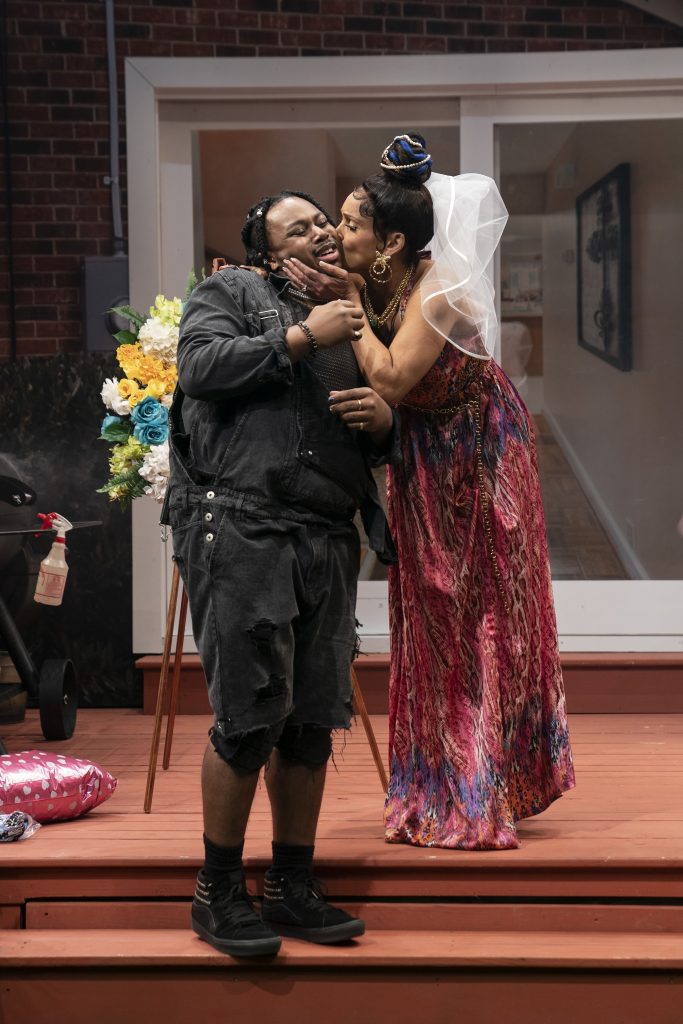 The similarities between both husbands are striking — Pap's ghost and his lusty and lively brother Rev are played by the same actor, Billy Eugene Jones. Jones's portrayal of both men is dripping with a subtle yet frightening machismo that is familiar and terrifying.
Benja Kay Thomas is Rabby, the family friend and mother of Opel and Larry, who's dressed in her all-purple Sunday best and has golden moments and hilarious one-liners delivered with such timing that they set the audience reeling.
FAT HAM follows in the path blazed by another Pulitzer Prize-winning stage work that's finally made its way to Broadway and is nominated for 11 Tony Awards — Michael R. Jackson's A Strange Loop (see my StageBiz review of the 2019 Off-Broadway production here). The musical's protagonist is also a sensitive, thoughtful, heavyset young man who's Black and queer, exploring his identity and purpose in life while struggling against family and societal pressures to conform.
The similarities end there, but the significance in the comparison is that a formerly unlikely hero is finally getting the spotlight as a leading man in mainstream and critically acclaimed productions and the authors are winning and being nominated for top prizes of recognition. These protagonists struggle with more relatable challenges to today's youth and offer a glimpse into the lives of heroic personalities whose values stray from the macho roles so often cast on men, especially men of color.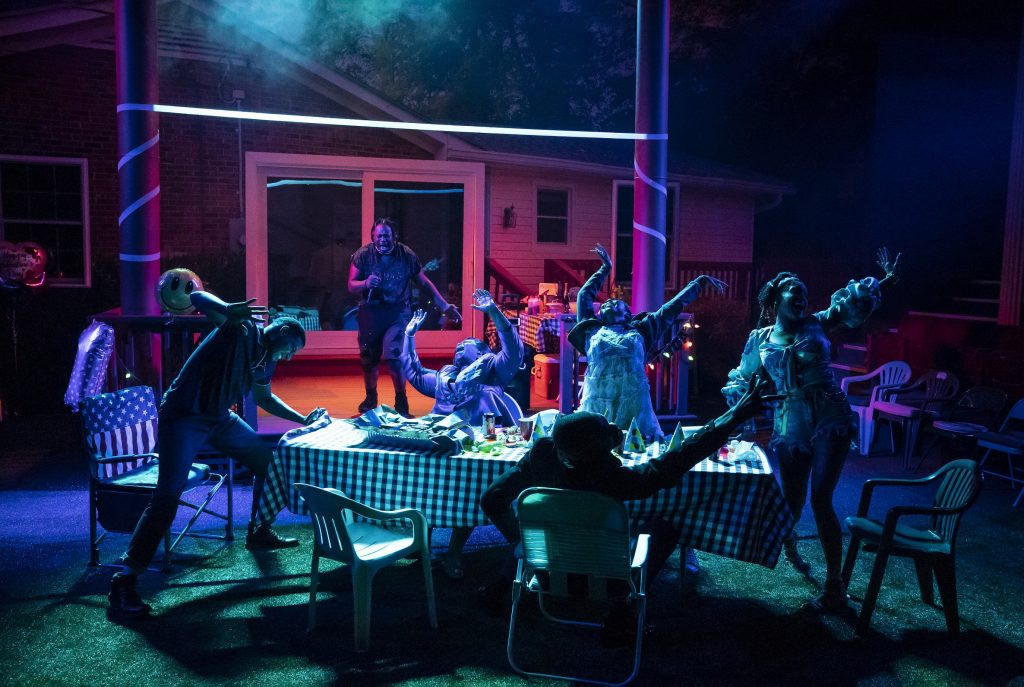 In FAT HAM, Juicy is pressured by those around him to give in to the cycles of violence, avenge his father by killing his uncle, and "harden." Instead, he makes radical choices that affect all around him and cause their rigid, calcified natures to soften (except for Rev, who stays hard and chooses his own fate). This is perhaps FAT HAM's most crucial and endearing trait, aside from the delightful humor, snappy wit, and tremendous talent on stage. Juicy invites his friends and family to choose joy over pain, authenticity over roles enforced by tired traditions and insecurities, and by doing so, break the patterns of violence.
When tragedy is a pervasive, relentless reality, FAT HAM presents another option, making it much more than merely an adaptation of another author's masterpiece, but a remarkable work as enjoyable as it is potent. It's 90 minutes of nourishment for the soul!
FAT HAM began performances in The Public's Anspacher Theater on Thursday, May 12 and will run through Sunday, July 3, with an official press opening on Thursday, May 26. Public Theater Partner, Supporter, and full-price single tickets can be accessed by visiting publictheater.org, calling 212.967.7555, or in person at the Taub Box Office at The Public Theater at 425 Lafayette Street. 
The performance schedule is Tuesday through Sunday at 8:00 p.m., and Saturday and Sunday at 2:00 p.m. A cultural community night will be held at 8:00 p.m. on Tuesday, June 7. More details can be found at publictheater.org. 
The Open Captioned performance will be at 2:00 p.m. on Sunday, June 5. The Audio Described performance will be at 2:00 p.m. on Saturday, June 11. The full performance calendar and complete ticket distribution details can be found at publictheater.org.