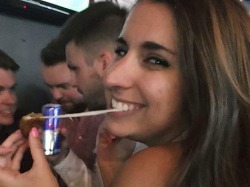 Even Olympians Have Asthma
United Solo Festival
Snapshot Review: Instantaneously Likeable
Jacquelyn Claire, Reviewer
Rosemary Cipriano is a gifted storyteller. In "Even Olympians Have Asthma" she presents a stand up comedy set that is so fresh and engaging you feel like you've had a positivity exfoliation. It is no surprise that she was the winner of the 2017 United Solo "Best Stand Up" award.
Cipriano is instantaneously likeable. You feel like you are hanging out with your new best friend as she shares stories of boys, bars and boozy bad behavior with you. Her material is millennial magnificent. She puts you right at the center of her world and gives you her unique view of life in New York City through her optimistic lens. It's a noisy riot of bubbly and buoyant. As a comedian she has seriously 'funny bones' and can tease humor out of a phone bill. Her eyes twinkle with mischievousness and her natural charm ensures that you find her company wildly enjoyable. What I learned from Cipriano: She has asthma, she loves her parents, she has an uncanny ability to foresee the past, she's on the lookout for a sugar daddy and she moves in a pack of friends flirting with their personal boundaries and can only fall in love/lust with men from other countries. (Sorry America but you don't stand a chance with Cipriano).
It's a heartfelt, honest account of her escapades and you want to tell her that she is using her 'out loud' voice because she is fearless in sharing personal stories. It a cheeky confessional. I particularly loved her comparison between Tinder and the Church.
Director Nicole Cusick ensures that Cipriano keeps the momentum building to create satisfying climaxes to each mini memoir. She helps escalate Cipriani's shenanigans by changing environments to match the locale of the next 'story'. It's great not to have the comedian dead center on a mic but rather roving around, owning every inch of the space.
I think we will be seeing a lot more of this beguiling and provocative wordsmith that wraps you around her little finger with her perky take on love, life and living in Washington Heights.
Running time: Running time 60 minutes, no intermission
"Even Olympians Have Asthma" played on November 18, 2017 at United Solo 2017, Theatre Row
For more information, click HERE
© Copyright 2017 by Jeff Myhre, PhD, Editor. No part of this publication may be reproduced without written consent. Produced using Ubuntu Linux.