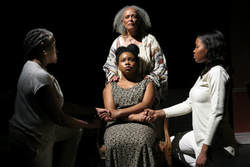 Daughters of the Mock
Theatre 80 St. Marks
Snapshot Review: Must See
Patricia Contino, Reviewer
Amanita (Kristin Dodson) announces she\'s engaged. Her fiance never appears, which might be a good thing: Grandmother Maumau (Edythe Jason) is unresponsive; though she always is. Mom Oralia (Brenda Crawley) and older sister Maneda (Claudia McCoy) are equally unenthusiastic. The reason for their displeasure isn\'t Amanita\'s youth: marriage means initiation into the family\'s vodou heritage in Judi Ann Mason\'s "Daughters of the Mock." The powerful drama directed with great care by Denise Yvonne Dowse and performed by a perfect cast was presented in May and June as part of the Negro Ensemble Company\'s fiftieth anniversary season at Theatre 80 St. Marks, where the company premiered the play in 1978.
Mason\'s even-handed approach to vodou was neither horrific nor camp. Her characters treated the practice with respect. Maumau is the root of "the mock" a curse passed down through the women of the family which in turn afflict upon male members. These formidable Creole women are not at peace with the situation, but grandmother, mother and older sister know that the time has come to let Amanita in on the truth. To Dowse\'s credit, the curious, confused youngest family member learns along right with the audience how the spell works — and that there are always options.
"Daughters of the Mock" is also about the bonds of matriarchy. Even without a curse and the pain it causes, these women are family. Mason also makes them relatable. The female elder rules not only the onstage clan but in many cultures. While their dilemma is singular, dialogue contains coded language families of all backgrounds use among each other that only they understand.
Because of its universal theme of family, the 1978 play fits easily into its unspecified contemporary date. Set designer Patrice Andrew Davidson, one of an all-female production team, added Michelle Obama to images hanging on the wall of Coretta Scott King, Rosa Parks, Maya Angelou and Shirley Chisholm. The biggest question after the curtain falls isn\'t what happens next, but why Judi Ann Mason (1955-2009) isn\'t better known. The multi-narrative "Daughters of the Mock" is remarkable. The playwright and pioneering sitcom writer doesn\'t deserve relegation to Women and/or Black Studies, thesis projects in Ivy League drama programs or an earnest reviewer wondering why she never heard of her until now. Mason\'s dilemma mirrors that of Sophie Treadwell, the prolific early twentieth century playwright whose "Machina" received a knockout revival at The Roundabout a few seasons ago. The brilliant James Baldwin documentary "I Am Not Your Negro" served as a potent reminder that Lorraine Hansberry was much more than an anthologized dramatist or answer to a pub quiz question.
The lack of recognition women writers and artists will not change as long as coverage goes beyond listicles and superfluous whiny blogposts. It will take further reevaluation of the creators by those who produce and administer it. That\'s not necessarily Broadway. Paula Vogel and Lynn Nottage were Pulitzer winners before (and for Nottage again) they made their Broadway debuts this year — but regional and repertory companies. Fortunately, the reinvigorated Negro Ensemble Company brought back "Daughters of the Mock>"
Running time: 90 minutes with two intermissions
Advisory: Physical violence
Daughters of the Mock ran from May 24 thru June 10, 2017 at Theatre 80 St. Marks, 80 St. Marks Place, New York, NY.
For more on the Negro Ensemble Company, please click here.
© Copyright 2017 by Jeff Myhre, PhD, Editor. No part of this publication may be reproduced without written consent. Produced using Ubuntu Linux.