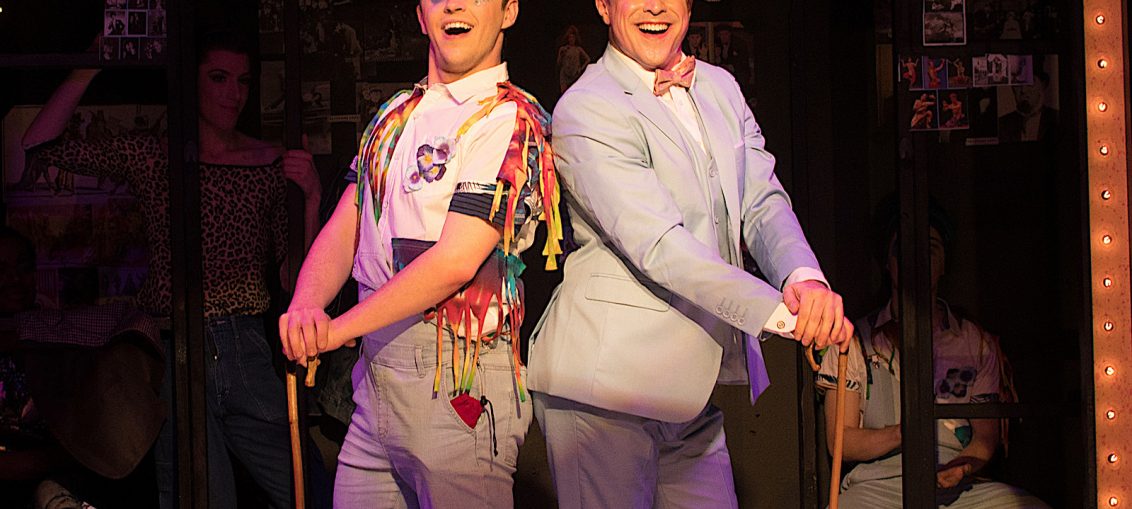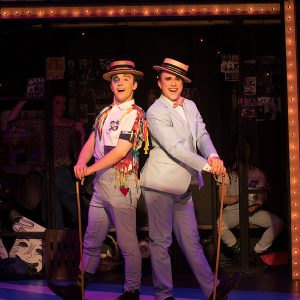 This (almost) all male cast of "The Boys From Syracuse" are more effervescent than a fountain of Moët, more energized than the peloton at the Tour de France and more versatile than a bobby pin. They aren't just reviving an old 1938 George Abbott, Richard Rodgers and Lorenz Hart classic; they seem to be jump starting a Cadillac Sixty Special. So much gorgeous style wrapped up in a sleek vintage frame.
Director and choreographer, Jonathan Cerullo has created an exceptional explosion of craft, timing and talent. His staging is inspired. It's like watching a Broadway hit contained in a cupboard or small garage. Along with the gifted scenic designer, Joshua Warner, they have transformed the smallish space of the Lion into a pop-up book of possibilities. The stage seems to expand to fit the needs of the number. They seem to be able to coax space out of thin air. The band sit high in the rafters above the stage as if on a cumulonimbus cloud and the 1930's melodies float down like life-giving rain. Cerullo paints every possible stage moment with some delicious creativity.
This gem was adapted from Shakespeare's "The Comedy of Errors". It's farce-like in its romantic entanglement mix-ups and make-ups. Long-separated identical twins Antipholus of Ephesus and Antipholus of Syracuse, with their long-separated identical twin servants –the two Dromio's, get into intense situations of mistaken identity. The wives of the Ephesians, Adriana and her servant Luce, have a particularly complicated time when they mistake the men from Syracuse with their husbands. Add in some courtesans, loan sharks and a potential execution and we're all set. Spoiler alert: it all works out in the end. Lots of happily ever after stuff.
The music is so lush and memorable. Old favorites like "Falling in Love (with love)", "The Shortest Day of the Year" and "Sing for Your Supper" make you nostalgic. The latter was beautifully executed by Darrell Marris Jr (Luciana), Jonathan Hoover, (Arianna) and Adam B. Shapiro (Luce) but it's sentiments are so outrageous for the 21st century. One of my favorite songs of the night was "Big Brother" where both sets of twins sang in stunning four-part harmony and gave me gooseflesh.
It's an ensemble masterpiece with every single performer bringing 100% commitment and focus. They execute this slick production with precision and passion. It's a joy to watch them work.
I have to single out Josh Walden (Antipholus of Syracuse) as extraordinary. He completely mastered the style. It was like he slipped down a secret time passage from 1938 and zip lined his way onto this stage in 2018. His comic timing, excellent singing voice and detailed physicality was mesmerizing. The most striking presence on the stage was Sam Given as the Courtesan. You could not take your eyes off the X-factor streaming out of him. He is a highly skilled performer with a massive presence. Matt Dengler (Antipholus of Ephesus) exuded charisma as he charmed his way through the plot. He has a magnificent twinkle in his eye and a superb singing voice. Real life twins Ian and Mathew Fairlee were completely edible as the hen-pecked, boss-bashed Dromios. They enlivened the stage with their antics and seemed to be lit from inside with an infectious joy.
Jonathan Hoover as Adriana was formidable. A soaring tenor that sounded soprano – "she" owned the stage with her Anna Vintour style and sass. Darrill Marris, Jr as the sister Luciana was elegant of spirit and stature. "She" was feminine and alluring in the role and you completely forgot that you were looking at a six-foot man. Adam B. Shapiro as Luce, was an insatiable fireball of hilarity storming around the stage in hot pursuit of her husband, Dromio.
Shavey Brown, Madeline Hamlet, Elliott Mattox, Jody Cook, Jose Luaces and Joseph Scott Holt were the vital and vivacious support cast playing a myriad of roles superbly.
Evan Rees is the musical director and conductor of the show and he leads the team with gusto. He has done a beautiful job with the harmonies and I have to admire his ability to really pull the band back at times to ensure they didn't overpower the performers who were singing without microphones.
Hope Salvan's costume designs are delightfully quirky and pert. Vivid colors and cheeky accessories make for a visual feast. Lighting designer, Ethan Steimel, made such great use of the space and brought us the bright, "sparkyness" of the Vaudeville era perfectly.
Musicals Tonight! is in it's 20th season and continues to produce high-quality productions from the past. "The Boys From Syracuse" will be followed by "Anything Goes" and "Calamity Jane". It's so good to take a little trip back in time to immerse yourself in the sound and soul of another era.
 Running time  2 hours with one 15-minute intermission
The Boys From Syracuse plays through February 25, 2017 at The Lion Theatre at Theatre Row
For more information, click HERE
Children under the age of 4 are not permitted in the theatre