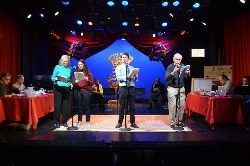 Radio Plays in the 21st Century
Interview with Cat Parker, Artistic Director of
The Articulate Theatre Company
Jeff Myhre, Interviewer
Before television, there was the "Golden Age of Radio."
Plays on the radio were a major form of entertainment, from kid shows like "Little Orphan Annie" to the "Guiding Light" (yes, the show started on the radio), from "The Shadow" to "The Jack Benny Show."
Techonology has rendered the form less popular, but it's still one of my favorite things in the entertainment world. Over the holidays, the Articulate Theatre Company staged "ON AIR/On Stage," its exploration into the world of the radio play. Artistic Director Cat Parker was kind enough to give us the low-down on radio plays in the twenty-first century.
Why do radio plays in 2017-18? The idea came from two different directions. One is the increasing concern that people have about the rise of technology in our lives. At it's essence, a radio play has it's story streamlined down to just two things – telling and listening. At Articulate, we pride ourselves on being storytellers first and foremost, so it was exciting to consider stripping away some of the theatrical layers and just put our stories out there. (Of course, it is radio "theatre" so we did have a simple, yet gorgeous set!) The other direction was from my history. Years and years (and years) ago, I saw "It's a Wonderful Life" as a radio play, with Bill Pullman, Sally Field & Nathan Lane, and I just fell in love with the whole concept. I promised myself that someday I would do that play, and decided that the 2017 holidays were the right time for it. However, I soon learned that Irish Rep was also doing a version of the "Wonderful Life" and realized that maybe we should do something more original, more in our wheel house.
Articulate has a signature series called "Articulating the Arts" which puts our playwrights (ATC is an ensemble company of actors, directors, designers and playwrights) in contact with inspiration from other art forms, such as classic paintings or folk music, and produces new works based on that inspiration. So, I asked our playwrights to get inspired by the plethora of holidays that happen in December around the world, but to write them in a "radio theatre" fashion. ON-AIR/On-Stage was the result. It seemed a wonderful way to bring together an "old-fashioned" style of telling a story and a new awareness of the different ways we celebrate around the world. There's a lot of divisiveness in the world right now, so to do a show with inclusiveness at its heart seemed like a no-brainer.
What is different about casting such a production?
Oh, man, casting for this was a lot of fun! We started out trying to walk a bit of a line between "anyone can play anything cuz it's radio" and "yeah, but it's also theatre, so maybe we need to help the audience a little." So, we would cast people who were at least close to the character for the main roles, but freed up the ensemble roles to be played for whomever could capture the essence of the character best, regardless of what they looked like. One of the lessons we learned from this production is that the audience will accept a lot more than we gave them credit for, so next time, I think we'll have even less restrictions on casting.
Also, as the production developed, we realized the value of the actors in helping with the soundscape. They could help making sound effects such as wind, and/or work as additional people for crowd or party scenes. There was also a bit of byplay of the ensemble as being the actors coming to the radio station to do the show. This element was underdeveloped for our inaugural production, but is something I want to play with a lot more next time.
How easy was it to find the right sound effects and sound technicians?
As Articulate is a true theatrical ensemble, we have sound designers as part of our membership. So, the challenge was not so much about how to find the designer, but in having that designer accept the challenge of working with sound in a new (to us) way. Morry Campbell, our sound designer and sound FX table maestro, jumped in with both feet in his excitement to take on that challenge. We watched lots of videos, read lots of articles, and reached out for help to Craig Wichman of Quicksilver Radio Theatre for advice. Craig took time to chat with me about the essence of radio theatre, and helped me determine what kinds of items would be needed for the show. I also met Ien DeNio of Soundmonkie who loaned us a small scale "door" unit (a very critical item in any sound FX collection!) and a lovely wind machine unit. In a wonderful quirk of fate, I found a board in front of my building that had a bunch of door knockers, locks, chains, light switches, etc., affixed to it. I was told that it was a display board from an electric store that had thrown it out, but I knew it was the universe sending me the beginnings of our sound FX collection!
What was the audience response?
The audience response was overwhelmingly positive. I try to chat with people after a show and get a feel for their reactions, and people really enjoyed it. Interestingly, when asked about their favorite plays, many had very different responses. I consider it a success when many different people all have something they relate to. As it was our first time exploring this style of story-telling, the audience was very helpful in telling us about things to better next time, too.
Where do radio plays fit in with the rest of what ATC does?
As an ensemble group, part of Articulate's mission is to create space for our members to grow as artists. Taking on a new style of story-telling allowed all of us to work new muscles. And while working on those muscles, we also learned how those muscles affect others around them – for instance, a playwright writing for radio learns how to put action into dialogue, instead of relying on blocking and motion to do that for them. So, the next time that playwright creates a "regular" play, they'll whip out that newly toned muscle and use it to write dialogue that snaps with active energy. Also, actors get to play roles that they may not typically get cast in due to physical characteristics – age, size, gender. This not only allows them to stretch, but allows everyone else (playwrights, directors, audience) to see them in a new way and perhaps reconsider the boundaries of the casting box. Anything and everything that makes our members stronger, makes Articulate stronger. So, it's a win-win for us all!
Do you have plans for any radio plays in the future?
Absolutely! We're hoping to enlarge it a little, maybe collaborate with a radio station, or record our own little podcast, but the focus will remain on telling the stories in a true and heart-felt way. We had difficulty with the timing of the plays this year, as far as getting the word out about them, so we'll probably do them a little earlier in 2018, but they are definitely on our calendar for the winter holiday season.
Stagebiz.com thanks Cat Parker for her time and insights. To be kept in the loop about when the specific dates are, readers can sign up for the ATC newsletter on the Company's website, at www.ArticulateTheatre.com or by emailing Cat directly at ArticuateATC@gmail.com.
© Copyright 2018 by Jeff Myhre, PhD, Editor. No part of this publication may be reproduced without written consent. Produced using Ubuntu Linux.
[/read]