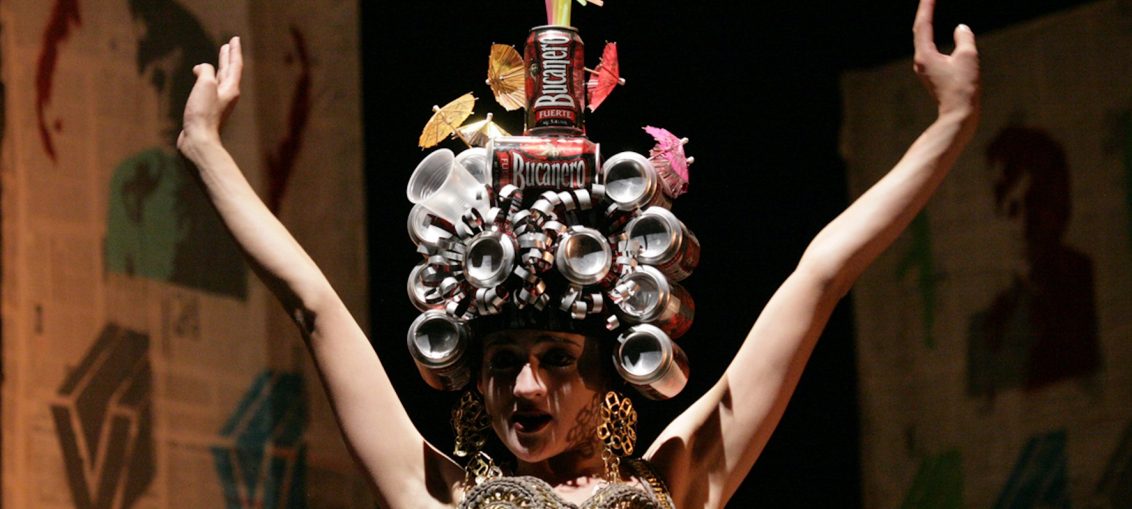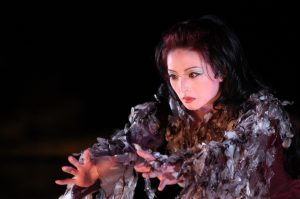 Under the Radar Festival
Presented by The Public Theater
Antigonon Un Contingente Epico at The Public Theater
Mugen Noh Othello at Japan Society
Snapshot Review: Vivid and Engaging
The Public's Under the Radar Festival is an annual theatrical feast for New Yorkers and visitors alike to see cutting-edge new works from both the U.S. and abroad, representing 229 companies from 42 countries over the past 14 years. Their international work is always particularly interesting and not likely to be seen in such an accessible way at such affordable prices.
The plays featured in this review come from two islands on opposite ends of the world whose cultures could not be more different or distinctive, yet both companies do honor to their place of origin by representing their heritage and history whilst also embracing bold styles of performance and storytelling, to share their unique cultural perspectives through the vessel of interpretations of well-known Western classics: Sophocles' Antigone and Shakespeare's Othello. Each features incredible ensemble performances with notable standouts and are shaped around strong, dynamic women, but the similarities end there.
Antigonon Un Contingente Epico by Rogelio Orizondo, directed by Carlos Diaz, from Cuba's Teatro El Publico, lives up to their reputation of being "daring" with "festive and sensual risk." As the show opens, a golden glow is shed upon four lithe bodies – stark naked. Full nudity is a tool that's been used by The Living Theater, and on Broadway in Hair and Oh! Calcutta! and (confirmed by Cuban resources) is a signature of the company. Two men, two women (Daysi Forcades, Clara Gonzalez, Luis Manuel Alvarez, and Robert Espino) move in sculptural forms that, while sensual, don't feel sexualized, rather, almost innocent, evoking moving Greek marble statues. This changes as soon as they speak and dress (only ever partially) in a variety of eccentric costumes brilliantly designed by Celia Landon Acosta using materials like old bottles to form a swinging skirt, pounds of lace and tulle for a garish wedding dress, exposing underwear, urban streetwear with a slight wink to the Super Mario Bros., etc. The costumes are characters themselves, shaping the monologues and dialogues, setting the context and, like the players themselves, intense, in-your-face and free of any subtlety. It's a delight to see unfold, more like a dream or hallucination with themes strung together poetically in shocking images and words rather than a clear narrative plot.
So what does this have to do with Antigone? Not much if you're looking for a nice, clean version of a classic. But this is Cuban theatre, its very nature is like its people – intense, passionate, political, sexual, questioning and revolutionary. There are references to a sister burying her brother, and strong, defiant women (Antigone) contrasting softer, obedient ones (Ismene). Echoes of Castro as the unyielding Creon are felt during the scene where all are in school uniforms and ABDALA (anti-Castro student youth group who marched in protest in NYC 1968) is mentioned repeatedly, and Linnet Hernandez (acting as a foil character who gets her spotlight in a powerfully delivered monologue) as "Homeland" also called "the old woman," garbed in a red dress, heels and suitcase, is evocative of the blind prophet Tiresias.
Even if disjointed, Orizondo's piecemeal is the poetry of a provocateur and Diaz's direction makes sense of the crazed world. But the truest stars are the two women, Forcades and Gonzalez who together embody the spirit of a modern Cuban Antigone in a current climate that does often feel like a hostile, dystopian environment for women of such power and strength…shocks and all!
Mugen Noh Othello presented at Japan Society, written by Sukehiro Hirakawa directed by Shinzuoka Performing Arts Center's (SPAC) General Artistic Director and renowned master of Japanese theatre, Satoshi Miyagi, is starkly contrasted, for subtlety is key, yet so is heightened drama and physicality of a dancer's or even military discipline.
Mugen Noh refers to the 600-year-old style (older than Shakespeare) of theatre which features a protagonist who has died in a historical event and returns as a commoner who later confesses their truth as a deceased spirit. What a wonderful setting in which to tell the other side of Othello, that of innocent Desdemona who, in this reimagining, confronts a pilgrim (another Mugen Noh standard) a fellow Venetian who finds himself in a lively port town of Cyprus, and shares her tragic tale.
Condensed to 80 minutes with the known aspects of the Shakespearean drama enacted in flashbacks, the focus is not on flowery prose or even the cunning Iago of whom Sir Laurence Olivier (who famously played the Moor) was quoted alluding to how a clever Iago could steal the show, but the true victims and stars are Othello himself and most especially Desdemona, who finally gets to tell her side, in this stunning and utterly transfixing production.
Miyagi uses traditional Mugen Noh methods as well as his signature style of futari hitoyaku where one actor sings or speaks while the other moves and gestures, puppet-like, recalling Japan's bunraku puppet theater with traditional Japanese percussion and flute heightening the climaxes and emotional arcs of each moment. But mere puppets they are not! These flesh and blood actors are so full of life and have such meaning behind each carefully crafted gesture that each step, glance of the eye, or hand movement is a loaded pistol of depth and emotion.
The cast breathes as one and would not be the same without a single ensemble member, but particular praise must be made to Soichiro Yoshiue whose rounded features and comedic knack lend themselves to the "fool" aspect in his portrayal of Desdemona's father, to Yuya Daidomumon's Iago, sharp featured, manipulative and clad in a befitting cowardly yellow. But the most praise must befall the stoic, mysterious and (says he) notoriously clumsy with words Moor, Othello, played by Kazunori Abe and most especially to the exquisite Micari whose body contorts as Desdemona's ghost in such a way it's almost inhuman, yet whose tenderness in the most climactic scene when she pulls the huge, robotic, gorilla-like puppet arm that killed her from an urn and reenacts the death scene, with equal parts sweetness and sadness as both lovers, the one who killed and the one killed, reaches the height of human expression told almost solely through her eyes and controlled gestures.
Thanks to the Public's Under the Radar Festival, New York audiences can experience two very different companies from contrasting cultures created vivid and engaging retellings of standard Western classics breathing new life and fresh perspectives into the old tales.
For more information, visit the Public Theater's website and that of the Japan Society: www.publictheater.org and www.japansociety.org
© Copyright 2018 by Jeff Myhre, PhD, Editor. No part of this publication may be reproduced without written consent. Produced using Ubuntu Linux.