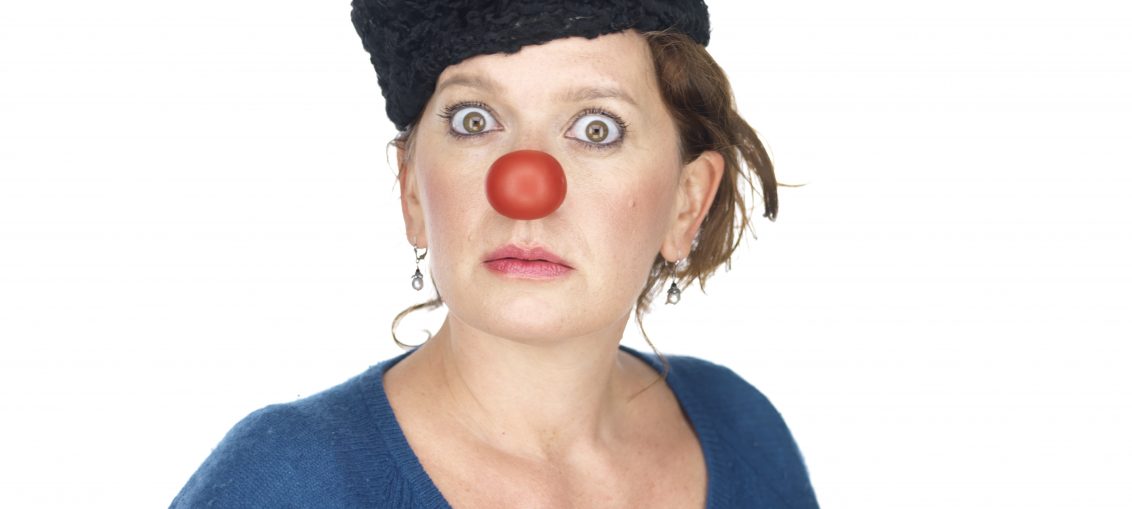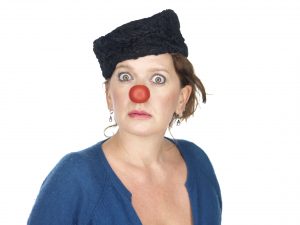 Kendall Cornell is the creator and director of THE BAD'UNS: CLOWN ACTS OF CONTAGION currently running at La Mama downstairs Theater. She leads the all female clown troupe – Clowns Ex Machina in a piece that " takes a darkly comic look at transgression, the corruption of dreams, and women in dangerously, dangerously bad moods." I found it utterly transformative. You can read my review here 
I asked Kendall a few questions about her journey to becoming a clown, her inspiration for her work and other nonsense…
Can you remember the moment when you knew you were destined to be a clown/performer/dancer?
Vividly! I went to be an observer in a workshop taught by clown David Shiner, who was on Broadway with Bill Irwin in Fool Moon at that time. I hadn't seen the show yet, but had heard good things. I was a little unsure about what I was getting into when I arrived – it seemed a pretty crazy environment with lots of people in costume gadding about. And I had a big audition for Saint Joan the next day, and thought maybe I ought to spend my time preparing instead. But once David got up and started talking and demonstrating, I was completely over the moon in love with clowning. I left there at the end of the day and called my sister crying, saying I wanted to be a clown, but worried that I had this big audition tomorrow. (She assured me I could do Saint Joan as a clown). Then I went to my money job and announced that I would surely be leaving shortly because I was going to go be a clown.
What was your first theatrical experience as a child – did it shape your career in any way?
My siblings and I used to put on plays regularly for the family – usually directed by my older
sister. So I guess I got the "Hey kids, let's put on a show. My dad has a barn." sense of
theatre-making from way back then. It still feels like the creative process is just exactly that
way (but with a lot more organizing involved to be able to just get in the room together and
make stuff happen).
Who are your most beloved female mentors/performers/clowns?
Lucille Ball, Guillietta Masina, Vivian Vance, Carole Lombard, Gardi Hutter, Marilyn Monroe, Imogene Coca, my troupe—that's who comes to mind at the moment, though there are so many more
Where/how do you get your inspiration for your shows/scenes? 
That mysterious creative wellspring where ideas pop up! Once I have a basic theme (like "women criminals", or "fairy tales" or "2-D representations of women") I start collecting images for costume ideas that I share with the clowns. They start pulling costumes from that and we start working in them to see what sparks us. I also bring in a palette of music to work with. Occasionally we look at videos (like Greek wedding dances). From those basics, we start with exercises and improvisations to generate material. Sometimes it leads us in very unexpected directions. But it is the idea of starting with the "empty space" as a group – and listening to what arises when we are together. And listening to the sense that says, "Over here! There is something over here!"
Where did you find your fellow female clowns that share the stage with you at La Mama?
Many of the women in my troupe have come to my Clown Workshops for Women and are
drawn to the work with the troupe via that route; some have come through introductions; at
times people have come through auditions. I always think it is important to spend some time
working or jamming together to get to know how we work together.
What is your most favorite moment in the show?
I love it all! I do especially get excited for the witches going to the stake and the whole ending. And the Fancy Ladies and their croutons. And the French Guillotine. And Taylor Harrison made the most incredible puppets and masks. I could happily watch a whole show of just them.
What shows have you seen recently that really floated your canoe?
I'm surely forgetting something, but — Clare Barron's Dance Nation; Sarah DeLappe's The Wolves; The
Thanksgiving Play by Larissa Fasthorse; Simon Stone's Yerma; Simon McBurney's The
Encounter; Es Devlin's set in The Lehman Trilogy (as well as the amazing actors); Lear
DeBessonet's Public Works project Hercules: Glenda Jackson in Three Tall Women; Mark
Rylance in anything (recently Farinelli and the King); National Theatre of Scotland's Let the
Right One In
What makes you laugh out loud?
Farts
How can infected females follow their clown inside? Tell us about your workshops.
I teach Clown Workshop for Women periodically. It's a weekend workshop open to all interested
and brave women (clowns, performers and non-performers). It's a great weekend of heart-
opening and play and finding physical freedom and fun. The next one will likely be in early
2020. We send out notices from the Clowns Ex Machina mailing list (sign-up on our website:
www.ClownsExMachina.com)
What do you think makes an unforgettable clowning performance?
truthfulness and openness and sensitivity; impeccable timing; risk-taking – and a bit of duende
Will The Bad uns be having a life beyond the La Mama run?
I hope so! Nothing is set as of yet, but we are looking at options for the next phase. We will keep you posted!
THE BAD'UNS: CLOWN ACTS OF CONTAGION runs November 7 – 17, 2019 at La MaMa's Downstairs Theatre, located at 66 East 4th Street between 2nd Avenue and the Bowery in New York City.
Performances are Thursdays – Saturdays at 7pm and Sundays at 3pm. Tickets are $25 and $20 for students and seniors (plus $1 facility fee). Purchase online at http://lamama.org or by calling 212-352-3101.
Like Clowns Ex Machina on Facebook at https://www.facebook.com/Clowns-Ex-Machina-255961210435 and follow on Twitter at @ClownsExMachina (https://twitter.com/ClownsExMachina) and Instagram at @clowns_ex_machina (https://www.instagram.com/clowns_ex_machina).