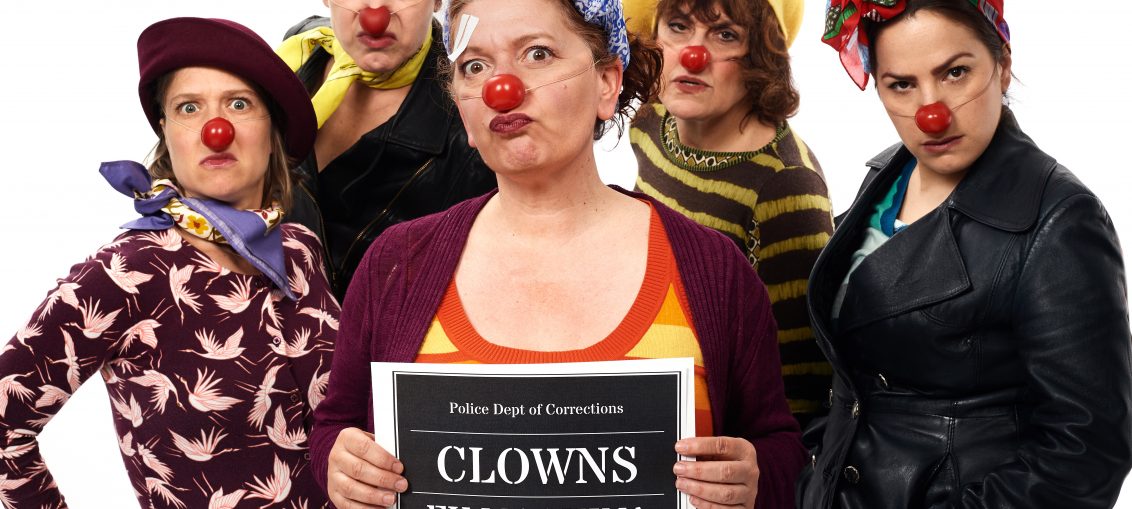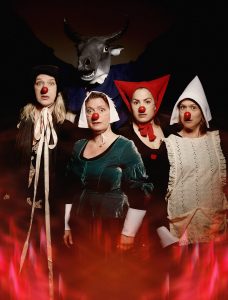 On Saturday I found the wellspring of funny -Kendall Cornell's all-women clown troupe: Clowns Ex Machina. I am still suffering from acute bouts of sudden, uncontrollable laughing at the flashbacks from their show –The Bad'uns: Clown Acts of Contagion. It's 90-minutes of intense bliss. There is a palpable, vast intelligence that forms the canvas for every scene. The humor bounces off this backdrop imbuing each moment with the massive force of thinking, focused, funny women. The clever comedy comes at you faster than Venus Wiliams' 56.95 m/s tennis ball serve -you have to gird up your loins for the shock and the skill of seven female clowns in full motion and emotion. It's like watching an extreme sport with theatrical athletes at the top of their game.
In 36 scenes the troupe weave a wild story of women on the war path. The 7 clown jewels are Carla T Bosnjak, Kendall Cornell, Lena Hudson, Julie Kinkle, Michaela Lind, Lucia Rich and Virginia Venk. They have the power to find and tickle any funny bone.Their antics are grounded by the glorious presence of Maggie Tully and Rachel Weekley in potent ancestral style "masks" and trance inducing space navigating. Nice and creepy.
Kendall Cornell has crafted an opus of clowning mastery. Her new work grew out of legends of female outlaws,"bad -uns" and bad asses. It scratches in the chthonic underbelly of the female experience in all of its complexity, defiance, ferocity and fearlessness. There is also a lot of tongue in cheek, buxom buffoonery and voracious "vixenry". It's full of song and dance, wit and wonder, fire and flirtation!
Kendall ensures a fast paced, energetic comedic marathon where the story flies past at full tilt so you are left wanting to follow the trail they leave behind. No lily is gilded, no set up is left to get stodgy, no point labored. There is only a mad dash to reach new peaks of performance gold. Cornell's solo scenes were of particular magnificence, her years of experience shine through her characterization, physicality and supreme timing like a searchlight on a rescue boat. You feel you have been saved from the mundanity of societal conformity. This troupe invite you let yourself tilt off the earths axis and look back at the lunacy of our absurd lives. It's a worthy adventure with a dollop of puppetry thrown in for good measure.
Forgiving Ladies as well as Medea and Zorba were two scenes that had me snorting, bellowing and screaming with unhinged laughter. Each clown is given a moment to truly shine, supported by their fellow loons. They are all extraordinary clowns but as a collective, they are lustrous titanium. Their powerhouse performances are stronger than Ukranian record holder, Olga Liashchuk, who crushed three whole watermelons between her thighs in a shocking 14.65 seconds.
I adorned Taylor Harrison's costume design that seemed to have been bred backstage – the love children of vibrant vintage wear and eccentric pajamas, lit up with a plethora of saucy scarves and ballsy berets. Sean Ryan's Mise -en-Scene gave the troupe a worthy playground to run around unbidden in. Carla T Bosnjak was not only one of the wayward women but also the lighting designer – another multi-tasking lady wearing many hats with aplomb. She lit the stage as a dark underworld where the scenes emerged like a flash of insight from the collective unconscious.
It has an extremely short run so get to it – forthwith – and wrestle yourself a ticket online. It's funny. Really funny. and poignant. and thought provoking. and funny.
Running time is 90 minutes.
Runs November 7 – 17, 2019 at La MaMa's Downstairs Theatre, located at 66 East 4th Street between 2nd Avenue and the Bowery in New York City.
Performances are Thursdays – Saturdays at 7pm and Sundays at 3pm. Tickets are $25 and $20 for students and seniors (plus $1 facility fee). Purchase online at http://lamama.org or by calling 212-352-3101.
Like La MaMa on Facebook at https://www.facebook.com/LaMaMaNYC, and follow on Twitter (https://twitter.com/LaMaMaETC) and Instagram (https://www.instagram.com/lamamaetc) at @LaMaMaETC.
Like Clowns Ex Machina on Facebook at https://www.facebook.com/Clowns-Ex-Machina-255961210435 and follow on Twitter at @ClownsExMachina (https://twitter.com/ClownsExMachina) and Instagram at @clowns_ex_machina (https://www.instagram.com/clowns_ex_machina).