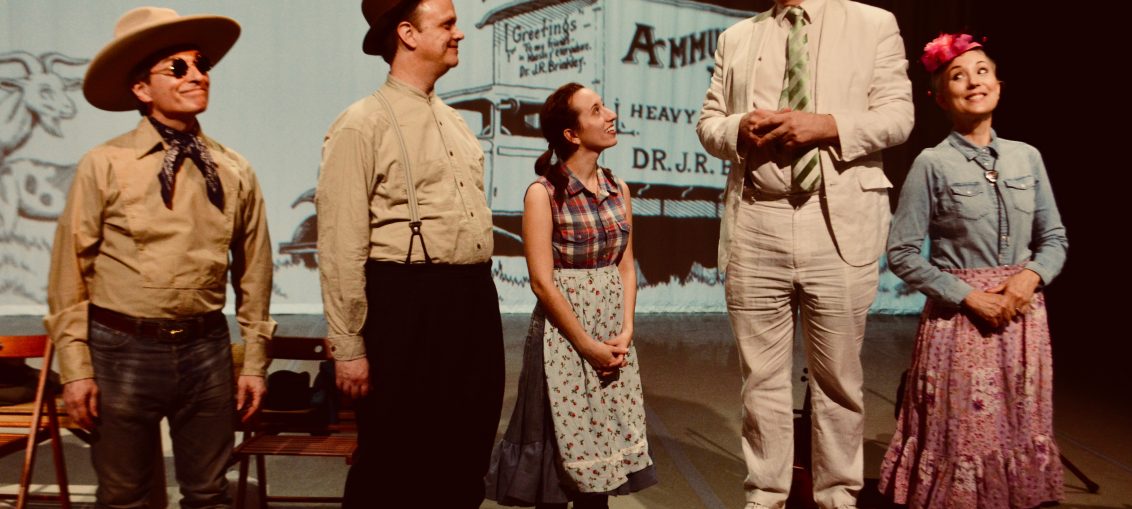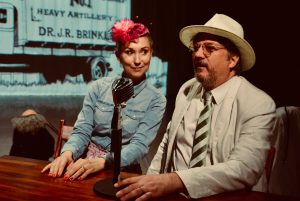 This is a fresh, energetic, biting satire that deconstructs the power of the con man and the charming story teller. It has a Brechtian frame where political ideas are dissected and the audience are encouraged to engage their critical faculties while being entertained by exceptional performances and sublime musical interruptions. The Resistable Rise of J.R. Brinkley has enormous production value for a typical fringe show. It is a polished, innovative piece of political commentary that stays with you and inspires a burst of rampant googling because it's based on a real person – John R. Brinkey. He was a quack, fraudster, pioneer of "curing" impotence with goat testicle implants, radio host, millionaire and politician.
Edward Einhorn, the writer and director of the play, has unearthed this larger than life historical figure whose tactics seem extremely familiar to our current political circus sideshow theatrics. In his brilliant docu-drama musical, Einhorn, charts the rise and rise and fall of a master media manipulator and "entertainer". It leaves you with a sense of hope. Ultimately, the charlatan must fall? This play shows our love of "story" and how we are easily distracted by those who dominate the airwaves. We get hooked on the daily saga that fuels our own narratives. We are complicit in the rise of demagogues when we allow them to dictate the "reality" of our lives. Einhorn uses five actors who also play musical instruments to tell this beguiling story. Between them they play a host of characters and break into thigh slapping country music to break the tension. It is an expertly crafted text that gallops along at a fervent pace inciting a feeling of possibility. I particularly enjoyed the use of breaking the fourth wall with probing questions that allowed for much needed self-reflection.
The story introduces us to J.R. Brinkley, a "doctor" from Kansas in 1920's, who built an empire from selling a fake cure for impotence – goat testicle implants. By the time he was exposed as a quack he had performed over 16,000 of these operations. He also sold water dyed with Indigo as a cure all medicine you could buy through mail order. What skyrocketed his sales was that he owned his own radio station, KFKB, and from this "pulpit" he would diagnose over the phone, dispensing advice like a 20's agony aunty and playing country music favored by his white male base. The first ever reality radio show? It wasn't long before the American Medical Association and the Federal Radio Commission came calling giving him, and the play, the much needed antagonist, Dr. Fishbein, to thwart the narcissism of a man in love with the sound of his own voice and actions. With his radio license threatened, he decides to run for governor… This delicious production gives us the highlights and lowlights of his self aggrandizing life.
Spoiler alert:  It's compulsive viewing especially because things don't work out for Brinkley in the end.
Edward Einhorn's fabulous direction gives us a whirlwind hoedown where performers slip in and out of roles, transforming in front of us so we see the mechanics of their changes. No moment is ever labored. There is extraordinary detail in every beat.
The five performers are to exist for! Julia Hoffman plays the fiddle as if she is channeling Charlie Daniels and then becomes a lovable dotting wife, a fiery democrat and a believable older Dr. Fishbein. Craig Anderson as Jimmy has wonderful comedic timing and exudes a sense of playfulness with all of his characters. Jenny Lee Mitchell is a fantastic clown and she made me laugh out loud quite a few times with her astounding characterizations. She has funny bones and a quirkiness that's infectious. Trav SD as Brinkley was equal parts charisma and revulsion. He was great as the unstoppable self absorbed con man and I loved his feverish banjo playing in the piece. John Blaylock was the anchor, giving us a wise narrator and eccentric "blind" cowboy. Blaylock has a strong presence and a calmness that makes you think it is all going to work out in the end.
Ramona Ponce's costumes are cleverly minimalist, yet mighty. With a simple hat or apron she instantly gave us the right visual cue that tells us everything we needed to know about the new character in our midst. Eric Shanower's black and white projected cartoons give a stunning changing backdrop to the piece. They beautifully set the scene for the over the top shenanigans of our protagonist. Jeff Nash's lighting gives us a warm Kansas palette that completely denotes the time and the heightened buffoonery of the storyline. Tom Berger's arrangements and Richard Philbin's musical direction of the country songs (with new lyrics by Einhorn) are a total joy to hear. The music swells the piece making it gloriously entertaining.
The Untitled Theater Company No.61 has delivered a noteworthy piece in sync with our desperate times. This play was born out of a series of "Resistance Readings" held in the writer/directors home after the 2016 election outcome. I hope these have continued as they have resulted in a remarkable theatrical outcome.
Running time: 1 hour 40 minutes with a 2-minute musical interlude
The Resistable Rise of J.R. Brinkley runs Friday Oct 12 at 2:15pm, Sunday Oct 14 at 3:00pm, Thursday Oct 18 at 7:15pm, Sunday Oct 21 at 5:45 and Sunday Oct 28 at 6:45pm, at FringeNYC, 685 Washington Street. For more information and tickets visit www.FringeNYC.org