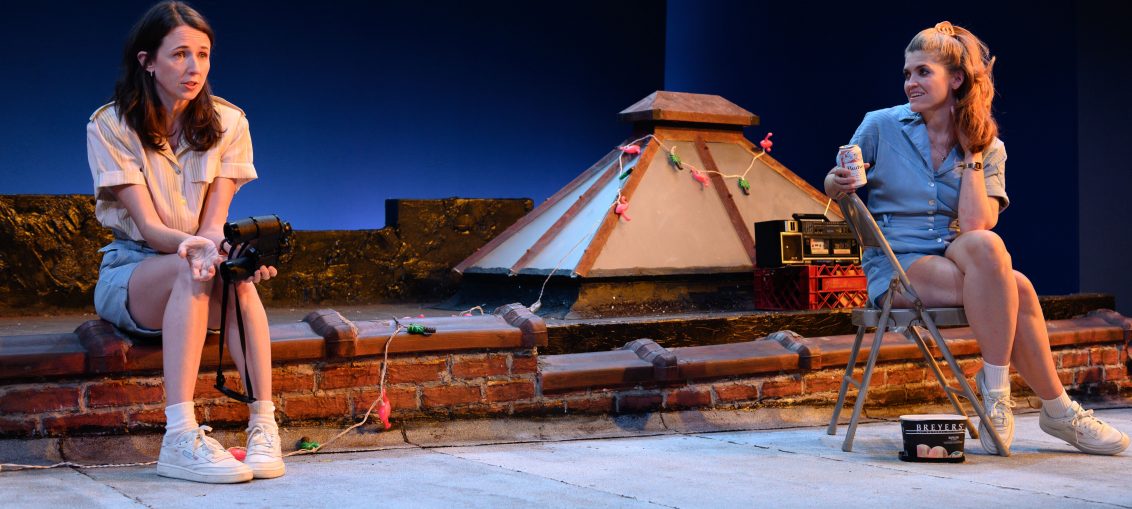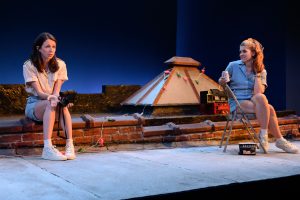 Historic events impact lives.  There are the famous examples of Walt Whitman's Civil War poetry, Abraham Zapruder's home movie of the events in Dealey Plaza on November 22, 1963 and the January 21, 2017 Women's March posters currently displayed at Poster House.  But then there are the private ones.  BFFs Harriet (Kristen Sieh) and Matilda (Erin Markey) confront a turning point in their relationship during a landmark event in U.S. space history in Liza Birkenmeier's Dr. Ride's American Beach House, now playing through November 3, 2019 at Ars Nova at Greenwich House.  Birekenmeier is Ars Nova's current Tow Playwright-in-Residence.
Harriet and Matilda are the two-member clique that took every high school and/or college elective together.  They enrolled graduate school together as non-committal poetry majors in Saint Louis, but life overwhelms them: Harriet's absentee mother is dying and Matilda isn't thrilled with her marriage or daughter.  Their latest meet-up is on June 17, 1983, the eve of Dr. Sally Ride's flight as the first American woman in space.  Joining them on the rooftop is Harriet's friend Meg (Marga Gomez), a lesbian who questions the duo's relationship while attracting the attention of both women.
Director Katie Brook establishes Harriet and Matilda's emotional intimacy and hints at a physical relationship.  They talk of running away together, something same sex friend-friends and work-friends do all the time not for sex but escape from routine.  The ambiguity drives and almost stalls the 90-minute play.  Meg's arrival is welcome because unlike the two besties, she's smart and unapologetic.  Among the information she shares with them is the rumor that Dr. Ride is a lesbian, which was confirmed 
only after her death in 2012
.  The play's denouement takes flight imagining the astronaut's dreams in the NASA beach house Harriet saw in Florida when she visited her Mother.
Like real-life,
Dr. Ride's American Beach House 
is messy and unresolved.  
Sieh
 and 
Markey are believable as both close friends and women disappointed with life.  Gomez's part is largely symbolic, but her entrance through the window of Kimie Nishikawa's rooftop set provides the play with its "woke" moment from talking to thinking.
With the play's focus on history, there is a message for audience members who are now or near in the same age Harriet and Matilda were.  The party is briefly interrupted by landlord Norma (Susan Blommaert), reminding the ladies to keep the window shut.  She then delivers a powerful monologue about disappointment and fear.  Among her concerns are the other news stories sharing headlines with Dr. Ride: serious flooding in the Midwest, inflation, nervousness about Perestroika and the beginnings of the AIDS epidemic.  Though a future headline and defining moment, Dr. Ride's space shuttle was Challenger.
Yes, history repeats itself.  Perhaps it won't for Harriet, Matilda and Meg.